How to download DaVinci Resolve
Find out how to download DaVinci Resolve, Blackmagic's free video editing software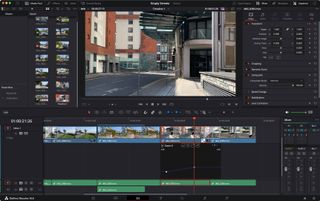 (Image credit: Blackmagic Design)
DaVinci Resolve is software that shouldn't exist, yet it does: a free professional-grade video editor.
There is a paid-for version, known as DaVinci Resolve Studio, which includes additional features. For instance, Studio allows you to export a project up to 32K at 120fps, whereas Resolve is limited to a 4K / 60 fps export - which should be more than enough. So, most budding editors looking for the best video editing software will be more than satisfied with the free features.
Many features of Studio are like cherries on top - something that will improve the quality of your project but isn't crucial to its creation, like advanced noise removal, motion blur, and HDR colour grading, for instance. If you're seriously into visual effects, you'll love the AI Neural Engine, and the additional visual and audio effects plugins only available with Studio. We recommend starting with Resolve and graduating to the upgrade in and when you're ready. The learning curve won't be as steep and you'll be familiar with the interface.
As our top pick for best free video editing software, Resolve still comes with exceedingly powerful tools - and a genuinely professional toolkit for everything from Hollywood features to YouTube clips. But how do you get DaVinci Resolve? Read on to find out.
How to download DaVinci Resolve: Basic steps
What to do
Go to Blackmagic's DaVinci Resolve page
Locate the download button one scroll down
Download and install the software
What you'll need
An internet connection
3GB to grab the installer off the web
Around 4GB for the full application
Skill level: Beginner
Step 1: Get Online
DaVinci Resolve started its life in 2004, but was acquired 5 years later by Australian company, Blackmagic Design. They've continuously improved the software since, offering a free version since 2011. So if you want to get your hands on this software, their website is where you'll find it.
Start by pointing your favorite browser towards https://www.blackmagicdesign.com/products/davinciresolve
Scroll past a trailer showing a fraction of the famous blockbuster movies made with this software to locate your download options. You'll see two choices: 'Davinci Resolve' and 'Davinci Resolve Studio'. Click on the former.
Step 2: Choose your platform
Some companies think they're being helpful by automatically noticing which computer you're visiting their site with, and selecting that download option by default for you. If you're checking out a site using a PC but need an install for a Linux machine though, it's always a pain having to navigate through other links to find what you need.
Thankfully, Blackmagic is not like that. Of course it knows what type of computer you're using, but the company doesn't presume to know what installer you need.
So, select the one of your choice, be it Mac OS X, Windows, or Linux. Blackmagic will also offer the option of purchasing Studio by giving you links to installers for that software on the right. Stick to the free one, and click on the link you need.
Step 3: Give them data
Before you can grab your prize, you'll need to offer Blackmagic Design some of your personal information. Nothing out of the ordinary, and as always, everything with a '*' is compulsory. So get ready to hand over your name, email, phone number, and physical address. Why? Because that's the price of admission.
There's also a section asking what you'll use the software for, and which features you'd like Blackmagic Design to add. Both are optional, so you can easily skip them, unless you have things to say you think the developers would like to read.
Once you're ready, scroll to the bottom, and click on 'Register & Download'. The installer is around 3GB is size, so depending on the speed of your internet connection, get ready to wait a little before heading to the next step.
Step 4: Install
Once the Installer has fully downloaded, double-click on it, follow the instructions and let it do its thing. Usually, this process is much quicker than how long it took to download it in the first place. And that's it. Blackmagic Design has acquired many other apps through the years, but you don't need to download and install them separately: one install brings them all to you in one fell swoop, within a single interface.
Resolve shouldn't launch automatically for you, but you can locate it where all your other applications reside. Let's launch it to take a lightning tour of the lay of the land.
Step 5: Layout
DaVinci Resolve's interface is divided into seven sections which are called 'Pages'. You can access them via the seven icons at the bottom of the interface, or through the Workspace menu in the MenuBar.
Each is designed for specific and particular functions, although it is possible to perform other functions other than the one is it focused on. For instance, you can edit both in 'Edit' and in 'Cut'.
From left to right, the Pages are Media (where you import and organize your clips, and everything else you need for your project), Cut (which is essentially where you start building your edit), Edit (more fine tuning with access to some special effects such as transitions and key framing), Fusion (the heart of special effects, built around the concept of nodes), Colour (for color correction and grading), Fairlight (where you can perform complex audio work), and finally Deliver (where you set up your export protocols).
Final thoughts
DaVinci Resolve is an incredibly powerful video editor with an impressive array of tools - all for free. If you're serious about video editing, you've in the right place. In fact, we've got a short guide on how to use DaVinci Resolve - which those how-to introducing you to the very basics of editing with that software, which you should check out now, to help ease you into the world of moviemaking.
Are you a pro? Subscribe to our newsletter
Sign up to the TechRadar Pro newsletter to get all the top news, opinion, features and guidance your business needs to succeed!
Steve has been writing about technology since 2003. Starting with Digital Creative Arts, he's since added his tech expertise at titles such as iCreate, MacFormat, MacWorld, MacLife, and TechRadar. His focus is on the creative arts, like website builders, image manipulation, and filmmaking software, but he hasn't shied away from more business-oriented software either. He uses many of the apps he writes about in his personal and professional life. Steve loves how computers have enabled everyone to delve into creative possibilities, and is always delighted to share his knowledge, expertise, and experience with readers.