As well as this works in practice, it is an expensive device that promotes the idea that big meetings are an efficient use of employee time. The big disappointment is that the maximum video resolution is only 1080p and isn't cheaper.
Pros
+

Decent microphone and speaker combo

+

Wide visual vista

+

Remote control
Cons
-

Pricey

-

Only 1080p output

-

Awkward cabling
Why you can trust TechRadar We spend hours testing every product or service we review, so you can be sure you're buying the best. Find out more about how we test.
eMeet Meeting Capsule review
eMeet Meeting Capsule Specs
The eMeet Meeting Capsule that was sent to us for review came with the following hardware:
Camera: single 4K sensor
Optics: 360° optional fisheye lens
Maximum Res: 1080p
Standard Output: 1920 x 1080 @30fps
Focus: AI-based focus
Focus Range: 13ft (4m)
Microphone: 8 omnidirectional beamforming Smart Mics
Audio Pickup Radius: 18ft (5.5m)
Extended audio: Extend the audio range to 36ft (11m) when daisy chained with an eMeet M3.
Speaker: 10W/90dB
Software compatibility: Zoom, Microsoft Teams, Skype for Business, Slack and Webex
Weight: 2.61lb (1060g)
Dimensions: 97mm x 97mm x 291mm (4.4″ x 4.4″ x 10.72″)(L x W x H)
Warranty: 2-year
And for this functionality, it isn't cheap. Ensure a static 4K webcam won't be good enough before investing in this premium solution.
Since the dramatic change in business practices that started in 2020, the concept of streamed conference meetings has become a commonplace one.
The eMeet Meeting Capsule is a dedicated conferencing camera that is designed to sit either at the end of a conference table or be mounted on a tripod where is has a clear view of all those attending.
Standing some 11.5 inches tall (29.2 cm), the Meeting Capsule has enough height to see over the clutter of meeting tables, and its 360-degree ultrawide angle camera can rapidly identify those speaking and frame the stream accordingly.
An array of noise-cancelling microphones provide clear and focused audio to those watching the stream, and a substantial onboard speaker relays their voices to those at the meeting.
For video output, this camera has five different modes driven by an onboard AI that should cover all the specific needs for conferencing, and it even supports remote control of the camera. That's something bosses love, for entirely sadistic reasons, but it does allow for some manual adjustments should the face tracking not deliver the desired framing.
If the eMeet Meeting Capsule has weaknesses, the most obvious is that it requires both a USB connection to a host system and a mains power cable, making cabling somewhat messy. It also only outputs video in 1080p, even with framing that isn't digitally zoomed.
eMeet Meeting Capsule: Price and availability
How much does it cost? £450/$559.99/ €522,95
When is it out? It is available now
Where can you get it? It can be bought from eMeet
Currently, the eMeet Meeting Capsule is available in a series of SKUs where extra items are bundled with the basic system.
The Capsule is £450 ($559.99), but can also be bought bundled with the OfficeCore M3 speakerphone, the M0 USB to Wireless Speakerphone and now with a complete conferencing deployment labelled as the Meeting Capsule Pro Room Kit.
The Pro Room Kit costs £740 ($899.99) and includes the Capsule, a wireless document camera with its own tripod and a USB wireless adapter, together with a magnetic privacy cover.
This kit isn't yet commercially available, but it should be soon.
eMeet Meeting Capsule: Design
Tricky packaging
Messy cables
High-quality construction
Before we get on to this device, one word of warning for anyone who buys this product about the packaging.
The Meeting Capsule comes fully assembled in a white box wrapped in clear plastic. When that plastic is breached, if you are holding the top of the box, the base containing the Capsule and accessories will fall away and drop everything on the floor. To be clear, this equipment is strongly made, but it isn't indestructible.
What you get in this packaging is the Capsule, a Bluetooth remote control, a power supply and a USB-C to USB-A cable.
The USB connection on the Capsule is USB-C, but this connection doesn't carry any power necessitating a 12V PSU. The need for a minimum of two cables isn't an elegant solution, and that they connect on one side and not on the rear is a little untidy.
On the same side as these cable connectors are a security slot and a 3.5mm audio jack for remote sound. Above these are three buttons that toggle the five video modes, mute/unmute sound and enter privacy mode.
In privacy mode, the camera points downwards, which seems somewhat odd, given that if the camera were active, it would still have a good, if inverted and a little restricted, view.
All these functions, and a few others, are also available on the remote and can be controlled from the software of a host computer.
When the unit is delivered, the camera is in privacy mode facing downwards, but once powered, the gimble pivots the camera into the vertical ready for use. How much this looks like the Eye of Sauron from Lord of the Rings is hilarious, and I'm sure someone will 3D print an enclosure for it that looks exactly like that tower at some point.
Looking perpendicular to the table, the camera's centre is 27cm from the surface, but a threaded insert on the base can be used to place the Capsule on a tripod for a lower or higher viewpoint.
Depending on the camera mode, the lens can be vertical, giving up to a 180-degree field of view or point upwards to provide a full 360 degrees.
The lower part of the Capsule is where the speaker is mounted with a perforated screen that enables the sound to emanate easily.
Overall, this is a very well-made piece of technology that looks professional. And, while the cabling aspect is a bit of a mess, once it's placed in a permanent position, this could be better organised with some adhesive cable clips.
eMeet Meeting Capsule: Software
Works with most things
EMEETLINK app
Resolution
For those wanting to quickly check if the Meeting Capsule is working, connecting the unit to a PC and running the Camera app should provide a live video image to prove it is functional.
According to the documentation, this camera will work directly with Zoom, Microsoft Teams, Skype for Business, Slack and Webex. And, it should also work with any web-based streaming tool that can access local resources.
However, eMeet has a specific tool for using this hardware called EMEETLINK, which includes subtle enhancements to the overall experience.
The five modes that the camera can operate are collaboration, speech mode, classic mode, spotlight, and InPrivate. Technically, InPrivate deactivates the camera, so there are four that you can use.
Collaboration and speech modes use the 360-degree camera position, whereas classic and spotlight use the one where the camera looks in a specific direction with a maximum 180-degree field of view.
In some modes, the AI software in the camera will frame those who are speaking while providing a strip view of the whole scene. This banner detail can be disabled, and the video can be scrolled manually sideways instead.
Occasionally this goes wrong where it frames the wrong person or the right person badly. You can use manual overrides with the remote to fix these, but it suggests that the AI is still learning what constitutes a human face and what is a pot plant.
If the scene is big and it chooses to zoom in on an attendee, the image can be on the soft side. The limitation is that the zoom is digital from the 4K source data and not optical.
Curiously the image seemed soft even by 1080p standards, so what resolution the camera is using might not be the full density of the sensor.
One issue we had with EMEETLINK was that it would spontaneously crash and pop out of existence. These happened a couple of times during testing, and we hope that eMeet finds out what causes these inexplicable crashes.
What's curious about this hardware is that the sensor on this camera is 4K, but the highest resolution that it can stream is 1080p. We've seen others claim this isn't an issue because that's the resolution that provides the best viewing experience, given the typical bandwidth available. Except what's considered the norm for bandwidth these days is much more than it was a couple of years ago, and if your business has a link that can't support a single 4K video stream without dropping out, then IT needs to explain why the service isn't better.
If remote users can only work with 1080p streams, that's fine, but telling customers you've limited the resolution for their good appears patronising.
As a person who spent seemingly interminable hours in highly unproductive meetings in the corporate sector, your reviewer has significant reservations about what the Meeting Capsule is promoting. The more people in a meeting, the exponentially longer it takes, and the less concrete results come from them, in my experience.
Therefore, having eight or more people around a table and then other people joining the throng from offsite locations seems mildly bonkers, even if this hardware will allow you to host such an event.
Since Covid, many set-in-stone ideas about homeworking and other practices beloved by Enterprise operations have been put to the sword. Perhaps it's time they let go of giant conference table ensembles, even if the technology is available that supports these traditional management models.
The Emmet Meeting Capsule is a pricey option for those wanting 1080p streamed meetings, but it can manage the visual aspect of the exercise without the need for a dedicated camera operator or continuous user intervention.
eMeet Meeting Capsule: Report card
Swipe to scroll horizontally
| | | |
| --- | --- | --- |
| Value | As conference cameras go, this one is at the expensive end of the market | 3.5 / 5 |
| Design | The design works effectively, and other than the cabling, it is well-considered. | 4 / 5 |
| Software | AI camera operation occasionally malfunctions, but the various modes and manual overrides help mitigate those moments. | 4 / 5 |
| Overall | The hardware is good, and the software works most of the time. If only it was cheaper and offered 4K streaming. | 4 / 5 |
Should you buy a eMeet Meeting Capsule?
Buy it if...
You love big meetings
With a 360-degree vision mode, this camera can handle large meetings and present everyone to others accessing the stream from remote locations. Just don't expect to be able to recognise everyone at range.
You only stream in 1080p maximum
The best this camera can offer is 1080p at 30fps, irrespective of the internet bandwidth available. This limitation fits with most corporate usage now, but in the future 4K and higher resolutions might become the norm.
Don't buy it if...
Streaming is only an occasional exercise
For most businesses, the Meeting Capsule is overkill. Those that are having meetings with every seat occupied around huge tables need to ask themselves if they can justify the time of all attendees and the expense of hardware like this.
Budgets are tight
Many conference room cameras with automated panning are cheaper than this one. There are a couple of suggestions below, but most are less than this.
Also consider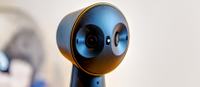 IPEVO Totem 180 conference camera
Another conference camera uses AI focus control, but in this example, it uses two 4K camera sensors and stitches the captures into a single 180-degree image.
Costing just $329 and capable of 4K streaming, the Totem is an alternative design for those that don't need 360-degree vision.
Read our IPEVO Totem 180 conference camera review for more information.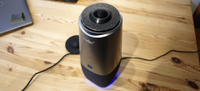 Coolpo AI Huddle PANA video conference system
This camera is like the 360-degree modes of the eMeet Meeting Capsule, but that's the only modes it has. One of the first cameras that did this trick, it is even more expensive than the Meeting Capsule, and it doesn't allow much user input on the quality of output.
It is easy to use, but it can be a bit frustrating if it won't do exactly what you expect.
Read our Coolpo AI Huddle PANA review for more information.
Mark is an expert on 3D printers, drones and phones. He also covers storage, including SSDs, NAS drives and portable hard drives. He started writing in 1986 and has contributed to MicroMart, PC Format, 3D World, among others.