Best alternative to Google Forms of 2023
Build powerful forms with these Google Forms alternatives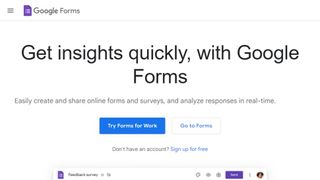 (Image credit: Google)
Form builders have definitely evolved in the last decade. From cumbersome code-based builders to easy-to-use no-code builders — creating forms today is just a matter of clicks.
Form builders help you create engaging, information-oriented forms for various purposes — from collecting external responses to building a database to internal workflow management. Building forms has become easier with several no-code easy-to-use drag-and-drop form builders such as Google Forms.
Google Forms, a popular name in the form builder industry, is accessible for free to anyone with a Google account. It does a decent enough job for a basic form builder, with features like conditional logic, 17-odd templates, and several question types. What I love about Google Forms is its analytics and reports, displayed in an easy-to-understand graphic format. Simply integrate the form with Google Sheets to unleash a whole new domain of features,
All in all, Google Forms is a simple interface with basic form-building functions good enough for individuals, professionals, self-employed, and even small businesses. However, it's still far behind some of the best online form builders around. There are only a handful of templates, very limited designing options, limited payment integrations, a lack of third-party integrations, and other essential features available with some paid form builders.
This comprehensive guide has listed out the best form builders for specific needs. Whether you're a beginner looking to create forms for school or college projects or a professional looking to build data collection forms — there's something for everyone on this list. So, without further ado, below are our picks for the best alternatives to Google Forms.
---

---
The best alternatives to Google Forms of 2023 in full:
Why you can trust TechRadar We spend hours testing every product or service we review, so you can be sure you're buying the best. Find out more about how we test.
Create great-looking forms without 10,000+ templates
Reasons to buy
+
Neatly categorized 10,000+ templates
+
300+ widget options
+
Integrations with over 100 third-party tools
Reasons to avoid
-
It's not a very cost-effective paid form builder
JotForm tops our chart of the best form builders due to its sheer ability to offer a simple and easy-to-use interface along with almost every advanced function you could need. For starters, it offers more than 10,000 form templates - almost 600 times more than Google Forms, each of which is neatly categorized into 45+ categories. All you have to do is click on "use template" and edit the form in JotForm's drag-and-drop editor. Adding elements is as easy as it gets.
What's more - JotForms has an entire element section dedicated to payment integrations. With more than 25 payment integration options, such as PayPal, Stripe, Apple Pay, and others, you certainly won't run out of options. JotForm's entirely free Starter Plan is just the cherry on the cake you've been looking for. With up to 5 forms and 100 monthly submissions, it gives you enough room to test out the platform or even use it indefinitely if you're a small business.
Read our full JotForm review.

The well-designed form builder
Reasons to buy
+
Creating complex logic flow is easy
+
A generous free plan
+
GDPR and HIPAA compliant
Reasons to avoid
-
No e-mail or phone support
Known for its simple-to-use logic and process flows, Typeform lets you collect relevant data through aesthetic forms. You can direct your users to a specific question based on their previous answers, with draggable lines that let you create even the most complex flows with ease.
Another thing I love about Typeform is its generous free plan, with features like 500+ Zapier integrations, unlimited forms, and more features absent in Google Forms. Typeform offers more than 20 question types, including unique ones such as rankings, opinion scale, Calendly, matrix, picture choice, and more. With over 71 integrations, including popular tools such as Excel, Google Analytics, Slack, and Salesforce, managing workflows and teams is also easy with this form builder.
Read our full Typeform review.

Best online form builder for SaaS, healthcare, and fintech industries
Reasons to buy
+
A lot of integration options (5000+ with Zapier)
+
Robust security with GDPR compliance
+
Intuitive drag-and-drop interface
Reasons to avoid
-
The basic plan costs $49/month
Feathery offers a lot of features that other form builders do not. For example, its integration with Argyle and Plaid facilitates easy user information flow. I found it ideal for companies in the SaaS, healthcare, and fintech industries. This has a lot to do with its seamless payment integrations through custom-designed PCI-compliant UI, various custom form elements, dedicated Fintech integrations, and GDPR and HIPAA compliance. With Google Forms, you'd need an adequate Google Workspace or Cloud identity package to build HIPAA-compliant forms.
Feathery also provides advanced insights and analytic reports, better than what most form builders (including Google Forms) offer. What's more - you can take the builder for a spin with a free forever plan. However, small businesses might not find Feathery a cost-effective option, with the basic paid plan starting at $49 per month. That said, I'd still recommend Feathey if you're looking for a complete form builder - you'll not miss any features.
Read our full Feathery review.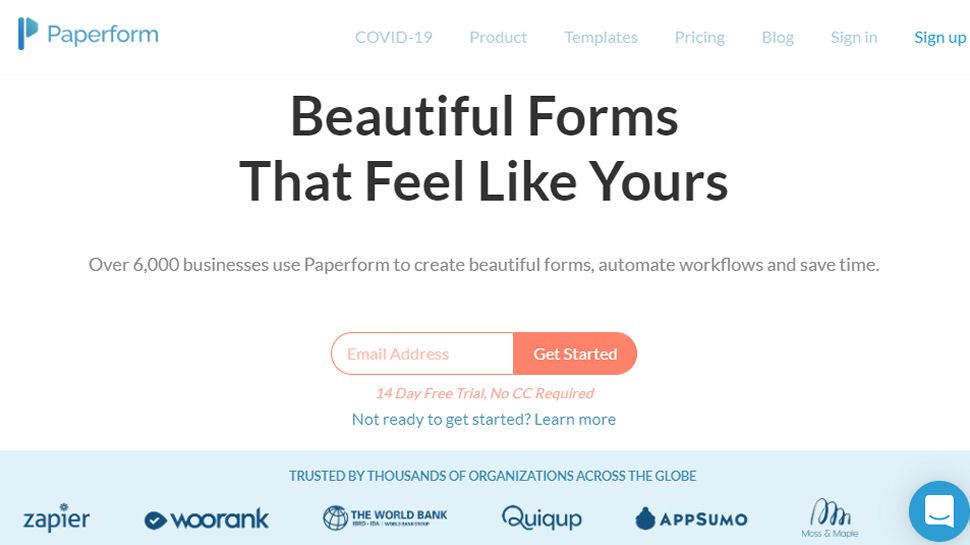 Robust form builder with several payment integrations
Reasons to buy
+
Excellent payment functionalities
+
Built-in Unsplash and GIPHY libraries
+
3,000+ third-party app integrations
Paperform is an ideal all-in-one form builder, with over 650 customizable templates, 27+ question types, and 1300+ payment integrations. These strong core aspects, coupled with various customization options and conditional logic, make Peperform a better form builder than Google Forms.
Paperform's payment integrations are better than most peers. You can accept donations in various currencies — perfect if you're looking to accept cross-border donations.
However, I found the pricing on the higher end. Its Essentials plan starts at $24/month, which doesn't allow you to incorporate custom branding. However, one thing I love about the builder is the ability to create unlimited forms with every plan.
Read our full Paperform review.

Secure free form builder
Reasons to buy
+
A simple drag-and-drop editor
+
Many customizations options
+
65+ premade templates
Reasons to avoid
-
Limited third-party integrations
I love Zoho Forms for its feature-laden free plan. Payment integration, a feature often available with paid plans of other builders, is available for free with Zoho, besides custom notifications, 20+ field types, and integrations. Even upgrading to its basic plan is pocket-friendly at only $10/month. Although Google Forms is also free, it doesn't have so many features.
Customizing and sharing forms on various platforms is also easy with Zoho Forms - you can even use QR codes to share forms. Although the builder integrates seamlessly with the Zoho suite of apps, the platform's third-party integration options are somewhat limited. That said, the builder's intuitive iOS and Android app makes tracking forms on the go an easy task. All in all, Zoho Forms is an ideal budget-friendly, feature-packed form builder.
Read our full Zoho Forms review.

Build unlimited forms
Reasons to buy
+
HIPAA, GDPR, and CCPA compliant
+
Affordable plans starting at $15/month
+
17+ field type option
Reasons to avoid
-
Limited customer support
Data collection, easy analysis, and workflow automation are Cognito Form's strongest suit. Collating the data collected for further analysis, exporting, or importing needs is made easy through customizable Excel templates. The builder offers more than 17 field types in an easy-to-use and intuitive drag-and-drop editor, which makes building forms a breeze.
One thing I love about Cognito Forms is its integration with various website builders such as WordPress and Weebly. This allows you to embed your form directly into your website — a huge plus if you're looking to generate sales leads or looking for service feedback.
Cognito Forms also offers a handy free plan with unlimited forms — an ideal proposition if you want to take the builder for a spin.
Read our full Cognito Forms review.

The great-looking form builder
Reasons to buy
+
HIPAA and PCI Compliance
+
Easy-to-understand data analytics
+
Invisible reCAPTCHA enhances security
There's a lot to like about this popular form builder used by brands like NBA and Netflix. I love the sheer amount of branding freedom it offers. You can embed several brand elements from its easy drag-and-drop editor — a definite upgrade from Google Forms.
Plus, importing a pre-designed form is as easy as pasting the old form's URL. Its PCI compliance eliminates any risks while collecting payments through its several integrations, such as PayPal and Stripe.
However, the cost is certainly a turn-off for me. The only dedicated Forms plan costs a whopping $50/month. At this price, I'd expect unlimited forms and responses. However, Formstack allows only 20 forms and 1000 submissions per form. Although the limits are suitable for small businesses and individuals, the price is targeted toward large enterprises. Thus, there's a significant feature-price gap.
Read our full Formstack review.

Microsoft's form builder
Reasons to buy
+
A decent form builder for beginners
+
Easy to build survey-oriented forms
Reasons to avoid
-
No third-party integrations
-
Only 8 field types
Microsoft Forms is well-known for its survey capabilities. Fields like rating, net promoter score, ranking, and the Likert scale are ideal for building information-driven surveys. Just like Google Forms, Microsoft Forms is also free for anyone with a Microsoft account. A decent library of 27 templates, along with an easy-to-use builder, gives it a slight edge over Google.
Although users can benefit from seamless integration with the Microsoft suite of apps, third-party integrations are still a challenge with Microsoft Forms. Only 8 field types can also make things difficult if you're looking to build advanced forms. If you already have a Microsoft plan, Microsoft Forms might get some limited work done. However, purchasing a whole Microsoft Suite just to use its Forms isn't worth it.
Read our full Microsoft Forms review.

A survey-rich form builder
Reasons to buy
+
More than 150 survey-oriented forms
+
1000+ third-party integrations
+
Several CRM integrations
Reasons to avoid
-
Old interface
-
Costs more for what it does
If you're looking to build a form to collect data through surveys, Wufoo is a no-brainer pick. It offers more than 150+ survey-oriented templates which are easy to customize as per your needs. Wufoo's robust CRM integrations help build custom workflows — something small businesses would love but wouldn't get with Google Forms.
Real-time notifications, payment integrations, and conditional logic are some other benefits you can expect from Wufoo. However, its builder interface seems to be stuck in the 90s. When compared to peers like Typeform and JotForm, the Wufoo interface seems dull and lacks inspiration. It also lacks CPATCH verification, which increases the risk of bot entries and submissions.
Without a free plan, shelling out $19/month doesn't sound like a value proposition to me.
Read our full Wufoo review.
---
How to choose a form builder
Choosing a form builder depends on several factors, such as the purpose of forms, pricing, and integration needs.
Pricing — if pricing is your sole concern, you can opt for free form builders such as JotForms, Zoho Forms, and Feathery.
Purpose — Are you a business looking to generate leads through forms or a student looking to conduct surveys for your project? Each form builder serves a particular purpose. For example, you can opt for Wufoo if you want to create survey-oriented forms. Businesses looking to create robust internal workflows should look for forms with CRM integrations, such as Typeform or Cognito Forms. If you're in SaaS, healthcare, and fintech industries, Feathery is an ideal pick.
Ease of use — If you're a beginner or lack coding knowledge, look for drag-and-drop form builders without coding requirements. Zoho Forms, Google Forms, and Microsoft Forms are among the easy-to-use builders.
How do we test form builders
Picking 9 form builders from a buffet of hundreds isn't easy. Here's how I tested the form builders to come up with the above list.
Essential features — All form builders must offer some common features, such as integrations, templates, several question types, and customer support. A compromise on these essentials would make it difficult to build purposeful forms.
User Interface and templates — Apart from features, the number of pre-designed templates and the builder user interface are important things I considered. All the recommended form builders offer a decent number of templates that are easy to customize with intuitive form editors — some being drag-and-drop and some click-oriented.
Reporting capabilities — Collecting data through forms isn't enough. The data must be able to be produced into charts and Excel sheets to be analyzed to make effective decisions. All of my top form builders offer excellent reports and analytics. From Google Forms' simple charts to Feathery's advanced insights — you can do a lot with your collected data.