Don't pick the Intel version of this machine. The balance between CPU and GPU is entirely wrong. Unless you want something colourful to process spreadsheets, the Intel AM08 is a prime example of how off-the-rails Intel went with 11th Gen mobile processors
Pros
+

Monster processor

+

Easy internal access

+

Colourful lights

+

There is an AMD version
Cons
-

Only Gigabit ethernet

-

Poor GPU for this CPU
Why you can trust TechRadar We spend hours testing every product or service we review, so you can be sure you're buying the best. Find out more about how we test.
Acemagic AD08: 30-second review
Acemagic AD08 Specs
Here is the Geekom AS 5 configuration sent to TechRadar for review:
CPU: Intel Core i9-11900H
Graphics: Intel UHD Graphics for 11th Gen
RAM: 16GB DDR4 RAM (Expandable to 64GB)
Storage: M.2 2280 512GB NVMe SSD
Ports: 4x USB 3.2 Gen2 Type-A, 1x USB 3.2 Gen2 Type-C (10Mbit), 2x HDMI 2.0, 1x universal audio jack
Connectivity: Dual-Band WiFi 6, 1x Gigabit LAN adapter, Bluetooth 5.2
Size: 154.3 x 77.8 x 77.8 mm (W x D x H)
OS installed: Licensed Windows 11 Pro.
Accessories: PSU Adapter19V/6.3A, HDMI cable
The Acemagican AD08 uses a very similar case design to the previous AMR5, which is quite large by Mini PC standards and was designed to be placed on the desk. So, it's certainly not the best mini PC when it comes to portability, but there are hidden depths here.
It comes in two variants: an AMD-powered AM08 Pro model using the Ryzen 6900HX CPU and Radeon 680M, and the one reviewed here built around the Intel Core i9-11900H CPU and UHD Graphics for 11th Gen.
Having tested both these platforms previously on other machines, we'd avoid the Intel AM08 like the plague, as the AMD platform is a much better performer and is cheaper.
The Intel AM08 only comes pre-installed with 16GB of DDR4 and 512GB of SSD storage, whereas the AMD AM08 Pro is available as 'barebones' where you supply your own memory and storage. Or with 32GB of RAM and 512GB of storage.
What both models offer is a simple-to-deploy Windows 11 Pro machine with plenty of USB ports and dual display outputs.
It would make a decent platform for media presentations and general office tasks. Still, Acemagic emblazoned the AM08 Pro packaging with the word 'gaming', and this isn't something we'd recommend using this machine for. The Intel AD08 has instead the word 'Mighty', which is more ambiguous.
What you also can't do with either design is mount it on the rear of a monitor.
Where having a Core-i9 processor in a small desktop sitting system seems wonderful, the reality of this machine is that it is outperformed by more recent Core-i7 processors and AMD Ryzen 5 series machines.
Acemagic AD08: Price and availability
How much does it cost? $671
When is it out? It is available now
Where can you get it? Can be ordered directly from Acemagic
At the time of writing, only US customers can get the AD08 reviewed here, but the AMD-powered AM08 Pro is available in the USA and in Europe.
The $671 price of the AD08 includes 16GB of RAM and 512GB of storage, and it's the only SKU available for this model.
Conversely, the AMD Ryzen-based AM08 is only $559, but it currently only comes 'barebones' in the USA, where the customer provides RAM and storage. In Germany, there is a second SKU with 32GB RAM and 512GB storage for €644.25 or £551.30 in the UK.
Based on these costs, the AD08 doesn't appear to be as good a deal as the AM08 Pro, for which you get a more powerful machine for less expense.
Acemagic AD08: Design
Like the AMR5
Easy Access
Glowing memory
The design of this Mini PC isn't like any of the classic NUC designs we've seen elsewhere other than the Acemagic AMR5, as the AM08 was designed to sit exclusively on the desk and not be attached to the VESA holes on a monitor. It was also made only to stand upright and not be placed on its side.
The knurled power button at the top has three settings for Silent, Performance and Auto operations, and for all our testing, we ran in the Performance mode. On a machine that isn't a laptop, saving power might seem unnecessary, but using these modes can reduce fan noise.
Because of this layout, all the ports are on the front and back, with three USB ports on the front and two on the rear, along with an audio jack. Also on the back are two HDMI 2.0 display outputs, Gigabit Ethernet, a reset hole and a security slot.
With so many mini-systems coming with 2.5GbE LAN these days, having only gigabit LAN is a slight disappointment.
Like the AMR5, this PC is without an SD Card slot, but at least the USB ports on this model are all USB 3.2 Gen2.
The top and one of the machine features RGB LED lights that cycle through a rainbow colour scheme that is visible through holes in the case.
Of these displays, the most dramatic is the one on the right side, where a large trapezium window gives off a moving colour rainbow. This light animation is configurable via a desktop application, allowing the AM08 to be less conspicuous in a business setting.
One great feature of this case is that internal access doesn't require tools, as the right-hand side is merely attached using magnets.
Removing the panel provides access to the M.2, a single M.2 NVMe slot and the DDR4 SODIMM modules (x2). One oddity revealed when we went inside is that the lighting effects under that cover come from LEDs attached to the SODIMM memory modules.
Therefore, if you upgrade the memory to another design, you will no longer have any glowing RGB LEDs.
As with the AMR5, this is a somewhat distinctive design that doesn't follow the typical NUC tropes, and for some, this will be fine.
Acemagic AD08: Features
Powerful CPU
Lots of USB
Only PCI 3.0 M.2 slot
It's hard to imagine what Intel was thinking when they created the Core i9-11900H. Because the Tiger Lake-H, on paper, looks amazing. With a base frequency of 2.5 GHz when using 45W and a boost on up to two cores of 4.9 GHz, this is a processor that could outperform desktop parts.
Launched in September 2020, this design pre-dated the P and E core division, and it was made using the ancient 10 nm SuperFin process.
With eight cores that all hyperthread for sixteen threads, this i9 should be great. Why it isn't, we'll discuss later, but the two biggest issues it has are the UHD Graphics GPU and that the PCI express is only 4.0 on the CPU, with the chipset only getting 3.0.
With 20 PCIe lanes to spare, it explains why all the USB ports have 10Gbit/s of bandwidth, and that makes this unit good for connecting to a USB-C docking station. However, since the machine is likely to be on the desktop anyway, there seems little to gain from adding this hardware to the AD08.
One accessory we'd recommend is a USB to 2.5GbE LAN adapter, as it will be significantly faster than the 1GbE adapter Acemagic installed, and they are relatively inexpensive.
An aspect of this design that might have been better is the M.2 slot.
Given all the PCI lanes available, this machine only has a PCIe 3.0 M.2 slot, capping the performance below 4,000 MB/s. What you can add to make the internal storage greater is a single 2.5-inch HDD or SSD, and this could be very useful for cloning the M.2 drive to something larger than the 512GB that the system comes with.
Acemagic AD08: Performance
Odd processor
Poor GPU
Only PCIe 3.0 NVMe
Benchmarks
Here's how the Acemagic AD08 scored in our suite of benchmark tests:
3DMark Wild Life: 6135; Fire Strike: 2387; Time Spy: 786;
Cinebench R23 CPU pts: 1584(single-core); 9619 (multi-core)
GeekBench 5: 1663(single-core); 8215 (multi-core), 8139 (OpenCL)
CrystalDiskMark: Sequential Read: 3450MB/s; Sequential Write: 2699 MB/s
PCMark 10 (Office Test): 5114
Windows Experience Index: 8.1
We could dress this up and say that a CPU with eight cores and sixteen threads is fantastic for general office duties, as it can be. But that entirely misses how bad the Intel 10th and 11th Gen parts were on so many levels, and the Core i9-11900H isn't the processor it looks like on paper.
This chip was developed from an early design where Intel didn't split the cores into performance and efficient modules. It offers eight cores, all with hyperthreading, which sounds like a desktop processor from the same era.
Except when it is tested, the multi-threaded test results all look like it has eight cores with no hyperthreading. Because the performance of those threads is half that of a single core, making the multi-threading mostly pointless.
But what undermines the Core i9-11900H is that Intel saddled it with a version of the UHD Graphics GPU, presumably because space wasn't available on the die for the Iris Xe.
This makes for a dramatically unbalanced configuration, where the CPU has plenty of power that can't be expressed by the tiny graphics engine.
For those who need convincing that the AMD AM08 Pro version of this machine is the one they might want, all the evidence is in the 3Dmark Time Spy scores.
The AD08 managed a low score of only 786, whereas the Geekom AS 6, which runs the same 6900HX processor and GPU as the AM08 Pro, achieves 2571. That's an improvement of 327%.
But even a recent Core i7 mobile CPU with the Iris Xe GPU can deliver a score of 1944, nearly triple the performance.
Overall, the silicon in this mini-PC has aged like fine milk, and we'd strongly recommend you avoid this and embrace the AMD Ryzen version of this machine, which is also cheaper.
It's sobering to realise that when Intel launched the Core i9-11900H processor on its own, it cost $599, a few dollars less than the asking price of this whole machine.
Much has happened since 2020, and Intel now makes much better designs that are more power efficient and can boost their clocks more easily without overheating.
But the real issue for this platform is the GPU, which doesn't compare well with the Intel Iris Xe or AMD Radeon 680M alternatives.
Therefore, the AD08 is something of a genie-in-a-bottle where the processing power of the CPU is frustratingly limited by the cork of a lacklustre GPU.
As a desktop system, there is relatively little wrong with the structure of this machine unless you want to use a VESA mount. But we'd strongly recommend you get the undoubtedly better experience offered by the AMD AD08 Pro and its Ryzen 9 CPU.
Acemagic AD08: Report card
Swipe to scroll horizontally
| | | |
| --- | --- | --- |
| Value | The Intel version of this machine is too expensive, considering its performance | 3 / 5 |
| Design | Odd design that provides easy access to the internals | 4 / 5 |
| Features | Plenty of USB and some expansion possibilities, but only 1GbE LAN | 4 / 5 |
| Performance | Poor GPU and CPU that doesn't hyperthread well | 3 / 5 |
| Total | A great justification for the AMD version of this same machine | 3.5 / 5 |
Should you buy a Acemagic AD08?
Buy it if...
You insist on Intel
While for most users, the whole Intel/AMD debate died some years ago, but some still insist that they will only use one of these brands. This might be Intel, but it's not the latest CPU generation or even the one before that.
Portability is important
The AD08 might not be as small as a pure NUC system, but it's small enough to easily carry around for presentation purposes. And with the storage expanded, there will be sufficient space for copious amounts of slides, videos and images.
Don't buy it if...
You need a discrete GPU
The limitation of a NUC enclosure is that there is no PCIe slot or room to mount a video card. If you want to game or work on CAD, then this machine, or any other NUC, isn't for you.
You want to game on this PC
To say the Core i9 CPU in this machine isn't anything special seems odd, but it was built using an older fabrication and lacks the power efficiencies that came in with 12th and 13th-generation parts. But what stimies this design is the UHD Graphics GPU that isn't a patch on the newer Iris Xe GPU silicon.
Also consider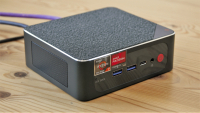 Beelink SER6 Pro 7735HS
The current darling of the NUC community, the SER6 Pro also uses the latest AMD Ryzen 7000 mobile technology and delivers equally impressive performance.
It comes with Crucial branded memory but an OEM NVMe drive. Getting access to the memory and storage is a little more convoluted in this machine, but this isn't anything that most users will be doing daily.
Check out our Beelink SER6 Pro 7735HS review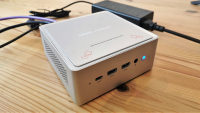 Minisforum Venus NPB7
The NPB7 is the flagship of the Venus series and features the incredible Intel Core i7-13700H (14 cores, 20 threads) mobile CPU and up to 32GB of DDR5 RAM. It can be bought barebones with only the processor installed, RAM and M.2 NVMe storage to be provided by the customer. If you want a high-quality NUC with bags of performance and Thunderbolt baked in, the NPB7 is worth the investment.
Check out our Minisforum Venus NPB7 review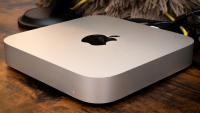 Apple Mac Mini (2023)
Recently revamped, the Mini now comes with either the M2 or M2 Pro chip, and it experienced a small price reduction from the M1 2020 model.
However, this machine can't be upgraded, so you need to buy the model that you will ever need from the outset. For the M2 Pro version with only 16GB of RAM and 512GB of RAM, it will cost you $1,299. Or, twice the price of the AS 5 and more, and with other options, one can approach $5000 of spend. Not for the economically challenged.
Check out our Apple Mac Mini (2023) review
Mark is an expert on 3D printers, drones and phones. He also covers storage, including SSDs, NAS drives and portable hard drives. He started writing in 1986 and has contributed to MicroMart, PC Format, 3D World, among others.