13th Gen mobile parts make speedy NUCs, and the NPB7 is certainly fast. And with the excellent port selection, it offers great flexibility at an affordable price. There is very little wrong with this design and it's superior to the latest Intel NUC.
Pros
+

13th Gen powerhouse

+

Easy access for upgrades

+

Aluminium exterior

+

USB 4.0 (Thunderbolt)
Cons
-

Only one 2280 PCIe M.2 slot
Why you can trust TechRadar We spend hours testing every product or service we review, so you can be sure you're buying the best. Find out more about how we test.
Minisforum Venus NPB7: 30-second review
Minisforum Venus NPB7 Specs
Here is the Minisforum NPB7 configuration sent to TechRadar for review:
CPU: Intel Core i7-13700H (14 cores, 20 threads)
Graphics: Iris Xe (96 EU)
RAM: 16 DDR5 RAM (Expandable to 32GB)
Storage: 512 GB PCIe Gen 4 NVMe SSD
Ports: 4x USB 3.2 Gen 1 Type-A, 1x USB 3.2 Gen 2 Type-C, 2x USB 4.0, 2x HDMI, 1x universal audio jack, 2x 2.5GbE RJ45 Ethernet port
Connectivity: Intel Wi-Fi 6E + Bluetooth v5.2
Audio: 1x DMIC, no speakers
Camera: None
Size: 128 x 126 x 56 mm (W x D x H)
OS installed: Licensed Windows 11 Pro (on those with storage included).
Accessories: Adapter 19V/6.3A
We've seen some of the best mini PC systems - not to mention some of the most interesting - to come from Minisforum in the past year, including the unique Mars MC560.
That used an AMD mobile chipset to great effect, but the NPB7 demonstrates what the latest 13th Gen Intel mobile processors offer for those looking to own a powerful NUC.
The NPB7 is one of three NUCs in this Venus series, with the NPB5 and NAB6 offering slightly different processor options but with the same chassis and port selection.
What is great about these Minisforum machines is that they can be bought with memory and storage pre-installed, or they be bought 'barebones' without memory or storage.
Therefore the NPB7 can be purchased for as little as $489 barebones, and the cheapest operational version with 16GB of RAM and 512GB of storage is $609.
A variant with 32GB of DDR5 and 1TB of M.2 storage is $699, making the addition of those items only $210 more expensive than the barebones model.
All NPB7 models have the 13th Gen Core i7-13700H mobile processor with no less than fourteen cores and twenty thread handling for some aggressive computing.
They also have dual HDMI outputs, dual 2.5GbE LAN ports, four USB 3.2 Type-A, single USB 3.2 Gen 2 Type-C and dual USB 4.0 ports.
That port selection makes the NPB7 ready for a very wide range of challenges that might include being a desktop office system, a dedicated firewall, a media server or a file distribution hub.
This machine is easily one of the most powerful and flexible NUC designs we've seen, and considering the technology in it, the price seems exceptionally price sensitive.
Minisforum Venus NPB7: Price and availability
How much does it cost? $489/£499/€549
When is it out? It is starting to be available now
Where can you get it? Direct from Minisforum
Unlike many mini PC system makers, Minisforum sells its products directly through its website, alongside Amazon and other online retailers.
The entry-level is $489 for the barebones option. The three other choices come with 16GB of RAM and 512GB of storage, 32GB of RAM and 512GB of storage, and the top option is 32GB of RAM and 1TB of storage. These pre-installed models cost $609, $669 and $699, respectively for US customers.
In the UK, the barebones cost is £499, and the pre-installed models are £609, £669 and £709. Factoring in the currency exchange rate and VAT, this is more expensive than American pricing. EU pricing is also slightly elevated, with €549 for barebones, and for ones with memory and storage are €689, €745 and €789.
That said, even in Europe, this NUC is substantially cheaper than the office Intel NUC 13 Pro, and that machine comes with the less impressive Intel Core i7-1360P processor.
Overall, for a mighty NUC, the NPB7 is a bargain stateside and still an affordable option outside that region.
Minisforum Venus NPB7: Design
Plenty of accessories
Easy access
Excellent port selection
We've seen NUC that come with a PSU and maybe a mounting plate, but not always.
But, the NPB7 comes with a VESA mounting plate and screws, replacement screws for the system, an HDMI cable, PSU and power cable, and a custom cable to connect a SATA drive.
Putting a SATA drive inside the NPB7 is a remarkably easy process because of a clever quick-release lid that this design sports. Pressing on both the left and right front corners of the top cover activates a sprung catch, and the lid pops up to be lifted away.
No screwdrivers are needed, and this panel give you access to the memory, storage and a few other special internal features.
In the underside of the cover is a mounting location for a 2.5-inch HDD or SSD, and a special cable will connect that to the system board beneath. The board mounts two DDR5 SODIM modules up to a maximum of 32GB in a dual channel configuration, a single PCIe Gen 4 2280 M.2 NVMe drive (with a fan cooler), and a smaller 2230 M.2 with a Wi-Fi board installed.
It might be possible to use a 2230 NVMe drive in the WIFi slot if you don't need that functionality for extra storage.
We'd of liked to have seen a second 2280 M.2 slot, but given the number of external ports this machine has and the PCIe lanes those occupy, we can easily rationalise why it does not.
Ventilation is a big part of this design, with a myriad of holes milled into the aluminium case walls to let air in through the sides. Once circulated, the warmed air is then expelled along the bottom rear below the I/O. The NPB7 has a new cooler design that mounts the fan at the bottom, where it pulls warmed air down through the system before ejecting it.
The case also plays a part in radiating heat, although the top and bottom are plastic. Even under stress conditions, the NPB7 didn't get noticeably hot, and the fan is almost silent.
Ports are limited to the front and back, with four along the front and eight at the back.
With both USB-C and USB-A on both sides, there are more options than most desktop computers offer, and the inclusion of dual USB 4.0, HDMI and 2.5GbE LAN are most welcome.
Overall, this is a well-conceived and designed NUC that makes even the Intel NUC 13 Pro look under-engineered.
Minisforum Venus NPB7: Features
Very powerful CPU
Could-be-better GPU
Impressive port selection
To say that the 13th Gen Core i7-13700H processor on this machine is powerful is something of an understatement. With fourteen cores, of which six are performance, and eight are efficiency, this CPU can happily process up to twenty threads simultaneously. That makes many desktop processors look on the weak side, and the chip can turbo clock up to 5GHz when the god of thermodynamics allows it.
The snag here, and it's only relevant to those that need graphics processing, is that the balance between this monster processor and the integrated GPU is somewhat off-kilter.
Intel's integrated GPU of choice is the Iris Xe, and on this silicon, it's the 1.5GHz 96 Execution Unit model, effectively the top GPU option for Iris Xe.
The issue is that while the main CPU can crunch numbers impressively if the chain of processing ends with this GPU, it's a little like trying to push an elephant through a keyhole.
The CPU desperately needs a discrete GPU or anything better than the Iris Xe to balance this equation, as it isn't in much equilibrium here.
For those that aren't involved in graphics problems, none of this matters much.
A significant strength of this design is the ports. Not only the number available but the type and specification of those Minisforum included.
In particular, the dual LAN ports make this machine ideal for being a firewall, even if that task is probably beneath this processor class. It would be possible to channel bond the two LAN ports to achieve up to 5Gbps of LAN throughput to a suitable switch.
And, using the USB 4.0 ports, it should be possible to upgrade that network connection to 10GbE, if needed.
We've seen USB 4.0 ports on some NUCs that don't hit the specification standard, but the ones on this machine do, as it fired up a Thunderbolt dock from Caldigit without any tweaking required.
With two of these ports, each rated for up to 40Gbps transfers, rapid external storage is possible and practical. You should also be able to connect a third display through Thunderbolt or USB 4.0, should you be using the NPB7 for display marketing.
Whatever you intend to use this mini PC for, it has the port selection to make those plans work.
Minisforum Venus NPB7: Performance
Quicker at multithreaded tasks
Mediocre SDD
Not ideal for graphics tasks
Benchmarks
Here's how the Minisforum Venus NPB7 scored in our suite of benchmark tests:
3DMark Wild Life:15791; Fire Strike: 5806; Time Spy: 2096;
Cinebench R23 CPU pts: 1726 (single-core); 13195 (multi-core)
GeekBench 5: 1705 (single-core); 13204 (multi-core), 20910 (OpenCL)
CrystalDiskMark: Sequential Read: 4799 MB/s; Sequential Write: 3533 MB/s
PCMark 10 (Office Test): 5660
Windows Experience Index: 8.5
The Intel Core i7-13700H is a beast, delivering exceptional performance for both single-thread and multi-threaded tests. That 5GHz turbo clock can be used to great impact, and the ability to work fourteen different threads efficiently without overheating is impressive in a system this small.
The Core i7-1360P used in the Intel NUC 13 Pro has similar single-thread results, but when a test like the CineBench23 multi-cire test is executed, the Core i7-13700H dominates by around 10% faster.
The only other platform we've tested that can hold a candle to the NPB7 is the Beelink SER6 Pro 7735HS and its Ryzen 7 processor. The processor isn't as powerful as this Intel CPU, but the Radeon 680m integrated graphics are better than the Iris Xe in most graphical tests.
A flavour of that is the GeekBench 5 OpenCL test, where the NPB7 managed a score of 20910, but the Beelink SER6 Pro 7735HS bettered that with 31122, almost 49% better.
Graphics performance is the only feature holding this system back if you specifically need high-performance visuals.
The NVMe drive that was pre-installed was a Kingston om8pgp4512q-a0, an OEM product made specifically for system builders. This drive is not something that retail customers would normally purchase or install, though it performs the same job as Kingston's branded lines.
It's a PCIe Gen 4 drive, and it's promoted on its value rather than raw performance.
In our tests, the 512GB drive pre-installed in the review machine managed a respectable 4799 MB/s reads and 3533 MB/s writes. There are faster drives around, and with greater capacities than the 1TB capacity, this range is limited to. And, with an external NVMe drive caddy, swapping it out for something better wouldn't be difficult.
Even with this SSD, the system managed one of the best scores, 8.5, a Mini PC has ever recorded on WEI (Windows Experience Index), and it also delivered a high PCMark result.
Overall, unless you need speedy graphics, the performance of the NPB7 is exceptionally good.
The NPB7 is the second NUC we've seen this year that undermined the premium Intel NUC 13 Pro product, but this time with an Intel platform.
Where this system wins out over the excellent Beelink SER6 Pro 7735HS is that the processor in this design is even more potent. Its weakness is that it demonstrates the scaling limitations of the Iris Xe GPU and how Intel badly needs to deploy its ARC GPU technology in the next 14th Gen mobile processor.
Having this much processing power is wonderful, but being able to use it effectively might be a challenge for some customers.
What sells this device above even the official Intel offering is its power, comprehensive port selection, good build quality and competitive price.
The NPB7 is an exceptionally well-rounded solution for those wanting an Intel-based NUC.
Minisforum Venus NPB7: Report card
Swipe to scroll horizontally
| | | |
| --- | --- | --- |
| Value | More power than the Intel NUC 13 Pro for 75% of the cost. | 4 / 5 |
| Design | Metal chassis, easy access and effective cooling make this a classy NUC. | 4 / 5 |
| Features | 13th Gen mobile CPU, DDR5 memory, dual 2.5GbE LAN, USB 4.0/Thunderbolt, what's not to like? | 5 / 5 |
| Performance | The processing power of a desktop system and more. The only weakness here is the Iris Xe and its limitations. | 3 / 5 |
| Total | A very strong contender for Mini PC of the year. | 4.5 / 5 |
Should you buy a Minisforum Venus NPB7?
Buy it if...
You need a small system with grunt
The CPU in this tiny machine is disturbingly powerful, and it can crunch through data processing tasks that would stall most desktop systems. And, it has plenty of extra power for handling data collection, managing external storage and critical network tasks.
You need flexibility
If all computers were made for a specific purpose that never changed, it would be easy to specify them. However, in the real world, things change, and computers get repurposed.
The NPB7, with its processing power and comprehensive port selection, provides lots of flexibility to make use of this machine in other ways should the topology of the demands change during its operational life.
Don't buy it if...
You specifically need graphics power
NUC systems, in general, don't offer great GPU performance. They don't have discrete graphics cards or the power and thermals to handle them. The Iris Xe in this machine is fine for watching videos and surfing, but it's not for gaming or CAD.
You have modest requirements
Spending $700 on this with lots of memory and storage wouldn't be a good investment if you only need it to surf the Internet or chat, as it is massively overpowered. There are many much cheaper solutions, some made by Minisforum, that would better suit those jobs and smaller budgets.
Also consider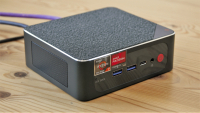 Beelink SER6 Pro 7735HS
The current darling of the NUC community, the SER6 Pro also uses the latest AMD Ryzen 7000 mobile technology and delivers equally impressive performance.
It comes with Crucial branded memory but an OEM NVMe drive. Getting access to the memory and storage is a little more convoluted in this machine, but this isn't anything that most users will be doing daily.
Check out our Beelink SER6 Pro 7735HS review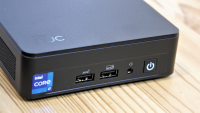 Intel NUC 13 Pro
If you must have Intel-branded equipment, then this is the latest official NUC. Built around the twelve-core and sixteen-thread CoreT i7-1360P, this is a powerhouse for data processing.
As you might expect from a flagship NUC, the 13 Pro is beautifully made and designed. But, you pay for that privilege, with the top specifications costing north of $1,000.
Check out our Intel NUC 13 Pro review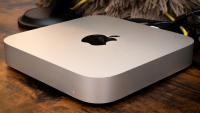 Apple Mac Mini (2023)
For those that like Apple products, the latest Mac Mini is effectively the only choice in its mini PC category. But it now comes with either the M2 or M2 Pro chip, and it has experienced a small price reduction from the baseline M1 2020 model.
However, this machine can't be upgraded, so you need to buy the model that you will ever need from the outset. For the M2 Pro version with only 16GB of RAM and 512GB of RAM, it will cost you $1,299. But boosting that to the best processor, 32GB of RAM, and 8TB of storage could increase that to $4,449.
Check out our Apple Mac Mini (2023) review
Mark is an expert on 3D printers, drones and phones. He also covers storage, including SSDs, NAS drives and portable hard drives. He started writing in 1986 and has contributed to MicroMart, PC Format, 3D World, among others.