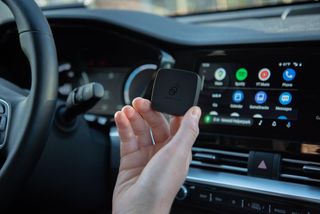 (Image credit: AAwireless)
Using your phone in your car can be a risky maneuver, however. Android Auto makes using your smartphone on the go safer by connecting your Android device to your car's in-dash touchscreen. Android Auto allows you to take advantage of your Google Assistant and other voice activated features while you're on the move. While recent car models support wireless connectivity to Android Auto, most users still have to plug in their phone to use Android Auto.
Based in the Netherlands, AAWireless is among the first to develop a wireless dongle for Android Auto connectivity. Backed by a successful IndieGoGo campaign, AAWireless sought to create an easy to use and affordable way to make Android Auto connectivity completely wireless, allowing you to ditch the obnoxious USB cables. The AAWireless wireless Android Auto adapter lets you connect your phone to your car's dashboard screen via a single wireless dongle, eliminating the need for pesky cables and making the act of using your phone while on the go a safer, user-friendly experience.
Only via Techradar you get a temporary 10% discount on the AAWireless using the code AATech10. This code is valid on Amazon (US, UK, Germany) and the official AAWireless webshop.
Here are five reasons why you should consider using an AAwireless Android Auto dongle in your own vehicle.
Reason 1: Affordable wireless functionality
To use Android Auto you typically need a smartphone running Android 6.0 and up, a compatible vehicle, and a USB cable. It's that last part that can pose some problems when you're driving. Take a sharp turn and it's almost inevitable that your mobile phone will slide from whatever surface you have it sitting on and land on the floorboards.
If the phone is connected by USB, it could become disconnected and possibly damage the connective port, or the cable itself could become wrapped around the gear shift. The cable can even be a pain to manage when trying to pay with your phone at a drive-thru leaving you in a position where you may need to disconnect your phone from your car just to use it. The solution here, clearly, is to go wireless.
Other wireless dongles can cost upwards of €150 but AAWireless Android Auto dongle is just €79.99, making it an affordable option for eliminating the pain of having extra cables in your car and still being able to use your phone and Android Auto to their fullest extent. To make things even better: you can get a 10% discount using the discount code AATech10 on Amazon and the official webshop.
Reason 2: Ease of setup
Setting up the AAWireless Android Auto adapter takes just 2 steps. Simply plug the dongle into your car's USB port and connect your phone via Bluetooth to the AAWireless adapter. After the initial setup, your Android powered smartphone will automatically connect to the dongle wirelessly.
Once the setup is complete you can keep your phone safely tucked away in your pocket while still accessing all of your favorite apps using your in-dash or in-headrest touchscreen. Navigating maps, making calls, and answering messages is as simple as saying "Okay, Google."
Reason 3: Free companion app
A handy dandy companion app is available to download on your Android smartphone so that you can access additional features for your AAWireless Android Auto dongle including troubleshooting guides and firmware updates. The companion app is a convenient way to maintain the health of your AAWireless dongle, allowing you to troubleshoot potential issues like flashing LEDs. It also allows you full control over your dongle's WIFI connections and paired phones.
Reason 4: Dutch owned and produced in the EU
The AAWireless adapter is the only Android Auto dongle produced in Europe. While the Dutch-owned and operated company originally manufactured the dongles in China they have since shifted manufacturing of the AAWireless adapter to Europe to ensure a higher quality product with lower distribution costs.
Reason 5: A known brand you can trust
Over 200,000 users have already simplified their connectivity with an AAWireless adapter in 135 different countries around the world. The AAWireless dongle is plug and play compatible with more than 20,000 cars models and is highly rated with a Trustpilot score of 4.4/5.
Bonus reason: TechRadar 10% Discount
As a result of better distribution from moving production to the EU, the AAWireless is even more affordable with a recently reduced price of $79.99 (down from €$89.99). Shoppers in the EU can pick up the dongle from the AAWireless website, while US and UK readers can purchase the AAWireless adapter from Amazon. All Techradar readers can enjoy an extra 10% off their order using the code AATech10 regardless of which storefront you use to make the purchase.
Get daily insight, inspiration and deals in your inbox
Get the hottest deals available in your inbox plus news, reviews, opinion, analysis and more from the TechRadar team.