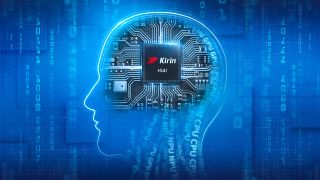 The new Kirin 980 SoC is an upgrade to the previous-generation Kirin 970 chipset. That older SoC paired with the quality cameras in the Huawei P20 Pro to earn it the highest DxOMark mobile score to date, beating out even the newer Galaxy Note 9 from Samsung and iPhone XS Max from Apple.
Apple has its A12 Bionic and just about all flagship Android phones have the Snapdragon 845 chipset, but Huawei sees the future in AI. And, with its new Kirin 980 system-on-chip (SoC), Huawei is doubling down on AI and dialing up the performance at the same time.
Not only does the new Kirin 980 stand to improve in basic performance thanks to higher clock speeds, but it will improve Huawei's future phones in even more ways. The Kirin 980 is the first 7nm SoC chipset for an Android phone, and that small CPU process will help it achieve improved efficiency. The SoC is also the first to feature dual Neural Processing Units (NPUs), giving it even more of the AI-driven performance that helped the Kirin 970 shine.
Performance and efficiency both upgraded
Compared to the Kirin 970 that powered the Huawei P20 Pro and Mate 10 Pro, Huawei claims the Kirin 980 improves performance by 20%, ups power efficiency by 40%, and leads to an overall energy efficiency improvement of 58%.
The Kirin 980 is an octa-core chipset featuring two super cores; two large, high-efficiency cores, and four small, ultra-efficient cores. Anything that you need your phone to do quickly can go to the super cores, while the large cores offer sustained performance, and the small cores handle everyday, light activities while sipping on your device's battery.
The Huawei P20 Pro's 4,000mAh battery already got it a good 1.5-2 days of battery life in our testing, and we could see a similar battery solution paired with an even more efficient SoC carrying us through two days on a regular basis.
AI in the camera
With all that AI, you can shoot video more easily, make real-time adjustments to hue, saturation, and brightness; and keep your shot in focus.
The performance improvements are one thing, but it's not all about the cores in the new Kirin 980. A key aspect of the new SoC is the inclusion of two NPUs to drive Huawei's AI performance to even higher levels. The dual-NPU design goes even further than doubling performance, offering a 120 percent increase in image recognition over the Kirin 970. In a single minute, the Kirin 980 can recognize 4,500 images.
The high-performance image recognition can help Huawei's cameras really shine. It enables more advanced autofocus, as the camera can understand what the subject is. If you want to take a picture of a moving person, the Kirin 980 can map out a skeleton and follow their movements. Huawei even has an AI-powered AI Image Stabilization to help novice filmmakers use their phone to take better handheld video than ever.
Connectivity is icing on the cake
With high-speed connectivity, high-performance internals, and cameras boasting even more advanced AI than the already class-leading P20 Pro, Huawei's upcoming Kirin 980-powered phones are set to dazzle.
For an extra bit of sparkle, Huawei's Kirin 980 SoC will have the first modem to support the high-speed LTE Cat.21, which offers peak download speeds of 1.4Gbps. And, when you're not using an LTE connection, you can get extra fast Wi-Fi thanks to the Hi1103 Wi-Fi module, which Huawei boasts is the fastest Wi-Fi chipset, offering a maximum download speed of 1.7Gbps.
Sign up for Black Friday email alerts!
Get the hottest deals available in your inbox plus news, reviews, opinion, analysis and more from the TechRadar team.