Advertisement Feature
The future of home Wi-Fi is here thanks to Devolo's Magic 2 WiFi 6 Powerline mesh system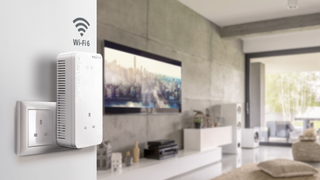 (Image credit: Devolo)
Your home Wi-Fi network has never been more in demand; not only is it used for video conferencing and online learning, but it's also used for 8K streaming and online gaming when it's time to relax.
Thankfully, Devolo's Magic 2 WiFi 6 adapters are here to help. They're the world's first Powerline adapters with Wi-Fi 6, which means they can handle such bandwidth challenges with ease.
Whole-home Wi-Fi
Nowadays, we need a stable Wi-Fi connection no matter where we are in our home, from the basement-turned-home office to the attic space that's become an online gaming hub. Thanks to the Devolo Magic 2s mesh system - a wireless LAN network that consists of multiple Wi-Fi hotspots that automatically communicate with each other - you can benefit from tightly meshed, networked Wi-Fi with some smart advantages. For example, Access Point Steering technology ensures you're hooked up to the strongest Wi-Fi hotspot when moving around the home with your smartphone or tablet, while Band Steering will connect you to the most suitable Wi-Fi band at all times - ensuring you always have a stable connection.
Top-notch Wi-Fi
As its name suggests, the Devolo Magic 2 WiFi 6 supports the latest and greatest Wi-Fi 6 standard, which means your home network will hit top speeds never reached before. This also means your network will be much smarter than before, as the adapters use state-of-the-art modulation technology to make sure the number of end devices supplied with high-speed Wi-Fi is maximised. The Powerline adapter also supports older standards in addition to Wi-Fi 6, ensuring all of your devices are compatible.
Plug-and-play Wi-Fi
The Devolo Magic 2 WiFi 6 is simple and easy to set up, all while ensuring your home has a future-proof network. The state-of-the-art adapters simply plug into the power sockets and use the existing power grid to distribute the Internet signal, at a maximum speed of 2,400 Mbps, within the entire home and where it is needed. The great advantage of Powerline technology is that it overcomes obstacles that might otherwise be slowing down your Wi-Fi connection, from ceilings, walls and even floor heating systems.
What's more, once you've plugged in the first adapter, all other adapters that are plugged in within the next two minutes are automatically connected to each other—without having to push a single button, while the Home Network app can guide you through the process with an easy-to-follow installation wizard.
Secure and reliable Wi-Fi
The Devolo Magic 2 WiFi 6 Home Network app is compatible with Android and iOS devices, enabling you to fine-tune your Devolo network, set up guest access and enable parental controls for the whole family. It's just as reliable as it is secure, too.
If you're looking to soup up your home Wi-Fi network to meet the challenges of today and tomorrow, the Devolo Magic 2 WiFi 6 is available to buy now. A starter kit can be picked up from £199.99 / €239.90 with two adapters, while the Devolo Magic 2 WiFi 6 Whole Home Kit, which comes with three adapters for those with larger living spaces, is priced at £349.99 / €399.90 (including VAT). Additional adapters are available for £159.99 / €179.90.
For more information, check out Devolo's website, or shop the range on Amazon.
Sign up to receive daily breaking news, reviews, opinion, analysis, deals and more from the world of tech.