Surfing the decentralized web just got a lot easier
Unstoppable Domains promises peer-to-peer infrastructure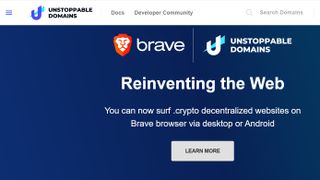 (Image credit: Unstoppable Domains)
Popular domain registrar Unstoppable Domains and privacy-oriented web browser Brave recently announced a major integration that provides extra-speedy native browser support for thousands of decentralized websites.
With the new integration, Unstoppable Domains boasts that anyone can access blockchain domain names, which are gaining popularity because they make it easy to send crypto payments, open NFT galleries, and publish content all outside the ICANN ecosystem.
To dig deeper into the company's decentralized web roadmap, Matthew Gould, Co-Founder and CEO of Unstoppable Domains met with TechRadar Pro to iron out the details.
What steps are you taking to fulfill your mission of onboarding three billion people to the decentralized web?
In April, the publicly traded browser company Opera announced full integration by default with Unstoppable Domains, providing its millions of users with seamless access to the decentralized web. With this integration, Opera users can access .crypto NFT addresses from any browser platform, including iOS, Android, Windows, Mac or Linux. Opera currently has more than 320 million monthly active users across all of its browsers.
Just recently, we collaborated with Brave to enable native browser support for Unstoppable Domains. With the latest Brave browser update, Brave's 31 million monthly active users have access to 825,000 blockchain domain names on desktop and Android platforms.
These integrations along with browser extensions that work with Chrome, Firefox, and Edge, Unstoppable Domains show we're well on our way to making the decentralized web accessible for the world's 3 billion internet users.
What blockchain trends are you tracking and why?
The biggest blockchain trend we are tracking is NFTs. Each domain name registered on Unstoppable Domains is actually minted as an NFT on the Ethereum blockchain, and we're also seeing many .crypto domain names turned into NFT art galleries. We're really excited about the NFT space and its potential beyond just art and digital collectibles. NFTs are a game changer when it comes to connecting people to the decentralized web and giving them full ownership and control of their digital identities.
What is Unstoppable Domains' 2021 strategy?
2021 has been a year of tremendous growth for Unstoppable Domains. Our current domain name registration rate is on pace for >500% YoY growth. Even during the recent crypto market volatility, we're seeing thousands of new domain names registered each week.
This year, we are focusing on integrating with browsers to make it easy to access .crypto domain names and the decentralized web with just a click. We're also integrating new wallets and exchanges, which allows our users seamlessly send and receive crypto with a human-readable username instead of a lengthy wallet address. Furthermore, we're growing our user base and public profile by auctioning some of the most requested premium domain names.
What are some of the most popular global domains that are unique?
It's been really exciting to see the creative ways people are using their .crypto domain names, from streaming to art galleries to gaming and beyond. Some that we're really excited about are Pomp.crypto, owned by Anthony Pompliano, a crypto investor and host of the popular Pomp Podcast; Kyber.crypto, which makes swapping digital assets simple and efficient; vault74.crypto, a decentralized chat service; voodfy.crypto, a decentralized live streaming service; and Tinyracing.com, a decentralized game on IPFS. The possibilities are endless when it comes to launching decentralized websites and innovating with Web3.
What sets you apart from your competitors?
Traditional domain name providers charge a monthly or annual fee to keep your domain name, so instead of owning it, you're actually renting it. Unstoppable Domains is different because we charge no renewal fees, and once you register your .crypto domain name, it's yours forever.
Your domain name can be used for more than just web hosting -- it's a way to make crypto payments across 50+ wallets and exchanges with an easily readable username. Ultimately, blockchain domain names are a secure platform for identity and authentication. Unlike traditional DNS, our system is much more secure and not subject to phishing, hijacking and denial of service attacks.
What other updates and announcements do you have in the pipeline?
In the coming weeks we'll announce three new wallet integrations that make it easier than ever to use your .crypto domain name to send and receive crypto from anywhere in the world. We look forward to sharing more details soon.
What is one key thing about Unstoppable Domains that your users/customers may not know about the company?
While we gained recognition for selling the world's most expensive NFT domain name with win.crypto, many of our domain names start at just $40. There are no renewal fees, so it's very affordable to purchase a blockchain domain name and own it forever.
Another thing to note is that while it used to be complicated to access the decentralized web, it's getting much easier! You can download a browser extension on Chrome, Firefox, or Edge to access the decentralized web, or you can do it directly through Brave or Opera. It's never been easier to access the decentralized web and to become a part of it by purchasing your own NFT domain name.
Are you a pro? Subscribe to our newsletter
Sign up to the TechRadar Pro newsletter to get all the top news, opinion, features and guidance your business needs to succeed!