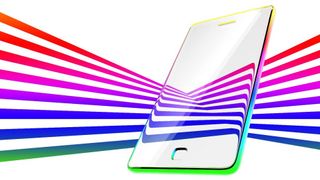 We all need data. Without it our phones wouldn't be nearly as useful. You pay for your monthly allowances, trying to make sure you have enough to get by, and then at the end of the month, all the unused data disappears as you return that allowance you've signed up for. You've probably thought there must be a better option for keeping that unused data. Well, Sky Mobile has the answer you were looking for.
You see, Sky Mobile has a great offering called Roll. Instead of taking away all the unused data every month, Roll will collect everything you didn't get chance to use and store it inside your own personal piggybank. It'll be safely kept there for up to three years, ready for when you need it the most.
Your piggybank is available 24/7 via the My Sky app or Sky.com, letting you see how much data you've stashed away. It's also here that you can redeem the data for your personal use, so redeeming your savings is as easy as opening up a real piggybank and pouring out the contents. Roll is a way of letting yourself save up a little safety net, in case you burn through a bit too much data one month and risk being cut off.
Piggybank Rewards
Some savings can even be redeemed with Sky Piggybank Rewards, which lets you cash in your unused data in exchange for fabulous gifts - including accessories and discounts on new phones. Roll & Share also means you can use your own piggybank to share your data savings with friends and family, who are on the same Sky Mobile account, and you can use up to 5 SIMs on one account. That way they won't risk running out of data either.
But there's more to Sky Mobile than Roll and the piggybank. The network also offers a perk called 'Mix', which lets you change your allowances whenever you like each month. It's so you can 'Mix it up' and make sure you have the plan that's right for you, and that you only ever pay for what you need. It's mainly designed to alter how much data you get, but Sky Mobile also lets you swap your standard unlimited calls and texts for a pay-as-you-use model.
Roll and Mix together
A great part of this proposition is that you can combine Roll and Mix together. So if you want to reduce your monthly bill you can ask for a smaller data allowance and redeem some of your piggybank savings to make up for it. Just make sure you have enough stored away!
Of course, if you're happy with things the way they are, that's all right, too. It's all about making sure you have a contract that works best for you.
Roll is just one of many things Sky Mobile has to offer, with everything running on the same Telefónica network, which offers signal across 99 per cent of the UK. That way you're not going to suddenly find yourself without signal, just because you left the house.
Sky Mobile has recently won a number of awards, including Best MNVO 2018 at the Mobile News Awards and Recommended Mobile Phone Provider 2018 by Which?
What you can save with Sky Mobile
Sky Mobile is also the obvious network to choose if you're already a Sky TV customer. Sky TV customers get unlimited calls and texts each month at no extra cost, saving you £10 each month compared to non-Sky TV customers. In other words your monthly bill only has to include the cost of your data and phone. On top of that TV customers get free access to Sky Go Extra, letting you download all your favourite shows to your phone or tablet - so they're ready to watch at your leisure.
If you like what you've heard so far, you can find more information, along with the network's fantastic range of deals on the newest handsets, over on the Sky Mobile website.
Sign up for Black Friday email alerts!
Get the hottest deals available in your inbox plus news, reviews, opinion, analysis and more from the TechRadar team.