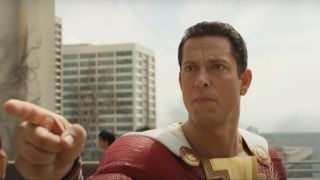 (Image credit: Warner Bros.)
The final trailer for Shazam! Fury of the Gods has debuted online – and it looks even more charming, funnier, frenetic, and darker than its predecessor.
Shazam's sequel flick arrives in theaters worldwide on March 17, so it's about time we were given another look at the forthcoming DC Extended Universe movie (read our DC movies in order guide to find out where it'll fit in that timeline). Luckily, Warner Bros. has duly obliged. Check it out below:
Okay, there's some messy CGI and a slightly corny vibe about Shazam 2. But hey, the first problem can be ironed out before the superhero film takes flight, while the latter is part of what makes this movie series spellbinding (see what we did there?).
But we digress – you're here because you want to find out what you missed from Shazam! Fury of the Gods' new trailer. Below, we've pointed out six things you might have overlooked. So, what are you waiting for? Shout "Shazam!" and let's dive in.
1. Who are the Daughters of Atlas?
For a film centered around Shazam, we don't actually see the titular superhero appear in the official trailer for the first 20 seconds.
Instead, we get another glimpse at Fury of the Gods' villains, aka the Daughters of Atlas. The powerful trio comprises the power-hungry Hespera (Helen Millen), dragon-riding Kalypso (Lucy Liu), and Athena (Rachel Zegler), the latter of whom seems particularly torn about how the sisters are going about their business.
So, why are they gunning for Shazam and his superpowered foster siblings? Essentially, when Billy Batson was gifted his abilities by Djimon Hounsou's wizard in the film film (available now on HBO Max), one of those powers was the Stamina of Atlas. The Daughters of Atlas aren't too happy about their father's ability being passed down to a child, so they want to take back what is theirs – and they'll do it so by any means necessary.
2. Mythological monsters
Shazam's first DCEU outing featured some horror-imbued creatures in the form of the Seven Deadly Sins. How, then, do you go about topping (or, at the very least) matching what came before? Throw in a bunch of myth-based monsters, of course.
Kalypso's imposing dragon is the most notable inclusion. It feature prominently throughout the trailer, and we even get an amusing Game of Thrones reference from Shazam – "Hey, Khaleesi!" – in the movie. Hey, Warner Bros. loves to mention its suite of IPs in as many of its films as possible.
But Kalypso's wyvern isn't the only fairy-tale-based beast we see. Minotaurs, griffons, and demonic unicorns are just three of the other monsters who'll turn up in Fury of the Gods. Basically, don't expect this to be an easy fight for Shazam and company to save the world.
3. You can't get the staff these days
Saving earth from a new titanic threat will be even harder when Shazam's adoptive family are stripped of their powers, too. And it seems that the staff, which was wielded by Hounsou's wizard in the first movie, is the key to giving and taking those abilities away.
In 2019's Shazam!, the titular hero gave powers to his foster siblings to help him combat the Seven Deadly Sins and Doctor Sivana. They've still got those power in Fury of the Gods, too, but they won't have them for long, based by what the trailer suggests.
The footage shows Freddy Freeman and Mary Bromfield being drained of their abilities by the Daughters of Atlas at various points. The trio are using the wizard's staff to rob the teens of their powers, so it's clearly of major importance to the movie's main players.
Later, we see Shazam wielding it – not before he asks the wizard to take his powers back, mind you, when he becomes convinced he can't defeat the Daughters of Atlas. Anyway, Shazam's brandishing of the staff suggests he needs it to boost his own abilities if he's going to defeat the movie's antagonists and give his siblings their powers back. Expect the staff to play a vital role in Fury of the Gods' plot, then.
4. Prison break
In order to get the wizard's staff, it seems the Daughters of Atlas go after Hounsou's magic wielder to obtain it.
We see Hounsou's character imprisoned at various points, including a shot of Hespera chastising him for giving the power of the gods to Billy, Freddy, and company. "You ripped it from our father's core," she tells him, which implies Hounsou's wizard might not be as mighty and heroic as we were led to believe.
Anyway, Hounsou's wizard interacts with Shazam later in the trailer, so he clearly escapes captivity. Whether he does so alone, or he enlists Shazam's help – does that magic-infused dust, which he sends through his prison cell window, have something to do with it? – is unclear. Regardless, we'll see Hounsou's character break out at some stage.
5. Is that you, Doctor Strange?
Remember when we said Zegler's Athena doesn't seem as keen to destroy earth as her sisters? That's because, at the 1:14 mark, we see her use her powers with a uncertain look on her face. You wouldn't look like that if you were convinced you were doing the right thing, would you?
Based on the fact she's pushed away by Kalypso (using the staff no less), seconds later, it seems she'll be swapping sides at some stage.
Interestingly, it seems the wizard's staff can do more than give or take a person's powers away. One perceived ability certainly has an air of the Doctor Strange/Marvel-based mystic arts about them. Just look at the Escher-style nature of how the scenery bends and folds in on itself when Athena is pushed back, and when Shazam evades numerous buildings at the 1:44 mark. We'd be very surprised if DC and Warner Bros. didn't take a leaf out of the MCU's book with such an aesthetic.
6. Light the way
Shazam and his fellow superheroes get a costume upgrade in Fury of the Gods. The group's threads are more streamlined and less plastic-looking this time around, which is pleasing to see.
Fans had been worried, though, that these suits wouldn't feature one of the first movie's most underrated (if somewhat tacky) aspects: the glowing lightning bolt on Shazam's chest. Shazam's costume in the 2019 movie was manufactured in a way that allowed the bolt to physically light up, avoiding the problem of having to add awkward lighting effects during the post-production phase.
Thankfully, Shazam! Fury of the Gods' official trailer confirms that Shazam's lightning bolt will glow. However, given the sleeker look of the costumes this time around, it appears that the illumination effect has been added in post. Regardless of how it's been implemented, we're just glad it's a feature that's been retained.
For more DCEU-based coverage, find out where we placed 2019's Shazam! in our DC movies ranked article. Additionally, read up on the best superhero films of all-time or check out how to watch the Batman movies in order.
Sign up to receive daily breaking news, reviews, opinion, analysis, deals and more from the world of tech.
Senior Entertainment Reporter
As TechRadar's senior entertainment reporter, Tom covers all of the latest movies, TV shows, and streaming service news that you need to know about. You'll regularly find him writing about the Marvel Cinematic Universe, Star Wars, Netflix, Prime Video, Disney Plus, and many other topics of interest.
An NCTJ-accredited journalist, Tom also writes reviews, analytical articles, opinion pieces, and interview-led features on the biggest franchises, actors, directors and other industry leaders. You may see his quotes pop up in the odd official Marvel Studios video, too, such as this Moon Knight TV spot.
Away from work, Tom can be found checking out the latest video games, immersing himself in his favorite sporting pastime of football, reading the many unread books on his shelf, staying fit at the gym, and petting every dog he comes across.

Got a scoop, interesting story, or an intriguing angle on the latest news in entertainment? Feel free to drop him a line.