Mega Microsoft layoffs may have killed off HoloLens for good
A load of cutbacks doesn't spell out a good XR future for Microsoft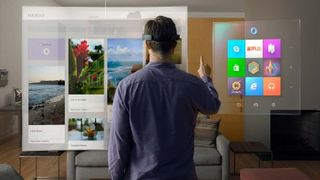 (Image credit: Future)
Microsoft recently confirmed it would be cutting around 5% of its workforce globally, leading to around 11,000 departures across the company.
At the time, it was uncertain which workers and departments would be most affected, but the Internet has had an entire weekend to unravel the situation and many ex-employees have now exposed detail on the matter.
Among the most notable cuts appear to be Microsoft's extended reality (XR) operations, closing down or significantly scaling back a number of projects, possibly including its famous Hololens headset.
TechRadar Pro needs you!
We want to build a better website for our readers, and we need your help! You can do your bit by filling out our survey and telling us your opinions and views about the tech industry in 2023. It will only take a few minutes and all your answers will be anonymous and confidential. Thank you again for helping us make TechRadar Pro even better.
D. Athow, Managing Editor
Microsoft XR cutbacks 2023
AltSpaceVR, acquired by the company in 2017, is among the worst affected by the cuts, with the arm set to be closed down in March 2023.
Some reports say that Microsoft's metaverse efforts may continue to live on in its Mesh project, but that all remains to be confirmed.
Open-source project, MRTK, has also been axed, which could have significant implications for the future of the company's HoloLens, however its open-source nature lead some to speculate that it may be able to live on in somewhat of a reduced format.
This news joins recent reports that the US Congress had denied a huge $400 million spend on the Microsoft-built Army-destined 'IVAS' HoloLens headset, though the Army is still set to spend a newly-approved $40 million budget on an upgraded version of the headset, following complaints from soldiers about previous versions.
While the partnership continues to develop, a larger picture painted by the shutdown of several XR operations may spell the future of tech like augmented reality for Microsoft (which, for now at least, is looking a little concerning).
Are you a pro? Subscribe to our newsletter
Sign up to the TechRadar Pro newsletter to get all the top news, opinion, features and guidance your business needs to succeed!
With several years' experience freelancing in tech and automotive circles, Craig's specific interests lie in technology that is designed to better our lives, including AI and ML, productivity aids, and smart fitness. He is also passionate about cars and the decarbonisation of personal transportation. As an avid bargain-hunter, you can be sure that any deal Craig finds is top value!