Here are the secret Amiga prototypes that Commodore hid from the world
Dusted down for the Amiga 1000's 30th birthday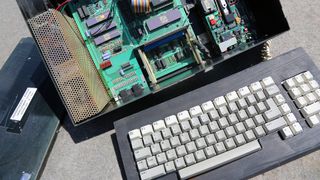 (Image credit: Future)
Introduction
If the names Shadow of the Beast, Superfrog and Rainbow Islands conjure feelings of nostalgia, there's a good chance you were an Amiga gamer in the early '90s. Launched on July 23, 1985, the Amiga 1000 celebrates its 30th birthday today.
In commemoration, we've tracked down never-before-seen prototype versions of the multi-tasking powerhouse, which featured a 16/32-bit Motorola 68000 CPU (clocked at 7.09MHz), 256-512KB of RAM (expandable up to 8.5MB) and OCS graphics capable of displaying up to 640 x 512 pixels.
Dipping our hands into this rare bucket, we've also pulled out images of a D-44 Amiga development system - only 100 of which were ever made - in addition to a prototype Amiga 2000 called The Ranger, which never made it into production.
Click ahead to feast your eyes on these images. Owned by Amiga developer Dale Luck, they have been published with permission from Chris Collins, one of the organisers of the Amiga is 30 event taking place at the Computer History Museum on July 25 and 26.
1. D-44: Pre-Amiga 1000 developer kit
A run of 100 development systems was done to provide internal and third-party software developers (Microsoft, Electronics Arts, etc) with systems. The D-44 features custom Amiga chips and the Motorola 6800 processor. Its keyboards are made of wood because the system creators didn't have any case designs - or plastic - to hand. The keyboard still works with an Amiga 1000 but it has a slightly different keymap.
2. D-44: Pre-Amiga 1000 developer kit
3. D-44: Pre-Amiga 1000 developer kit
4. D-44: Pre-Amiga 1000 developer kit
5. D-44: Pre-Amiga 1000 developer kit
6. D-44: Pre-Amiga 1000 developer kit
7. D-44: Pre-Amiga 1000 developer kit
8. D-44: Pre-Amiga 1000 developer kit
9. Amiga Lorraine
The Amiga 1000 prototype, 'War and Peace', represents the main boards of the system. What's special about these is that they have the Motorola 68000 sockets for the custom chips that Amiga was working on at the time. In addition to these, the boards could work with chip emulators - like wirewrap versions of the Agnus (an integrated circuit in the custom chipset of the Amiga). Together these boards were known as 'The Lorraine'.
10. Amiga Lorraine
11. Amiga Lorraine
12. Amiga Lorraine
13. Amiga Lorraine
14. Amiga Lorraine
15. Amiga Lorraine
16. Amiga Lorraine
17. The Ranger
The Ranger was a machine designed at Commodore West internally as the successor to the Amiga 1000. The plastic parts are a mock-up to see airflow and determine how the design would handle heat - Amiga designer Dave Needle would light incense and watching smoke travel through the case.
An interesting design that features a riser card with slots, Amiga would ultimately decide to go with Commodore's German design as we now know it with the Amiga 2000. The follow-up that Amiga used came with the same riser card design.
18. The Ranger
19. The Ranger
20. The Ranger
21. The Ranger
22. The Ranger
23. The Ranger
Are you a pro? Subscribe to our newsletter
Sign up to the TechRadar Pro newsletter to get all the top news, opinion, features and guidance your business needs to succeed!
Kane has been fascinated by the endless possibilities of computers since first getting his hands on an Amiga 500+ back in 1991. These days he mostly lives in realm of VR, where he's working his way into the world Paddleball rankings in Rec Room.