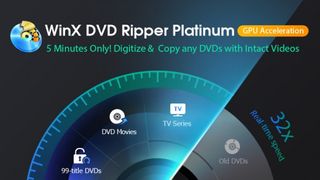 (Image credit: WinX)
A DVD collection serves an important purpose, to keep your favourite video content to be watched whenever you want, without the need for an internet connection. But some DVDs just won't play and that can be more than frustrating. So, well done for getting to this article in an attempt to fix the issue rather than destroying your player in a rage. The good news is there's a solution to your problem and it's called WinX DVD Ripper Platinum.
Whatever the reason your DVD won't play, you stand much more of a chance at getting access by using Digiarty's DVD ripper which has one of the widest disc support platforms in existence. For instance get access to DVDs that are old or newly released, homemade, Hollywood, Disney kids, TV drama, workout DVDs, and more.
This is all thanks to its powerful DVD analysis kernel and title check mechanism. The great thing about this software is its ability to back-up your hard copies by ripping the DVD to a computer drive, or cloud storage, while sidestepping encryptions. Yup, if your DVD isn't playing because of a geo restriction then you may be able to get around that by ripping it to a computer. But if the disc is scratched or corrupted then this software can help save the video content here too. This not only gives you access and backs up to your DVDs but also means you can play them on more devices like a smartphone when out and about.
How can WinX DVD Ripper Platinum let me play location restricted DVDs?
Even streaming services like Netflix restrict content based on your location so it's little wonder that DVDs do the same. If you've bought something abroad, or want to watch it on holiday, you might struggle. This can be a big problem when DVD won't playback on Windows 10 which may have given you the warning message that the content has a "digital copy protection" in place. But you've paid for that DVD so you deserve to watch it, right?
WinX DVD Ripper Platinum will work around these issues to extract all the important files so you end up with a perfect copy of the video, only in a digital format that you can access whenever you need. Geo restrictions will no longer apply to that video so you can enjoy it on your phone, a tablet, a computer and beyond. The software is able to decrypt lots of common barriers such as bypassing common DVD region code, CSS encryption and new UOP, Sony ARccOS and Disney X-project that cannot be dealt with other DVD ripping tool in the market.
Since this software can also copy a DVD to an ISO file losslessly, you can easily burn a new copy - minus the geo restrictions. So even if you want to stick to the hardcopy viewing option, using your DVD player system, then that's now possible using your new copy.
Check out the WinX video below to see just how easy it can be.
Can WinX DVD Ripper Platinum help me watch damaged DVDs?
Taken that DVD out of the case to find a new selection of scratches? No need to worry as WinX DVD Ripper Platinum may be able to help here too. Since the software intelligently extracts data and rebuilds it in digital form, it is able to fix scratched DVDs which a DVD player may not be able to overcome.
There are other software options that claim to do this too but often the old saying "you get what you pay for" applies here. You can end up with missing chunks of video, faulty sound or glitchy imagery on lesser software options. So be warned, if you want to watch a damaged DVD without losing quality then WinX DVD Ripper Platinum is your best bet. Thanks to a high-quality engine and top deinterlacing smarts you end up with the best lossless output without any frame drops, audio sync issues or aspect ratio errors.
Again the ISO copy option is here so that you can burn a new DVD with the same content only it will work in your DVD player now, scratch-free.
How do I decrypt any DVD using WinX DVD Ripper Platinum?
The process of using WinX DVD Ripper Platinum to decrypt a DVD is super simple but there are also more complex options for those that want to be a bit more hands-on.
Pop the DVD in your computer drive and open WinX DVD Ripper Platinum to select "DVD Disc". Then you can select the output you want to make, be it a straight ISO copy to burn a new disc, MP4 for smartphones, or MKV for a full backup including subtitles. You also have MOV, FLV and MP3 output options if you need them. You can then click edit to crop and trim if you want or just carry right on to the final stage of selecting "Run". Then sit back and let the software do the work.
The great thing here is that you won't have to sit around for long as WinX DVD Ripper Platinum is super speedy. You can even push things faster using your computer's graphics card if you want. The end result can be a ripped DVD in as little as 5 minutes. On top of that it's unique Level-3 hardware acceleration tech contributes a lot to boost the DVD processing speed.
Get WinX DVD Ripper Platinum for free
With giveaways going on all the time it's worth popping over to WinXDVD to see if you could nab yourself a free copy of $67.95 (£52.52) value DVD decoder right now.
What's better, you can also take advantage of this TechRadar exclusive special offer and upgrade from giveaway version to lifetime version. The advanced version always updates to unlock any new protections and DRM, and supports any new video and audio codec and profiles released in the future.
Sign up for Black Friday email alerts!
Get the hottest deals available in your inbox plus news, reviews, opinion, analysis and more from the TechRadar team.