Best budgeting software
Read on for our detailed analysis of each app
Budgeting is the process of planning out monthly income and expenses, and to make sure what is coming in can cover what is going out. It requires foresight, along with some guesstimates, and plenty of number crunching to come up with these answers.
Traditionally this involved collecting piles of paystubs, bank accounts, monthly utility bills, rent receipts and credit card statements, and then throwing this onto grid accounting paper, or more recently plugging this all into a monster spreadsheet. These days, dedicated budgeting software programs can shoulder the heavy lifting, bring a higher level of analysis to bear on the problem - all with a higher level of accuracy.
Just like folks have all sorts of different budgets, let's go through some choices for budgeting software, and find the best software to suit your needs.
A mobile focused, and Internet connected budget solution
Supports multi-factor authentication
Can import data from Quicken and Mint
Initial support only available via email
Premium subscription for automating data imports
CountAbout is a personal financial and budgeting software solution. It is notable as it can import data from Quicken, or Mint, and is one of the few solutions that can do this.
It also connects to your other financial assets, including banking, credit card and retirement accounts which includes thousands of financial institutions. Additional features include multi-factor login protection, categories can be customized, running register balances, and support for recurring and split transactions. It also facilitates advanced budgeting, via activities such as account reconciliation, and tracking register balances.
CountAbout is available for the iOS and Android platforms, and can also be used on a full PC via the web based interface. It is available via a subscription interface, starting with a Basic account for $9.99 (£7) yearly- but requires transactions be entered manually, or a more usable Premium account for $39.99 (£30) yearly and can automatically download transactions from your financial institution.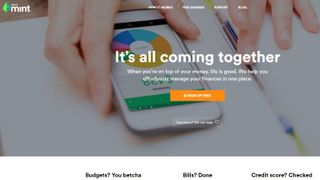 A mobile based budgeting and planning solution
Free cost
Highlights savings offers
Features multiple security features
An example of 'free can be expensive'
Mint is another mobile based solution from the folks that brought us TurboTax and Quickbooks. It makes it easy to track expenses and balances. By creating an account, and connecting all your financial accounts, Mint can then provide analysis, to help find savings by providing potentially money saving offers for credit cards, retirement rollovers, and savings account deals.
Mint provides security via multi-factor authentication, security scanning with VeriSign and the ability to remotely delete your financial data in case your mobile device is lost.
Mint also conveniently provides a convenient way to know, and track your credit score. The cost is free, but the catch is that they make money through affiliate offers. On our perusal, we found multiple credit offers with 0% intro rates, that then had rates from 14% to 25%, which for folks with better credit are hardly a bargain.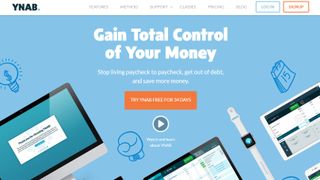 Hand holding via software for the budgeting naïveté
Slick interface
Encourages savings
Higher priced than other options
You Need a Budget (YNAB) is a modern approach to applying a budgeting solution to personal finances. Its chic interface is sure to particularly appeal to the millennial generation. YNAB makes it simple by connecting accounts to come up with an amount to be budgeted, and then assigning where the money goes by the category including immediate obligations such as the rent and the electric bill, true expenses including medical and auto maintenance, and debt payments; the goal is to give every dollar a job.
Via the interface, the right panel clearly displays overall budget information such as the amount spent last month, the budget from last month, and any underfunded categories. Better budgeting habits are taught and encouraged via a weekly video, a podcast series, and a newsletter. It also encourages goal oriented savings, for holiday presents, and even retirement.
There is a free trial period for the curious duration of 34 days, and after that it goes for the price of $6.99 (£5) monthly, with a no risk guarantee.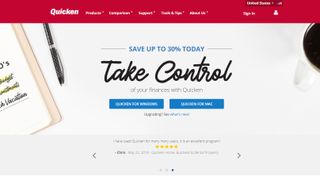 The venerable budgeting solution soldiers on
Exports to Excel
Cloud based backups
Higher cost
Unlike some of the more mobile focused solutions, Quicken is downloadable software for a PC, and is in the minority for supporting both Windows and Macintosh platforms. It is a venerable budgeting and financial program that has been around since the days of DOS and Apple II systems.
Quicken works by downloading all your transactions to make it simple, and obviate the need for tedious manual entries. It offers advanced features including the ability to export data to Excel, integrated Quicken Bill Pay, the ability to generate custom invoices with your own logo, and secure online backup of Quicken files to Dropbox cloud storage.
The Starter tier is available for $34.99 (£26) a year, but moving up to the Deluxe tier enables customized budgets and runs $44.99 (£35) annually. The next higher tier, Premier, adds priority customer support and free online bill payment and runs $67.49 (£50), with the highest tier, Home & Business that can separately categorize both home and business expenses and can email custom invoices costs $89.99 (£67) annually.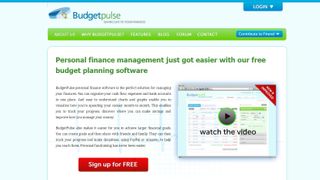 The more secure online budgeting approach
Does not access sensitive financial data
Free cost
Can print reports
Less fully featured than competitors
BudgetPulse is an online, web based application that facilitates tracking money and better budgeting. Even though it is free, it can import data from Quicken or Microsoft Money, and has the ability to print graphs and reports. It also can encourage savings for bigger financial goals such as a wedding. They claim to be more secure as they do not access personal bank details nor credit card account information.