Amazon just bought the most renewable energy ever purchased by a single company
Could Amazon be the first to reach carbon neutrality?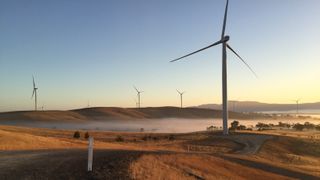 (Image credit: GE Renewable Energy)
Amazon has revealed that by the end of January 2023, it had set a new corporate record for the most renewable energy purchased by a single company in one year.
The company has long been investing in green energy, and according to a Bloomberg New Energy Finance report, has been the single largest corporate buyer of renewable energy since 2020.
Last year, it added 133 new projects to its portfolio, operating in 11 countries with a combined output of 8.3 gigawatts. That means that last year's additions alone now account for 41.5% of its 20-gigawatt portfolio.
TechRadar Pro needs you!
We want to build a better website for our readers, and we need your help! You can do your bit by filling out our survey and telling us your opinions and views about the tech industry in 2023. It will only take a few minutes and all your answers will be anonymous and confidential. Thank you again for helping us make TechRadar Pro even better.
D. Athow, Managing Editor
Amazon renewable energy
The tech giant reckons that these 20 gigawatts of energy, provided by more than 400 projects in 22 countries, are enough to power 15.3 million European homes
The investments in 164 wind farms and 237 rooftop solar projects are designed to support the grids that supply a number of its operations, including its fulfillment centers, retail stores, and AWS data centers.
As well as building its existing portfolios in a number of countries last year, Amazon also entered new countries with its renewable energy ambitions, including Brazil, India, and Indonesia.
All of this, Amazon hopes, will help it reach its target of powering its operations with 100% renewable energy by 2025, which is five years ahead of its initial 2030 target.
The company believes that rapidly scaling renewable energy is one of the most effective ways to combat climate change, and the figures suggest that it's willing to put its money where its mouth is.
Kyle Harrison, head of sustainability research at Bloomberg New Energy Finance, said that "Amazon's clean energy portfolio doesn't just top the corporate charts - it is now among the leading utilities globally as well". Its readiness to continue pushing despite the lasting effects of the pandemic and subsequent global economic uncertainty should motivate other companies to do the same.
To that point, Amazon isn't the only company racing to reduce its carbon footprint. Microsoft announced last month that it would be opening a new South Korea project to generate 2.5 gigawatts of solar energy to meet its 2030 renewable-only target.
Are you a pro? Subscribe to our newsletter
Sign up to the TechRadar Pro newsletter to get all the top news, opinion, features and guidance your business needs to succeed!
With several years' experience freelancing in tech and automotive circles, Craig's specific interests lie in technology that is designed to better our lives, including AI and ML, productivity aids, and smart fitness. He is also passionate about cars and the decarbonisation of personal transportation. As an avid bargain-hunter, you can be sure that any deal Craig finds is top value!