5 useful Windows 10 features that small businesses will love
Why Windows 10 makes sense for businesses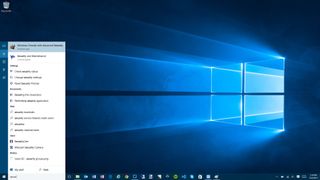 (Image credit: Future)
Introduction
Pick Windows 10 Pro over Windows 10 Home and you get extra business features that will give you better security and connectivity, as well as the improved performance and battery life of Windows 10. The new OS even takes up a little less space on disk than Windows 8.1…
But beware – there are some things you might think will be useful for business that don't work quite the way you think. Windows 10 comes with the free universal Office apps, which are simple, touch-friendly versions of Word, Excel, PowerPoint, and OneNote that are designed for editing on the go. But if you're using them for business, you need to make sure you also have a business licence for Office 365 (and as with Office for iPad, you'll need that licence to unlock some of the features).
Similarly the integrated OneDrive client will make syncing files with the OneDrive for Business service easier, but the offline sync model is more complicated in Windows 8.1, and the OneDrive features won't be ready until later in the year. In this article, we're going to look at the Windows 10 tools and features you'll find useful for business, without those drawbacks.
Windows 10 is different but not too different
The next time you go to buy a PC – especially a 2-in-1 or a tablet, it's likely to come with Windows 10, and if you have programs that let employees bring their own PCs to work you're going to see Windows 10 systems showing up at work, either when staff buy new machines or just because they've got the free upgrade. You can also put Windows 10 on the majority of existing PCs without worrying about the resources needed, because the system requirements are no greater than Windows 8.
That means the combination of new features (especially for security and Cortana) in an interface that works reasonably well with touch, with the more familiar Start menu, isn't going to be too disruptive. You shouldn't see a drop in productivity while users figure out how to use the new system. And if you have any systems still stuck on Windows XP, the release of Windows 10 should give you a push to finally update them, now that you can't even get Windows Defender anti-virus signatures for XP any more.
Always up-to-date
The single best way to improve the security of your PCs is to have the latest version of Windows on them and to install updates as soon as they're available. If your employees are using Windows 10 Home they'll get those security updates installed automatically, so you are less likely to get malware making its way onto your network from their PCs. And for their work PCs, you can leave updates to be installed straight away, or you can use Windows Update for Business to manage who gets updates when – including making sure that restarts to apply updates don't happen at an inconvenient time of the day, week or financial quarter.
The fact that Windows 10 will carry on getting new features rather than you having to plan for upgrading to a new version of Windows every few years – or more likely staying with an older version to avoid expense and disruption – means you'll get the advantage of those new features without paying extra. And again, you'll be better protected by running an up-to-date OS.
Cortana reminders
If you hook the Cortana assistant up to any of your backend systems, or cloud services like Power BI, you'll get relevant information that you can search through quickly right from the Start menu alongside the weather forecast and travel information Cortana provides. And as Cortana comes to iOS and Android as well as Windows Phone, contextual reminders will get more useful.
You can tell Cortana to remind you to call a customer when you pass a location near their office, or to mail them a document when you get back to the office, or to mention a product the next time you call or text them. Being able to create those reminders on one device and have them pop up on your phone means you'll see them in the right location, where they're actually useful.
From Windows Hello to single sign-on
For many small businesses, running Active Directory is an unnecessary complication and expense. With email and key business services moving to the cloud, a server in the office is most likely for storing and sharing files. You don't even need to use the server for managing PCs in the office because it's easier to do that with a cloud management service like Intune. But what you do need to do is manage user identities, whether that's for getting access to business files or logging into cloud services the company uses.
Azure Active Directory is ideal for many small businesses, combining user identity management with single sign-in for cloud services with security reporting services for administrators and options for two-factor authentication.
In Windows 10, users can sign in to their Windows account with a personal Microsoft account or a business Azure AD account, or both. That means they can sign in to Office 365 for email and OneDrive for Business without having to type in their password multiple times. But they can also get apps from the Windows Store and have their colour scheme sync between their different PCs using their Microsoft account.
And with machines that have a fingerprint reader or the new 3D cameras built in, you don't need to worry about users forgetting or writing down the password, as the Windows Hello biometrics make it much easier for them to be secure.
Multiple desktops
The new multiple desktop feature in Windows 10 lets you have as many desktops as you want, each with their own set of programs and files open. That's certainly useful for busy business users, but not just for arranging multiple projects that you might need to switch between.
If you have to join a video conference and share your screen to give a presentation, using a separate virtual desktop for the programs you want to share means you don't have to close down other applications, or worry about accidentally showing any confidential information, or any personal browsing or messages that you're doing at the same time. It's a quick way to get a more professional look.
Are you a pro? Subscribe to our newsletter
Sign up to the TechRadar Pro newsletter to get all the top news, opinion, features and guidance your business needs to succeed!
Contributor
Mary (Twitter, Google+, website) started her career at Future Publishing, saw the AOL meltdown first hand the first time around when she ran the AOL UK computing channel, and she's been a freelance tech writer for over a decade. She's used every version of Windows and Office released, and every smartphone too, but she's still looking for the perfect tablet. Yes, she really does have USB earrings.