10 ways to replace Google
All companies get eclipsed – here's what could dismantle Mountain View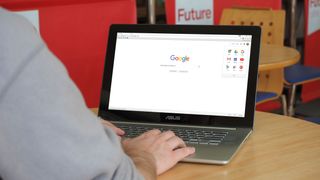 (Image credit: Future)
Introduction
Google won't always be the go-to search engine. Don't believe us? So Google 'Netscape Navigator', and you'll discover that back in the 1990s there were huge concerns that the provider of the worldwide web's dominant browser was controlling access to everything.
Fast-forward a few years and it was Internet Explorer that was getting flack, with Microsoft seen as the internet's gatekeeper. Soon after, the social media future looked to belong to Bebo or MySpace, then Twitter and LinkedIn. With new ways of searching, Facebook's growth, and tech breakthroughs on the horizon, is Google now looking vulnerable?
Closed ecosystems
Google might get flack from its obsession with our search data, but the company's real problem long-term is that it gives users too much online freedom. You type 'plumber, London NW1' into Google and you're given advertisements and offered third-party websites.
"I've always been very sceptical of Google's longevity," says Richard Holway, Chairman and analyst at TechmarketView. "They still make all of their money from sponsored search." That's a problem for Google, because while it lets us all click on links and access the internet at large, the likes of Apple and Facebook are locking us into their closed ecosystems.
Facebook's mobile browser
Facebook's in-app browser is becoming an increasingly important way of finding information and reading online news, surely to the detriment of Google.
"Everyone said that they wouldn't be able to get into mobile, but they did in a huge way, and everybody said that they couldn't monetise mobile, but they did it to the point that they make obscene sums of money," says Holway. The relatively new Facebook Newsfeed is helping keep users away from Google, too.
Facebook Audience Network
The Google Display Network is a huge player in the world of website advertising, but Facebook has big plans to challenge that, too. Until now the social network has concentrated on in-app advertising to logged-in users, but it's about to expand its Audience Network into the wider web and third-party apps, too.
"One of the things we've heard from people is that many of the ads they see are annoying, distracting, or misleading," wrote Andrew Bosworth, VP, Ads and Business Platform at Facebook. "We think companies can do better, and that's why we've been focused on improving ads both on and off Facebook."
The Memex search engine
Why use Google if there's a better search engine out there? The Defense Advanced Research Projects Agency (DARPA) – the US agency responsible for developing emerging tech for national security – has developed a domain-specific search engine that can find things that Google can't, specifically by delving into the so-called 'dark web'.
Although it can reach the parts of the internet that Google cannot (such as Tor) and is, for now, concentrated on fighting human trafficking, Memex is mostly focused on finding publicly available information more effectively than Google.
"We're envisioning a new paradigm for search that would tailor indexed content, search results and interface tools to individual users and specific subject areas, and not the other way around," says Chris White, DARPA program manager. "We want to improve search for everybody and individualise access to information." Who needs Google?
Amazon
Google as a search engine website is massively outdated; could Amazon take over? "If someone can usurp Google it won't be a web page with search box and a list of blue links," says Kelvin Newman, Founder of the BrightonSEO Conference, noting that many have tried and failed to create a search engine better than Google.
"Amazon will be strong in this respect, with devices such as its voice controlled Alexa, technology for 'people who also bought this', and the free delivery lock-in of Amazon Prime," says Newman. "Personally, if I spend a lot of time searching for a product I do it on Amazon, not Google."
The blockchain
The core tech behind the cryptocurrency Bitcoin, the blockchain securely tracks and verifies transactions of any kind. Distributing data that can't be tampered with, blockchain is seen as a 'foundational technology' of Web 3.0.
Airbnb is experimenting with using the tech to make its user profiles into universal, readable digital identities, with many hoping that online identities can herald a new era of micro-payments for consuming content. Goodbye online advertising? It's only a theory, but it would threaten the very existence of Google AdSense.
The public cloud
There's a battle on for cloud infrastructure, and Google is so far losing it. Though its efforts to offer cheap storage and cloud computing to businesses are being stepped up, Google Cloud Platform is way behind its competitors.
Amazon Web Services (AWS), which is projecting year-on-year growth of over 80% and is now valued at $50 billion (around £37 billion, AU$67 billion), has managed to appeal to businesses large and small more effectively than Google.
The smart home
Smart homes don't exist, and the Internet of Things (IoT) has been talked about for decades. Okay, so we have Nest – which has had problems – and news of the forthcoming Google Home has hardly taken the world by storm.
"The people who really do manage to capture the IoT marketplace will be hugely important, but we are a long way from it," says Holway. "We've been talking about the dawn of the IoT for years now, but very few homes have anything connected in them."
As Google's experiments have so far proved, there's absolutely no guarantee that the search engine will get into homes. Amazon's Echo probably has a similar fate in store, though Apple's Siri-enabled Apple TV and macOS Sierra will bring more walled garden search functionality to Apple homes.
Artificial intelligence and machine learning
AI and ML will have a profound impact on search engines. "If a search engine can understand what you really want to find that's only good news for consumers," says Newman. "One interesting side effect of machine learning is that not even Google is likely to know what decides why one website ranks number one and another doesn't."
Although the search giant has announced Google Assistant, the open source AI revolution is coming, and there's plenty of competition.
Facebook's Free Basics
India recently refused Facebook permission to push its Internet.org and Free Basics platform to its 1.2 billion population, but Zuckerberg's provision of a limited number of websites (including AccuWeather, Bing, Wikipedia and, of course, Facebook and Messenger), as well as local websites, is available in 42 countries.
If Facebook succeeds in spreading Free Basics – or any other kind of browser – it could displace Google as the place where most people experience the internet.
Are you a pro? Subscribe to our newsletter
Sign up to the TechRadar Pro newsletter to get all the top news, opinion, features and guidance your business needs to succeed!
Jamie is a freelance tech, travel and space journalist based in the UK. He's been writing regularly for Techradar since it was launched in 2008 and also writes regularly for Forbes, The Telegraph, the South China Morning Post, Sky & Telescope and the Sky At Night magazine as well as other Future titles T3, Digital Camera World, All About Space and Space.com. He also edits two of his own websites, TravGear.com and WhenIsTheNextEclipse.com that reflect his obsession with travel gear and solar eclipse travel. He is the author of A Stargazing Program For Beginners (Springer, 2015),