Monster Hunter World survival guide
We'll help you make your mark on the New World
Introduction
It's been almost seven years since the last home console version of Monster Hunter, following many a year in the world of handhelds. But now it's back, rejuvenated and we're ready to slay some current gen beasts.
If you're a veteran Hunter then Monster Hunter World will feel relatively familiar in terms of combat and co-operative hunts, but for new players Capcom's sometimes obtuse systems can be a little overwhelming.
So to get your ready for one of the year's most exciting triple-A releases, TechRadar has compiled 10 tried and tested tips for making your mark on the New World. From pre-hunt preparation to in-battle tactics, we've got you covered.
Experiment with weapon types
There are 14 weapon types in Monster Hunter World and each one offers a vastly different experience in the battlefield. If you've played the series before, these tools should be relatively familiar in terms of their respective speed and application, but for new players such a vast choice can be a little intimidating.
A good idea is to head to the Training Arena in Astera (just speak to the Housekeeper in your room to access it) and try out each one (including their dual modes, where said weapon transforms mid-battle).
For new players, the Steel Axe is a great all-rounder – in Sword mode its fast and deadly, while the charged up Axe mode is great for inflicting heavy damage when your prey is slowed or trapped.
Know your quest types (and how to get the most out of them)
Monster Hunter World breaks its missions down into four types: Assignments (these further the story); Optional Quests (these are usually tied to NPCs you'll find around Astera); Investigations (these are issued by the Resource Center, are usually found on notice boards and can only be accessed a limited number of times); and Events (exclusive, timed, online hunts).
Once a quest has been accepted, a box will appear in the top left-hand corner of the screen. From here you'll be able to depart right from where your standing, as well as manage departure for you and your party.
The Scoutfly is your best friend
The Scoutfly is one of the newest additions to the Monster Hunter series, and it'll help make you a better hunter right from the off. It's a glowing yellow effervescence that will automatically highlight points of interest in your immediate area. When not attuned to the trail of a particular monster, it will highlight plants for harvesting or small creatures to capture.
To get on the trail of a monster, look out for the Scoutfly glowing brighter than usual over a mark on the ground – these will usually be footprints, scratches or scales/feathers/etc. Fill the trail meter that pops up after every discovery and your Navi-like guide will lead you towards your monstrous prey.
Your Slinger is also your best friend
The Slinger, the crossbow-like implement strapped to your wrist, is a versatile tool. But only if you know how to use it properly. You can use it for basic things such as grappling across large chasms, as well as safely dropping down from large drops. However, it has a more important role to play.
The Slinger can also launch objects (hold 'L2'/'LT' and press 'R2'/'RT' while your weapons are sheathed). These range from rocks (perfect for distracting a monster if you need to sneak past or draw it towards a certain spot), to pods and other projectiles. All of these can be crafted from resources in the New World, while some (such as Redpit) come ready to use.
Use stealth wisely
Combat, unsurprisingly, is a huge part of the Monster Hunter World experience, but simply running in blades first to every fight is a fool's errand. You'll often encounter beasts far beyond your skill level, so you'll need to use local fauna and cover to avoid their eye-line and sneak past.
Press 'X'/'A' when not running and you'll drop down into a crouch. You'll need to find some long grass or other thick foliage in order to disappear, but try to avoid doing this too close to your prey/predator or they'll sense you.
Using this tactic in tandem with your Slinger (for creating a distraction) is ideal for manipulating the monsters of the New World.
Send up an SOS flare for assistance
Depending on how you're playing Monster Hunter World, there's a chance you might be entering the wilds of the New World solo. However, as tough as you think you are, there's a meaner monster out there waiting to knock you out and ruin your day. So why not call in the cavalry?
To request some assistance, press 'Options'/'View' and select the Quest tab. As long as you're operating in an online session you'll be able to select 'Send SOS Flare' and watch your hunter send out a cry for help.
Just bear in mind this animation will leave you open to attack for a brief time so gain some distance first. SOS calls can be answered from notice boards.
Harvest plants and auto-craft potions
There's a lot of flora and fauna in the New World and all of them are useful to your monster slaying duties. Always press interact ('Circle'/'B') when passing these plants, taking note of where your Scoutfly lands. You can also do this while running, so aim to run past important plants such as Herbs.
You don't even need to craft these myriad potions, tonics and elixirs. Press 'Options'/'View' and select the crafting section. In here, you'll be able to select which items you want to auto-craft whenever you've collected enough resources. Health potions auto-craft as standard, but you'll need to manually check this for Slinger ammo and other buffs.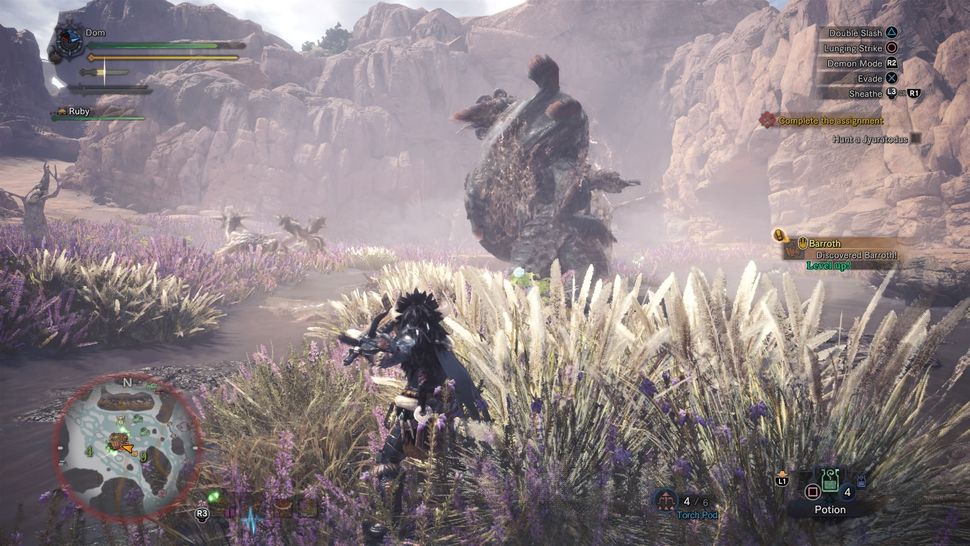 Don't treat the combat like a hack-'n'-slasher
You've likely seen the comparison of Monster Hunter's combat to that of the Dark Souls series, but you'll actually find it was Capcom's beast slaying series that inspired the Souls games. As such, combat isn't a button bashing affair and following such a tactic will dull your blades and get you killed.
Click the right analog stick to lock onto your prey then use 'X'/'A' to strafe around them. Many beasts are armored in certain places so avoiding those areas and focusing on more vulnerable parts will help you to avoid being unnecessarily parried while inflicting more substantial damage. Keep some potions mapped to your quick access menu as well, just in case.
Always gut your prey afterwards
Much like the Far Cry series, and practically any other game with a crafting system, gutting your prey is just as important as the hunt itself. Crafting/upgrading new weapons and armor at the forge requires key materials, many of which are obtained by gutting fallen monsters.
Just like our tips on harvesting plants, simply run around the corpses of your prey and keep pressing 'interact' to ensure you've grabbed everything you can. You have a short window once a questline has been completed too, so get collecting those resources before you're taken back to Astera. Always drop by the forge to see whether or not you have enough to get crafting on a new bit of gear.
Use your environment to your advantage
The lush, wild zones of the New World make for a beautiful backdrop, but there's more to its verdant plains than pure aesthetics. Your environment can be used to a tactical advantage, especially when you're dealing with a monster that's in the later phases of its survival.
Big drops can cause significant damage, while coaxing a beast to destroy vine-covered trees will cause it to become temporarily entangled. This is a great time to inflict damage with the charged form of your chosen weapon. Also be aware that the New World has a dynamic ecosystem and larger monsters can and will step in and ruin your hunt.