E3 2023 schedule: here are the games showcases airing this Summer
A huge Summer of gaming awaits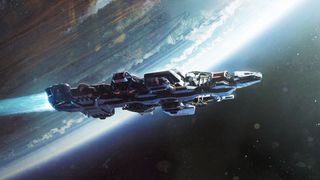 (Image credit: Bethesda Softworks)
The E3 2023 schedule is looking a little different from how many had expected it to look earlier this year. The main reason for this, well, is that E3 2023 has been cancelled officially. While this means that there will technically not be an E3 event this Summer, what has colloquially been referred to as E3 will continue onwards in its wake.
You see, there are showcases coming from Xbox, Starfield, Devolver Digital, and more, over the first two weeks of June. With so much gaming fun packed into this short period, you'll need a way of knowing all of the start dates and times for each of these E3 2023 showcases.
This page will contain exactly that and will be regularly updated as new showcases and events are announced. As long as they're set to run in the space left by the E3 2023 event, you'll find them here. Without further ado, here are the E3 2023 showcases you need to know about this Summer.
E3 2023 schedule: start dates and times for the main events
There are multiple showcases and events airing around where E3 2023 was supposed to be. This includes juggernaut presentations from Xbox and Ubisoft as well as smaller, more bespoke events like the Wholesome Direct. With many referring to this broad schedule as 'E3 2023' now, you can see a list of these main events, alongside their respective start dates and times:
Summer Games Fest - June 8 at 12pm PDT / 3pm EDT / 8pm BST
Day of the Devs - June 8 at 2pm PDT / 5pm EDT / 10pm BST
Devolver Digital - June 8 at 3pm PDT / 6pm EDT / 11pm BST
Access-Ability Summer Showcase - June 9 at 8am PDT / 11am EDT / 4pm BST
Wholesome Direct - June 10 at 9am PDT / 12pm EDT / 5pm BST
Future Games Show - June 10 at 10am PDT / 1pm EDT / 6pm BST
Xbox Games Showcase - June 11 at 10am PDT / 1pm EDT / 6pm BST
Starfield Direct - June 11, immediately following the Xbox Games Showcase
PC Gaming Show - June 11 at 1pm PDT / 4pm EDT / 9pm BST
Ubisoft Forward - June 12 at 10am PDT / 1pm EDT / 6pm BST
Capcom Showcase - June 12 at 3pm PDT / 6pm EDT / 11pm BST
Xbox Games Showcase Extended - June 13 at 10am PDT / 1pm EDT / 6pm BST
Summer Game Fest 2023 schedule
When: June 8 at 12pm PDT/ 3pm EDT/ 8pm BST
Where to watch: summergamefest.com. Or watch on YouTube (above)
Let's start with Summer Game Fest. This one is a biggie, and will likely feature games from all three of the largest publishers. Expect new announcements, as well as updates for games that have long been quiet following their initial reveals.
In terms of what to expect, Summer Game Fest is generally pretty difficult to predict. Pretty much any publisher can book a spot in the show, meaning we're likely to see a large variety of games, from small indies to AAA powerhouses. Hopefully, this is the right time for BioWare to re-unveil Dragon Age 4, which has been sitting dormant for a while. Aside from that, Armored Core 6 gameplay would fit well here, as would some new information regarding Final Fantasy 7 Rebirth. Here's hoping, anyway.
Day of the Devs schedule
Once Summer Game Fest is over and done with, it's well worth sticking around for Day of the Devs. The event is a collaboration between Double Fine (Psychonauts) and iam8bit. The reason to catch this presentation is the huge and diverse variety of indie titles that will be shown off. If you're a fan of weird, wonderful, and innovative video games, Day of the Devs is not to be missed!
Devolver Direct schedule
When: June 8 at 3pm PDT/ 6pm EDT/ 11pm BST
Where to watch: You'll be able to check out the Devolver Direct on YouTube
Now onto the Devolver Direct, which promises the return of everyone's favorite mascot: Volvy! Well, we're pretty sure he's been made up specifically for this, but nevertheless, the upcoming showcase promises to be wacky, incomprehensible, and genuinely entertaining, all in equal measures. As weird as these events can get at times, there's no counting the pedigree of the games shown each year.
Are we in for another look at The Plucky Squire, how about Replaced? Time will tell.
Access-Ability Summer Showcase schedule
When: June 9 at 8am PDT/ 11am EDT/ 4pm BST
Where to watch: You'll be able to watch on YouTube
The Access-Ability Summer Showcase is a brand-new event that will focus on 15 games that promote accessibility support. There will be 40 minutes of announcements, with game code giveaways throughout as well.
All music and trailers are being marked safe for live-streaming, so that other streamers can co-stream along with the event, giving this showing a really inclusive and positive feel. Well worth checking out for those looking to learn about some great new games, and the whole thing will feature ASL, BSL, and Audio Described options as well.
Wholesome Direct schedule
When: June 10 at 9am PDT, 12pm EDT/ 5pm BST
Wholesome Games return in 2023 for another Wholesome Direct, focusing on games with a light, and non-violent spin. Every game shown will have more of a feel-good vibe when compared to the more mainstream shows, with an emphasis on smaller indie titles.
Regardless of what platform you play on, there's sure to be plenty here for those that enjoy inventive and quirky games. The main difference with this lineup is that the games tend not to depend on action and combat for their main hooks.
Future Games Show schedule
When: June 10 at 10am PDT/ 1pm EDT/ 6pm BST
The Future Games Show: Summer Showcase, powered by Intel, will take place on Saturday, June 10, featuring over 50 multi-format games, and hosted by the stars of Marvel's Spider-Man. Hollywood voice actors Yuri Lowenthal (Peter Parker) and Laura Bailey (Mary Jane Watson) will host the 70-minute gaming showcase, which will be broadcast on all major streaming platforms, including Twitch, YouTube, TikTok, and Twitter.
This one is being run by the fine folks over at our sister site Gameradar+. Be sure to check in for a huge suite of announcements.
Xbox Games Showcase and Starfield Direct schedule
When: June 11 at 10am PDT/ 1pm EDT/ 6pm BST
Xbox will be coming out of the gate swinging this Summer with two presentations, all under one banner. The main event is the Xbox Showcase, which is expected to be filled with some of the Xbox first party lineup that has been noticeably absent from recent showings.
We're hoping for updates on the long-dormant Fable game, a look at Hellblade 2, and perhaps even some sort of news on The Elder Scrolls 6. Maybe that last one is dreaming a little big, admittedly. Thankfully, we do know one game that will heavily featured in its own direct that will air immediately after the main show. The Starfield Direct will finally give us a deep dive on Bethesda's upcoming space RPG, so make sure you stick around after the Xbox Showcase.
PC Gaming Show schedule
When: June 11 at 1pm PDT, 4pm EDT, 9pm BST
Where to watch: Details to follow, but follow PC Gamer's YouTube channel to be the first to know
Another one of our sister sites is also hosting a showcase this Summer. PC Gamer will be putting on the PC Gaming Show, which is a must-see for those that play on PC platforms. You'll be able to jump straight from the Xbox Showcase airing the same day to this one, so it's sure to be a great one to watch for new games announcements.
Ubisoft Forward schedule
Ubisoft has a bunch of games sitting in its deck currently, with only a handful that have been fully announced so far. There are numerous Assassin's Creed projects, like this years Assassin's Creed Mirage, as well as the long-delayed Skull and Bones, which is still yet to receive a new release date.
Thankfully, Ubisoft has actually released a teaser trailer for the event, showing off some of the games we will definitely hear more on. You can watch it below, but the headline game appears to be Avatar: Frontiers of Pandora.
Capcom Showcase schedule
When: June 12 at 3pm PDT, 6pm EDT, 11pm BST
Where to watch: You'll be able to find more details at the Capcom Showcase website
Hot off the heels of a great launch for Street Fighter 6, Capcom is set to hold its very own showcase event on June 12. So far, we know that it will run 36 minutes, and will be a celebration of Capcom's 40th Anniversary.
In terms of games, things are a little less easy to predict. Resident Evil 4 Remake DLC would be the best bet here, but then again it's been a while since we've seen a new Monster Hunter game on PS and Xbox consoles...
Xbox Games Showcase Extended schedule
When: June 13 at 10am PDT, 1pm EDT, 6pm BST
Xbox will be doubling back on its Xbox Games Showcase on June 13, offering an extended look at the games that were revealed during the initial show.
This is a familiar format, with Xbox having previous form in retracing showcase steps in order to offer more insight and information on games. The Extended Showcase will feature in-depth interviews, as well as further updates and news from studios. If Xbox is your platform - or if anything from the first showcase caught your eye - then this extended showcase will be for you.
---
In terms of other developers, studios, and big publishers, we're probably down to speculation - EA Play Live could be a thing, but we're so close now to the above schedule it might be hard to envisage a late entry like that. Sony has already gone early this summer, we don't know whether we'll get any insights into any new PS5 games. Elsewhere, Nintendo has confirmed it won't be doing any E3 2023 presentation too, so our best Nintendo Switch games list can also rest easy.
Sign up to receive daily breaking news, reviews, opinion, analysis, deals and more from the world of tech.
Jake is a freelance writer who currently works regularly with TRG. Hailing from the overcast shores of Brighton in the United Kingdom, Jake can be found covering everything from features to guides content around the latest game releases. As seen on NME.com, Eurogamer.net, and VG247.com, Jake specializes in breaking games down into approachable pieces for guides, and providing SEO advice to websites looking to expand their audiences.