Advertisement Feature
Business laptops due for a refresh? Here's why you should consider AMD Ryzen PRO 6000 Series devices
Your workers will appreciate the transformative, new features provided by AMD Ryzen PRO 6000 Series processor based laptops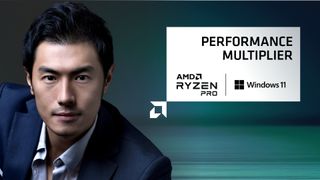 (Image credit: AMD)
In the business IT world, AMD is perhaps best known for playing a significant, behind-the-scenes role – powering data centres, servers and all kinds of computing infrastructure. However, the launch of AMD Ryzen PRO Series 6000 processors is about to sit AMD technology squarely in front of the world's workers.
AMD Ryzen PRO Series 6000 processors represent a sea-change in what a business laptop can be. The new features provide an unrivalled combination of performance, portability, security features and enable efficiency to help your workers reach new levels of productivity (and creativity) while simultaneously helping to reduce support costs and improve manageability.
Of course, changing your business' IT provisioning can be like changing your bank account – a nice idea that quickly gets tossed into a too-hard basket once the inevitable, awkward realities reveal themselves. The good news is that this isn't a problem when upgrading to AMD Ryzen PRO 6000 Series devices as they're available from the partners you already use, like Lenovo and HP.
You also needn't worry about supplying different products to workers with different use cases. Whether an employee focuses on process-oriented tasks, needs portability for life on the road, or are transporting particularly sensitive data, one size truly does fit all – AMD Ryzen PRO 6000 Series processor-based laptops can be all things to everyone.
What are the benefits of AMD Ryzen PRO 6000 Series business laptops?
So, what are the individual core technologies and benefits that combine to constitute AMD Ryzen PRO 6000 Series processor-based laptops?
Premium performance
AMD Ryzen PRO 6000 Series processors have up to eight high-performance cores that work to eliminate any lag from general computing activities, and can rip through hardcore, processing workloads in ways that only dedicated workstations used to be capable of.
Naturally, power users will be concerned that with great power comes a great loss in battery life and portability. However, AMD Ryzen PRO 6000 Series processors support intelligent power management features to help maximise battery life. In addition, tough MIL-spec devices with these new processors are already on the market and they weigh less than 2kg, so you can rest assured that they'll both operate a full day out of the office and survive life on the road.
With AMD Ryzen PRO 6000 Series devices already utilising Full HD 1080p webcams, it's good to know that advanced AI-powered noise cancellation technology is supported* and ready to ensure that the increasingly important ability to conference remotely is catered for using the best audio and visual enhancements.
AMD Ryzen PRO 6000 Series processors are also compatible with the latest, speedy connectivity, including Wi-Fi 6E, Bluetooth 5.2 and USB 4*.
Multi-layered security features
AMD Ryzen PRO 6000 Series laptops come with a stack of powerful security features. At the top lie Windows 11 security enhancements that have been designed in collaboration with chip makers like AMD. They provide integrated, hardware-based security protection for software at the OS-level. Below this lie security features from each OEM (tools like Lenovo's ThinkShield and HP's Sure Start) that offer bespoke capabilities which are tailored to each manufacturer's own laptops.
The next layer is exclusive. AMD Memory Guard** can defend the most sensitive data on lost, or stolen, laptops. It can even help protect against a sophisticated 'Cold Boot Attack' which can otherwise circumvent regular drive encryption.
AMD Ryzen PRO 6000 Series laptops are the only models to currently support the cutting-edge Microsoft Pluton*** security processor. This unified, multi-layer security approach eliminates gaps beneath operating system layers where attackers like to hide and steal encryption keys and credentials, and functions both locally and when working in the cloud.
The final layers, which sit atop your data, include AMD Security Processor and Zen architecture. The former is integrated on-chip and protects sensitive data by validating code before it is executed, helping to protect your system and data from unauthorised software and applications that might be running on your device. Meanwhile, AMD's Zen architecture has been designed from the ground up with security features as a priority in order to help reduce exposure to sophisticated attacks.
While the weakest point of security is typically the user, you can rest assured that whatever critically important information they're working on, the combination of integrated hardware and software security features, afforded by the Ryzen PRO 6000 Series processor platform, can even help protect users from themselves.
Manageability
Many IT admins will know that providing their users with secure features is only part of the problem. Provisioning, managing and supporting those devices is the behind-the-scenes headache that only IT professionals truly appreciate and AMD is all too aware of this.
AMD has designed AMD Ryzen PRO 6000 Series processor technology with the Enterprise in mind. To this end it has pre-planned 18 months of software stability and 24 months availability: there will be no forced behavioural updates nor shock announcements that leave organisations with obsolete assets. For those who have already bought into previous generations of AMD Ryzen processor-based devices (and for those who plan to stay the course into the next generation too), you can rest assured that AMD's continuous platform validation will ensure dependability and a consistent user experience across multiple generations thanks to continuous OS, firmware, BIOS and driver updates.
Finally, there's the AMD Manageability Processor**** which is supported and only available on AMD Ryzen Pro 6000 processor-based devices. This offers a robust, fleet-management feature-set that simplifies the deployment, imaging and management of organisations' constantly growing and evolving assets.
Examples of AMD Ryzen PRO 6000 Series processors
AMD Ryzen PRO 6000 Series processor-based laptops are already hitting the market. One example is the Lenovo ThinkPad Z16, which is a stylish, sub-2kg, 16-inch ultraportable with Full HD webcam and high-quality speakers. It has up to a 12-hours battery life*****, rapid charge functionality and is available with a powerful, discreet Radeon GPU. The aluminium chassis is also robust and perfect for life on the road.
Another model is the 14-inch, 1.4kg HP EliteBook 845. This featherlight laptop is also packed with security features and productivity tools. It too sports a Full HD webcam and premium speakers, along with a long-life battery and its ultraportable pedigree is further enhanced by integrated 5G.
Ultimately, whatever type of industry or vertical you operate in (be it banking, finance, TelCo, media, government or healthcare) and whether you're a user or manager of users, AMD Ryzen PRO 6000 Series processor-based laptops provide peace of mind that computing-related barriers to productivity are eliminated and that they can be delivered, managed and protected all on one, unified platform.
Notes:
The information contained herein is for informational purposes only and is subject to change without notice. "Zen" is a codename for AMD architecture and is not a product name. GD-122.
AMD Ryzen™ is a registered trademark of Advanced Micro Devices, Inc.
* AI-powered noise cancellation, USB 4, and Wi-Fi 6E require OEM enablement. Please check with your PC manufacturer prior to purchase. GD-201.
** Full system memory encryption with AMD Memory Guard is included in AMD Ryzen PRO, AMD Ryzen Threadripper PRO, and AMD Athlon PRO processors. Requires OEM enablement. Check with the system manufacturer prior to purchase. GD-206.
*** Microsoft Pluton is a technology owned by Microsoft and licensed to AMD. Microsoft Pluton is a registered trademark of Microsoft Corporation in the United States and/or other countries. Learn more here. GD-202.
**** AMD Manageability Processor requires OEM enablement. Check with the system manufacturer prior to purchase. GD-193.
***** All battery life claims are approximate. Battery life tested by Lenovo, using the MobileMark 18 benchmark to measure the battery life of a Lenovo ThinkPad Z16 with a 70WHr battery. Actual battery life will vary based on several factors, including, but not limited to: product configuration and usage, software, operating conditions, wireless functionality, power management settings, screen brightness and other factors. The maximum capacity of the battery will naturally decrease with time and use. AMD has not independently tested or verified the battery life claim. For more information about the MobileMark 18 benchmark test, see bapco.com. Read more here to learn more about the Lenovo ThinkPad Z16.See . GD-168.
Sign up to receive daily breaking news, reviews, opinion, analysis, deals and more from the world of tech.