03/06/2023 : Prices checked and availability updated, more questions added to the FAQ section.
A KVM switch is what you need when you are trying to control two or more devices using a single set of keyboard, video output or mouse (KVM stands for Keyboard-Video-Mouse). You may want to do this to improve your productivity, to make better use of your desk space or simply because your employer has decided to enforce the use of a company laptop.
It usually works across all types of devices (laptop, desktop, tablet, smartphones, gaming consoles) and operating systems (Linux, Windows, MacOS, Android, Chrome OS).
Perhaps the most underrated and misunderstood computer accessories around, these peripherals were - for a long time - only found in enterprise setup where they were common sight in data centers or server rooms. The shift to hybrid working and work from home changed all this and even more so in 2023.
The cheapest and most basic ones are usually made out of plastic and have a limited number of ports while more complex ones will allow you to connect other peripherals (USB flash drive, webcam, headset etc) as well as control more devices and displays. Bear in mind that they do not usually provide an external power supply.
We've selected the best KVM deals based on their price at the time of writing and considered their features and overall ratings when including them. We have not reviewed all of them.
If any of the deals below has ended or is out of stock, please let me know on desire.athow@futurenet.com
---
Best KVM deals of 2023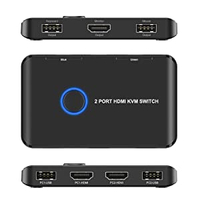 (opens in new tab)
Ablewe KVM switch $49.99 $30.99 at Amazon (opens in new tab)
Best value for money KVM
Save 38% It is Amazon's best selling KVM switch and it is easy to see why: Ablewe is affordable, versatile, tiny and supports resolutions of up to 4K@60Hz (you need both devices to support that resolution). A color-coded button makes it easy to identify what PC is being controlled. Just remember to use the bundled cables for optimal performance and to apply the coupon to get the discounted price.

(opens in new tab)
Iogear GCS1953 $499.95 $299.95 at B&H Photo (opens in new tab)
Best KVM for Type-C
Save 40% Iogear is part of Aten, one of the biggest KVM vendors in the world, and its GCS1953 - which we reviewed its Aten equivalent recently - standouts because it can control three devices with a specific combination: two DisplayPort and one Type-C, with the added benefit of having a power delivery of 45W for the latter, which is enough to power say, a tablet or a smartphone. You can also share peripherals and change devices using four methods.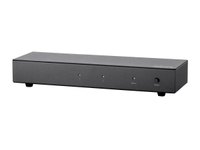 (opens in new tab)
Monoprice 36652 $129.99 $70.75 at Monoprice (opens in new tab)
Best KVM for dual monitor setups
Save 43% Monoprice is best known for its speakers and monitors but it has an extensive line of KVM switches as well. The 36652 stands out for us because it has a metal housing for improved RF shielding and supports two 4K displays, great if your current configuration is set up this way, but you will need to have DisplayPort connectors throughout. We liked the build quality of the 36652 and the additional USB ports that allow you to connect more peripherals to the KVM switch.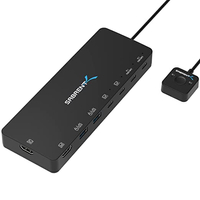 (opens in new tab)
Sabrent USB-CKDH $129.99 $123.49 at Amazon (opens in new tab)
Best KVM for Type-C setups
Save 5% This KVM switch was released in December 2022, so quite recently. Sabrent is well known for its award winning storage solutions but branched out into peripherals as well. The USB-CKDH offers the added capability of charging two devices up to 60W each, which is enough to trickle charge your average laptop. It has a remote push button switch - which means you can hide the KVM to reduce clutter and supports two displays running at 4K/60Hz. Note that your devices will need to be either Thunderbolt-equipped or have DisplayPort Alt Mode enabled on the USB-C port.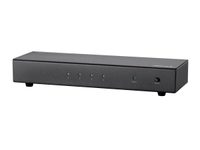 (opens in new tab)
Monoprice 36653 $126.99 at Monoprice (opens in new tab)
Best KVM for quad computers
If you have to control up to four computers, then the 36653 is probably your best option although you will be limited to DisplayPort connectors which limits its appeal. That said, you should be able to use HDMI adaptors to maintain compatibility with existing monitors. Bear in mind that HDMI carries both video and audio as opposed to video only for DisplayPort. Like the 36652 above, it has a metal enclosure and extra USB 2.0 ports. Shame about the non-standard square USB connectors.

(opens in new tab)
Visiontek VT2900 $217.93 at Amazon (opens in new tab)
Best KVM if you have a lot of peripherals
Use the Get it faster option to reduce the price Unlike the Targus DOCK750, the VT2900 is available now and is cheaper (albeit with fewer features). You can still run two 4K monitors and power one device with 100W power delivery. It has plenty of USB ports and even a Gigabit Ethernet connector. Switching between devices requires you to push a button with no options for a remote push one. The presence of WOL, MAC Address pass-through and PXE boot boosts its enterprise credentials; Visiontek, after all, is a respected tech company that dabbles in RAM, SSD and even graphics cards.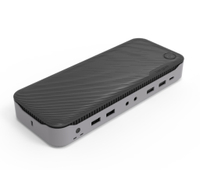 (opens in new tab)
Targus DOCK750 - RRP $499.99
Best KVM for high power delivery
This is one of two hybrid docking stations/KVM in this list, something we're bound to see more as more companies implement stricter home/work boundaries (blame that on rigid business VPN, SASE, ZTNA implementations). The DOCK750 ups the ante by offering USB 3.2 Gen 2 everywhere as well as both HDMI or DisplayPort. It is the only KVM we know of that charges two devices (up to 100W each) and supports two PCs across - wait for it - three screens. This one will be available for sale in Spring 2023 and will be on preorder soon. We will update this page in due course.
---
What is a KVM switch?
KVM stands for keyboard, video, and mouse. It's traditionally a switching device which allows users to control multiple host machines from a single keyboard, monitor, and mouse.
It can split one computer into several different screens that all use the same keyboard and mouse. Or if your monitor has more than one input port, like an HDMI and DisplayPort you can use 2 different computers on one screen. Simply press a button to go back and forth. So for example; We have one large monitor that has 4x HDMI ports on the back. We can then plug 4x different computers into the monitor.
Your keyboard and mouse plug into the KVM switch. There is a box with a button that comes out the back of the KVM switch. This is used to select which computer you want to control. So what we see is a large monitor with 4 zones, each zone is a different computer. We press the button in the box to select which computer is active and the keyboard and mouse works with that. Select the button again and the second computer is active.
What is a software KVM and is it good?
Some KVM vendors have a companion software that can be optionally installed to facilitate the sharing of a keyboard and mouse over two connected host machines (Windows and Mac). When the dock is switched to dual host mode, it allows the control of either host machine by simply moving the mouse cursor to the desired host. Users can then start typing without needing to switch like a conventional KVM device. It's very useful in situations where the end-user needs to work on two operating environments such as software coding or hybrid work desk used by thin client and laptop users. When operating in single host mode, like normal KVM switching, the software is not necessary.
Are KVM switches great for gaming (in terms of refresh rates and latency/lag)?
(Answered by David Mak)
The gaming market requires very different hardware compared to a conventional KVM switch. In these cases, a KVM switch supporting high refresh rate video connections is required. Most docking products are limited to 60Hz refresh rate, but competitive gaming requires 120Hz and beyond with very low input lag. This is must also be accompanied by graphics sustaining equally high frames per second, high refresh rate monitor, high polling rate input devices, and optimised internet traffic to deliver end-to-end low latency gaming performance. Obviously, talent contributes the biggest factor with good hand-eye coordination.
David has 12 years of product category management in the consumer electronics and B2B space. His career revolves around finding what new experiences/products will satisfy market desires and how they could be designed, manufactured and brought to the market. His most recent achievements include helping Targus win major corporate projects with his product range and his work on USB-C product strategy helping customers transition to the future smoothly.