The best virtual desktop services and Desktop as a Service (DaaS) providers make it simple and easy to ensure secure and cost-effective solutions for remote working.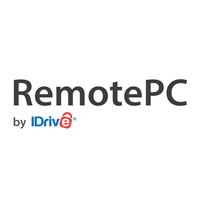 (opens in new tab)
Remote access 10 Macs or Windows PC for only $3.98 (opens in new tab)
Ever thought of remote desktop as an alternative to VD/DAAS. With Remote PC you can. Connect to your work or office computer from anywhere using secure remote access. Transfer files/folders, even from mapped drives, between your computers. Get free real-time remote support beyond the screen via live video sharing with AR.
Desktop as a Service (DaaS) is not an entirely new phenomenon, but it's certainly experienced significant growth in the past few years, both in terms of technology and market share, and especially more recently due to the pandemic.
The reason for their take-up is that virtual desktops are a secure and flexible means for businesses to support a remote work staff and Bring Your Own Device (BYOD) practices. Of course, the pandemic and move to working from home (opens in new tab) has also accelerated take up of this technology.
In a DaaS framework, a provider takes care of the technical and logistical aspects of cloud desktop and app environments, and a business rents these services for less than the cost of building and maintaining them itself. We've combed through the many DaaS providers on the market and chosen six of the best, based on services, security, scalability, and cost.
We've also highlighted the best remote desktop software.
---
The best virtual desktop services of 2022 in full:
Why you can trust TechRadar Our expert reviewers spend hours testing and comparing products and services so you can choose the best for you. Find out more about how we test.
Amazon WorkSpaces is an industry leader in DaaS, with great features and pricing options for small businesses. It makes use of a PCoIP protocol for compression and encryption of data transfers, and WorkSpaces also uses Amazon's SDX protocol.
Customers can provision Linux and Windows virtual machines, while AWS runs on Windows, macOS, Chromebook (opens in new tab), iPad, Amazon and Android tablets, Chrome and Firefox. Both operating systems come bundled with default software like Internet Explorer, while Microsoft Office and others can be added for a monthly fee.
One of the biggest advantages with Amazon WorkSpaces is the flexible pricing. Businesses that are interested in trying out the services can take advantage of a free tier with two workspaces, for up to 40 hours per month. There are several payment options based on disk size, number of CPUs, memory, and whether you bring your own licenses (BYOL).
Bundled services can be charged monthly or even hourly, so you pay for what you use. There are no one-time fees and no commitments: you can cancel your subscription at any time.
Read our full Amazon Workspaces review (opens in new tab).

The Citrix DaaS platform has great hosted desktop services that are particularly well suited to a mobile workforce. Users can connect from Android, Windows, macOS, Chrome OS, and iOS/iPadOS and seamlessly switch between devices while maintaining workflow: the service adapts to different screen sizes, so employees can connect on a computer, tablet, or even mobile phone.
Plans vary by number of users, applications, features, and licenses. A Standalone version, deployed as a cloud service, includes Windows and Linux provisions, while the Workspace Premium Plus solution adds open support for any public cloud or hypervisor and is marketed as a comprehensive digital platform for managing Windows, Linux, web, SaaS, and mobile apps.
Citrix also integrates with and virtualizes collaboration and communication tools like Skype for Business and can manage graphics-intensive jobs, with support for Intel, AMD, and NVIDIA GPUs.
Read our full Citrix DaaS review (opens in new tab).

Azure Virtual Desktop enables businesses to provision Windows 7 or 10 virtual machines, complete with support for Office 365 and many third-party applications. WVD has excellent device support as well: Windows, iOS/iPadOS, MacOS, Chrome OS, Android, and all major browsers.
Pricing depends on region, operating system, virtual machine (CPU, GPU, and memory), and usage (in hours, days, or months) and is thus flexible. There are discounts available for one- and three-year subscriptions, or you can pay as you go. The Windows Virtual Desktop website even has a comprehensive calculator to estimate your costs based on your business's needs.
With Azure, customers benefit from great backup and recovery features, making this one of the best providers for data security. Scheduled backups, snapshots, offline and encrypted backups of virtual machines, and automatic failover all help mitigate the risks of data corruption or loss.
Read our full Windows Virtual Desktop DaaS review.

A name well known in virtualization, VMWare Horizon Cloud is available as a standalone, on-premises service or hosted on IBM Cloud or Microsoft Azure. Unlike previous providers, however, it is strictly BYOL, as VMWare does not plan to sell Windows licenses.
Horizon has great features for scalability and maintaining uptime. Instant Clone, for example, enables customers to rapidly deploy customized virtual machines by cloning from a parent or "master image" machine. The resulting machines are fully independent, so they can be further customized as necessary for easy scalability. Clones can also share a virtual disk and thus consume less storage, a practical money-saving feature.
Pricing depends on user style (named vs. concurrent), payment plan (pay as you go or contractual), and edition (Standard, Advanced, and Enterprise). More advanced editions include features like Linux provisioning, virtualization for Skype for Business, and SSO and MF authentication.

Nutanix XI Frame is a great choice for anybody who's wary of the complexity and IT know-how necessary to set up and take advantage of a full-featured DaaS environment. The company aims to provide a more streamline experience to admins, without sacrificing end-user experience and functionality.
For example, provisioning is broken down into five simple steps. Choose an infrastructure (AWS, Google Cloud, etc.) and the apps you need (Office 365, Adobe Creative Cloud, Autodesk, Google Chrome, etc.), integrate with your existing cloud storage (Dropbox, Google Drive, etc.), and then access your machine on any HTML-5 capable browser.
The simplicity is quite refreshing compared to other highly complex, jargon-saturated services. While there are no native apps, which may be a turn-off for some, the end-user experience is still quite impressive, with high-performance 3D graphics and drag-and-drop file sharing.
The real advantages here are speed and accessibility. You can get a working virtual desktop environment up and running in less than an hour, with little to no technical experience. It's a great choice for small businesses with limited IT support.
Read our full Nutanix Frame DaaS review.

Shells is a newcomer to the DaaS scene, providing a multi-platform offering that can be used across almost any device (including a gaming console or TV) and spans multiple operating systems (Windows, various Linux distros), running via a web browser.
Shells makes use of SPICE (Simple Protocol for Independent Computing Environments), a new protocol that enables access to cloud desktops from various machine architectures.
Plans are divided into four tiers (Lite, Basic, Plus, and Pro) intended for businesses as well as casual users. Shells Pro, which is built with professionals in mind, offers a quad-core virtual CPU with 160GB of storage and 8GB of RAM, plus unlimited access and bandwidth. Every plan includes free daily backups covering up to 7-days, which is a neat touch.
Read our full Shells.com DAAS review.
We've also featured the best Linux Desktops.
---
What is Desktop as a Service?
We've also featured the best Linux Desktops.
Which virtual desktop service is best for you?
When deciding which virtual desktop service to use, first consider what your actual needs are, as budget options may only provide basic features, so if you need to use advanced tools you may find a more expensive platform is better suited to you. Additionally, higher-end software can usually cater for every need, so do ensure you have a good idea of which features you think you may require from your virtual desktops.
How we tested the best virtual desktop services
To test for the best virtual desktop services we first set up an account with the relevant platform, then we tested the service to see how the software could be used for different purposes and in different situations. The aim was to push each virtual desktop service to see how useful its basic tools were and also how easy it was to get to grips with any more advanced tools.
Read more on how we test, rate, and review products on TechRadar (opens in new tab).