The best iPad games 2023: the best games in the App Store tested and rated
The best games for iPad, iPad Pro, iPad Air and iPad Mini
Our favorite iPad platform games, including free-roaming adventures, retro-infused titles, and modern console-style classics.
Kombinera
Why you can trust TechRadar We spend hours testing every product or service we review, so you can be sure you're buying the best. Find out more about how we test.
($7.99/£6.99/AU$12.99)
Kombinera is a single-screen platform game featuring a group of glowing colored balls. They want nothing more than to merge into one – which is a bit of a problem, given that the entire world they exist in seems determined to kill them.
In theory, your task is made easier by each ball having its own superpower of sorts – the yellow one, for example, being able to smash yellow floor pieces into oblivion. In reality, this merely adds to the combination of puzzling, pathfinding and precision movement required to achieve each level's goal – not least given that all the balls move simultaneously.
Levelhead
($6.99/£6.99/AU$10.99)
Levelhead initially comes across like a smart platform game with a daft plot. An intergalactic shipping company accidentally obliterated some houses with its light-speed shipping, and so now delivers packages a short distance away from their intended destinations. You guide a robot that helps these abandoned boxes on the final leg of their journeys.
If you've played any console-style fare, you'll know the drill: there's lots of leaping and switches, the odd boss battle, and a smattering of puzzling. It's a lot of fun - especially when armed with a controller.
Early on, though, Levelhead opens up potentially endless play via a construction kit. Given the inherent complexity of the game's systems, it's surprisingly simple to create and publish custom levels. Apple Pencil is also supported to help speed things along. In all, for the lowish price tag, the entire iPad game feels like a bargain.
Bomb Chicken ($4.99/£4.99/AU$7.99)
($4.99/£4.99/AU$7.99)
Bomb Chicken finds a once ordinary chicken able to rapidly lay an inordinate number of eggs that look and act exactly like bombs. Said chicken is annoyed, too - there's something fishy at the heart of the facility, and he needs to find out what.
It's your job to help this feathered hero succeed, by leaping about, avoiding being sawn in half by the suspicious number of saw-blades strewn about, and booting the odd bomb in the general direction of any enemy stupid enough to be hanging around.
On iPad, Bomb Chicken shines. The visuals are sharp and clear, the music's great, the level design is varied and smart, and the controls work well. We're quite sure you'll never get a better mash-up of Bomberman, a 2D platform game, and poultry on your iPad.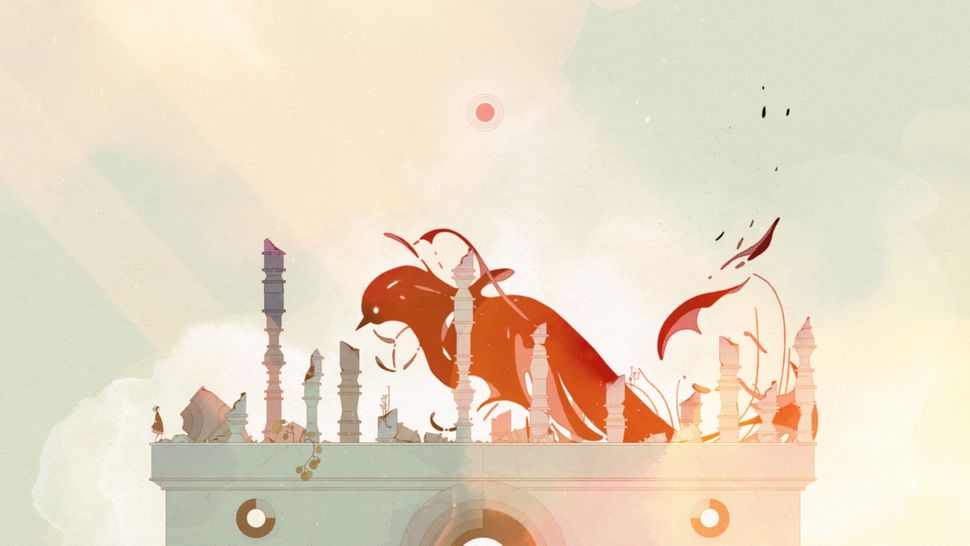 GRIS
($4.99/£4.99/AU$7.99)
GRIS is – in terms of mechanics – a side-on platformer. You run left or right, leap about, and try to find items that unlock more areas in which you can explore. In this sense, the game is quite traditional – perhaps a little too much so when you hit areas that require pixel-perfect precision.
But along with these conventions, GRIS infuses the heart of an artist deep into the game. The wordless story follows the titular Gris, a woman who's lost her voice. You can perhaps infer the desolate world in which she finds herself – and the obstacles she faces – are her trying to find herself again.
Throughout, the game is an aesthetic delight, with a stunning soundtrack and gorgeous hand-drawn art, with many moments of pure joy to be found in the details.
Death Hall
($2.99/£2.99/AU$4.99)
Death Hall is a platform game where protagonist and player alike find themselves in a kind of hell. The hero's surroundings are decidedly unfun – all manner of deadly spikes, nightmarish bitey horrors, and axes swinging from the ceiling. Health and safety should have a word. But this is hell for the player, too, given that Death Hall is tough.
In fact, 'merciless' would perhaps be a better description for a game that seems determined to kill you often and repeatedly. Death Hall may look gorgeous on the iPad, and give you plenty of opportunity to spot what's coming, but avoiding death is hard.
Still, keep trying, and you'll gradually master the nuances in the controls. You'll complete one level, and eventually another. The way forward is not easy – but it is deeply rewarding.
Bubbles the Cat
($3.99/£3.99/AU$5.99)
Bubbles the Cat is a platformer that initially comes across as a mite too familiar. Cute animal protagonist? Check. Retro visuals? Yep. Auto-running to remove the need for problematic virtual controls? Sure. Short levels with multiple targets to encourage repeat play? That's there, too. So why are we recommending this one? In short, it's all about the bubbles.
In Bubbles the Cat, you don't just double-jump – you can jump until your bubbles run out. That gives you up to six airborne leaps – and those bubbles are replenished on landing. Later levels unlock other bubble types, including wall-creators, wrecking balls, and dimension hoppers.
The result is a game that's surprisingly fresh, and that opens things up for some seriously interesting level design and route-finding. Top stuff.
Spitkiss
($1.99/£1.99/AU$2.99)
Spitkiss is unique in the App Store, what with it featuring tiny creatures that communicate by lobbing bodily fluids at each other. But how you get spittle and the like from one to the other plays like Angry Birds became a single-screen platformer, and then had Matrix-style slo-mo welded to it.
To get started, you aim and fling some spittle, and then direct it from surface to surface until the blob reaches its goal. Hold the screen and time slows, allowing you to prepare your next shot – essential given the claustrophobic and hazard-strewn screens you face.
This all works particularly well on iPad. You've plenty of space to move your finger, and can be far more accurate on the larger screen. The vibrant visuals are arresting, too, even if you might feel squeamish about flinging spit.
Suzy Cube
($3.99/£3.99/AU$5.99)
Suzy Cube is a platform game set in a world with a thing for straight edges. Assuming you've played a platformer before, you know the drill: explore; grab gold; unsportingly jump on the heads of enemies to obliterate them.
But Suzy Cube goes beyond the stripped-back 2D fare we often see on iOS for something akin to Super Mario 3D Land. This means you may find yourself quickly swapping between skidding down icy mountains in 3D, following Suzy Cube as she runs side-on around a tower, and then delicately leaping between floating platforms, as seen from above.
Bar some duff boss battles, it's ambitious, entertaining fare, with tight touchscreen controls, and a great sense of pace and variety as you delve into the world and discover its many hidden secrets.
Oddmar
($4.99/£4.99/AU$7.99)
Oddmar is a Viking who's not good at being a Viking, but he's forced into action when his village vanishes and an evil takes over the land. Cue: swiftly munching a magic mushroom to get some special powers, followed by quite a lot of platforming action.
And what platforming action! Oddmar looks and feels like nothing else on iPad. Although the gameplay mechanics are familiar (leap about, explore, collect bling, hack up enemies, don't get killed), the production values here are something else. Oddmar's world feels alive, and each level has been painstakingly constructed, imbuing the game with smarts and pace.
Peppered with set pieces, survival-oriented 'dream' levels, and varied challenges, and blessed with pitch-perfect touchscreen controls, Oddmar is only to be missed if you can't stand this kind of game. And even then, we suggest taking a look anyway – just in case.
VVVVVV
($2.99/£2.99/AU$4.49)
VVVVVV is an old-school twitch platformer. It strings a bunch of single-screen challenges together, gives them silly names, peppers restart points about, and then sits back with an evil grin as you blunder into traps time and time again.
The main twist is VVVVVV's use of gravity. Instead of jumping, your running man can switch between ceiling and floor. Most rooms within the game cleverly play with this gravity mechanic. There are bounce pads, roaming enemies, and columns of screens where you weave your way down through columns of spikes, and then head back, all because some nutcase didn't think to install a small bridge.
Visually, the game is odd – 1980s-style graphics, which also look blurry on iPad. The virtual controls are occasionally slippy too. Mostly, though, it's a joy (albeit sometimes a head-bangingly frustrating one), with smart writing and clever puzzle-infused level design.
Thomas Was Alone
($4.99/£4.99/AU$7.99)
Thomas Was Alone is a platform adventure that tells the tale of a self-aware artificial intelligence. Said AI is represented as a little red rectangle, charged with leaping about blocky environments, and reaching the exit. Along the way, other AIs appear, each with its own distinct abilities, which you must make best use of to get everyone to their goals.
What sets Thomas Was Alone apart is its storytelling. The little rectangles are imbued with big personalities, and a voiceover gives you a window into their thoughts, which is often meta and frequently entertaining. After all, it's hard not to love a game that finds the hero peering at certain doom, before the voiceover notes: "Something about the boiling, toxic, glowing water intimidated Thomas. He didn't like it, and he certainly didn't want to swim in it."
Still, you'll want to swim in this game, because it's a beautifully realized production.
Mushroom 11
($4.99/£4.99/AU$7.99)
Mushroom 11 finds you controlling a living pile of green gunge that gloops its way around a post-apocalyptic world. Its mission appears to be hoovering up whatever life is desperately clinging on in this harsh landscape, from tiny spiders to mutated plants that spit fire.
If you had to label it, Mushroom 11 is a fairly traditional side-on platform puzzler, but the manner in which it's controlled proves transformative. There's no virtual joystick here – instead, you touch to 'erase' bits of the green blob, which then rapidly grows back.
This mechanic is used inventively throughout the game, whether you're figuring out how to zoom through tunnels, make the blob 'jump', or split it in two, so one part can trigger a switch while the rest moves onward. On iPad, the game is one of a kind and a tactile joy.
INSIDE
(free + $6.99/£6.99/AU$10.99 IAP)
INSIDE is a puzzle-heavy platform game that charts a boy's adventures in a chilling dystopia. It begins with him fleeing from armed men. You must duck behind trees and flee from ferocious dogs or end up dead, face-down in the dirt.
But death is not the end; like INSIDE's predecessor, the equally disturbing LIMBO, the hero here seems doomed to repeat every failure until it becomes a victory.
It's trial and error time, then. You run through a building, get horribly killed, take some mental notes, and then try again. Occasionally, this gets old; some sequences in the game are too long, and a couple have a margin of error that's too tight.
For the most part, though, this is a game of intriguing puzzles and a mesmerizing – if extremely dark – world, packed full of surprises, horror and tiny victories.
Sign up to receive daily breaking news, reviews, opinion, analysis, deals and more from the world of tech.