The best iPad games 2023: the best games in the App Store tested and rated
The best games for iPad, iPad Pro, iPad Air and iPad Mini
Our favorite iPad brain-teasers, logic games, sliding puzzlers, match-three games, and path-finding titles.
Automatoys
Why you can trust TechRadar We spend hours testing every product or service we review, so you can be sure you're buying the best. Find out more about how we test.
(Free + $2.99/£2.49/AU$4.49)
Automatoys is a joyful collection of contraptions that echo coin-based single-button plastic toys, where you aim to get a ball to a goal. What sets the game apart is its fantastical nature, with inventive design that makes you wish these machines existed in the real world.
If the ball is marble-sized, they'd be huge. And they're varied, with all kinds of switches, lifts, wobbly surfaces, and catapults. Despite doing nothing more than prodding the screen in Automatoys, the game feels deeply tactile, and the addition of a timer provides a boost of intensity for those who need it.
There's no getting away from the game being shallow – you could blaze through it in half an hour. But Automatoys is always fun to return to and savor, poring over its lovely visuals, and spending a happy few minutes with your favorite machines.
House of Da Vinci 3
($5.99/£4.99/AU$9.99)
House of Da Vinci 3 is the third entry in a series that started life really wanting to be The Room, but that subsequently expanded into a compelling and brain-smashing escape adventure that married powerful conspiracies, deviously tricky puzzles, a smattering of time travel, and Leonardo da Vinci.
This entry goes heavier on the story than its predecessors, adding depth, complexity and character. But that doesn't mean the puzzles themselves have been ignored, not least when you find yourself having to grapple with performing actions that then affect objects in other times. If it all gets too much, a hints system helps you out, but it's more rewarding to get through this excellent game on your own if you can.
Arabilis
($2.99/£2.49/AU$4.49)
Arabilis is a compelling and thrilling farming game that plays out at speed – unlike the typically meditative and grind-oriented fare usually associated with this sub-genre. Here, you plant crops strategically, in awkwardly shaped plots. Success stems from lining up roots that link together to help crops grow – netting giant fruits and veggies if you surround a seed with more of its kind.
Periodically, harvests blaze across the screen, and it's vital to ensure few seeds are wasted – otherwise your chicken overlord ends the game. Each new attempt shakes things up, Arabilis echoing nature in adding a sense of randomness – weather; animal hazards – across seasons. And if that all feels like too much hard work, you can always dig into the bite-sized single harvest mode or the chilled-out Relax Mode that calms everything right down.
Square Valley
($1.99/£1.79/AU$2.99)
Square Valley is a world-building game in microcosm. Items like houses, trees and animals are dished out to you like cards from a deck. For each move, you are given a few slots on the single-screen grid where you can place the current item. Occasionally, you get the chance to draw a river, road or fence.
The key to the game is where each item is placed. Put a tree next to another and you'll get bonus points. Sheep are happy being fenced in. Houses like being near roads. It's a bit like quality freebie Impossible Isles, but Square Valley ramps up the challenge and variety across its 45 replayable stages, keeping you engaged for the long term as you grapple with building everything from tiny farms to islands.
Moncage
($4.99/£4.49/AU$7.99)
Moncage is a gorgeous puzzler that messes with your head. It takes place in a cube you can manipulate with a single digit. But this is no normal cube – each side houses a unique scene. At first, they appear unrelated. But you soon realize objects in one scene can align with those in another.
At that point, things start to happen. A mechanism might turn, or a lock might disappear, allowing you to progress. Since you can zoom in and out of rooms, Moncage demands a lot from your memory and lateral thinking.
Sometimes, it's too obscure, leaving you stranded. Fortunately, a hints system (including full video walkthroughs) exists to ease your progress. But patience is a better bet. Moncage is a tactile puzzler that benefits from you playing the long game, not trying to blaze through it in a hurry.
Behind the Frame
($4.99/£4.49/AU$7.99)
Behind the Frame sits somewhere between breakout narrative casual game Florence and room escape series The Room. Only here, the room the protagonist is attempting to 'escape' from is her artist studio – and that door can only open when her latest masterwork is ready for exhibition.
This is gentle stuff – an almost meditative game to take your time with rather than blaze through. The puzzles are simple and thoughtful, making good use of the iPad display's tactile nature, whether you're dragging around to explore the panoramic view of the studio or adding new splashes of paint to a canvas.
Visually, it's lovely, like an interactive cartoon. But what makes you stick with Behind the Frame is its warm and engaging narrative, which neatly showcases that every painting really does have a story to tell.
Day Repeat Day
($4.99/£4.99/AU$7.99)
Day Repeat Day is a curious beast. At its core, it's a match-three game, like Candy Crush Saga but with all the freemium junk removed. But the conceit is you're packaging items for shipping, working for the Joki corporation. In tandem with your busywork, you engage in conversations via a messaging app. And you'll soon realize not everything is as it seems.
To say too much more would spoil the surprises in Day Repeat Day. Suffice to say this game manages to successfully combine a compelling branching narrative and breezy puzzling.
The puzzles are smartly designed; decisions made when messaging have real consequences, and the story packs an emotional punch. It's a stellar production – and one packed with details, so do poke around to make sure you don't miss anything.
About Love and Hate 2
($2.99/£2.99/AU$4.49)
About Love and Hate 2 features two blobby characters, Love and Hate, with a penchant for smacking a big red switch. However, their world comprises hanging fragments of blocky landscape, and the pair aren't well-equipped in the jumping department. To reach their goal, they often have to use each other as stepping stones, also utilizing and moving static cohorts along the way.
At first, this plays out like a side-on Sokoban, but About Love and Hate 2 is transformed when levels head into full 3D. Instantly, the challenge ramps up, with you having to spin and zoom a tiny world, to figure out a sequence of moves that will successfully lead you to your goal.
With wonderful visuals, plenty of character, excellent puzzle design, and tactile controls, you'll love more than hate this game.
There Is No Game: WD
($4.99/£4.99/AU$7.99)
There Is No Game: WD maintains from the very beginning that it's not a game. A voiceover is very clear on this point, and suggests – after a brief apology – that you just quit the app. And then everything goes a bit weird.
You end up demolishing the original title by using the exclamation mark as a bat and ball. Things only get more surreal from there as you are hurled headlong into something that's part interactive puzzler, part point-and-click adventure, and part meta-commentary on the nature of gaming itself.
There Is No Game is a wonderful experience – challenging, witty, brilliantly written, and at times thought-provoking. Whether or not you've played the original Jam Edition, it's a must for anyone wanting to try something smart, engaging, funny and a little bit different.
Wilmot's Warehouse
($4.99/£4.99/AU$7.99)
Wilmot's Warehouse is a puzzle game about organization that takes the concept to the extremes. You're a worker in a warehouse, tasked with sorting an increasingly large and varied number of products - and then getting them to your colleagues.
When deliveries arrive, they're dumped in front of you, and it's down to you to decide where to store everything. But when the service hatch opens, you've only got a short time to deliver the goods. Do well and you are bestowed performance stars with which to buy upgrades that better your lot.
The end result feels a lot like Tetris meets busywork when you've got over a hundred products to track, but the mission and concept alike work very well. Just be mindful that this one will rapidly show that your organizational skills and memory aren't what you thought they were!
Splice: Tree of Life
($3.99/£3.99/AU$5.99)
Splice: Tree of Life is an experimental puzzler set in a microbial world. In each level, you face a cluster of cells, which must be rearranged into a target structure, defined by a white outline. To achieve your goal, you have a limited amount of moves – and a specific number of actions.
The first is the splice, which splits a cell – and those hanging beneath it – in two. Later, cells can have other actions performed on them, mutating what's before you in all kinds of ways.
Limitations in how cells can be positioned initially make the game feel quite rigid and baffling – this isn't the sort of title you wade into without thinking. But if you want a puzzler to properly fizz your own cells (as in 'brain'), you'll find few iPad games better than this engaging, unique design.
Rooms: The Toymaker's Mansion
($4.99/£4.99/AU$7.99)
Rooms: The Toymaker's Mansion is a creepy puzzler that once again acts as an excellent answer to the question: "Should I venture into that ominous, sinister mansion, not least given that I'm a child?"
One ill-advised bout of trespassing later, you find yourself in a weird building of clockwork rooms. The game is played side-on, and taps shift rooms about the grid, enabling you to grab a key, unlock the exit, and move ever deeper into the oddball structure.
Rooms really looks the part on iPad, and the extra screen space proves helpful to avoid errant taps. This becomes increasingly important as you discover the mansion isn't just full of dank smells and locked doors, but also teleportation phones, bombs, and psychotic evil puppets. See: we told you not to go in there, but would you listen? Tsk.
Block Droppin Blitz
($2.99/£2.99/AU$4.99)
Block Droppin Blitz offers a unique spin on Tetris. Rather than shapes falling to the bottom of a well, they must be constructed using a sliding puzzle full of colored squares. Swipe across four adjacent tiles that form a line, square, T or L, and they drop to the section at the bottom.
As ever, your aim is to complete solid lines, freeing up more space for new shapes. Get enough points – more are scored when clearing multiple lines at once – and you clear the current level, and can then head to the next.
It's a pity Block Droppin Blitz doesn't also offer an endless mode; but what's there should nonetheless keep happy any block-dropping fans frustrated about the lack of decent Tetris variants on iPad.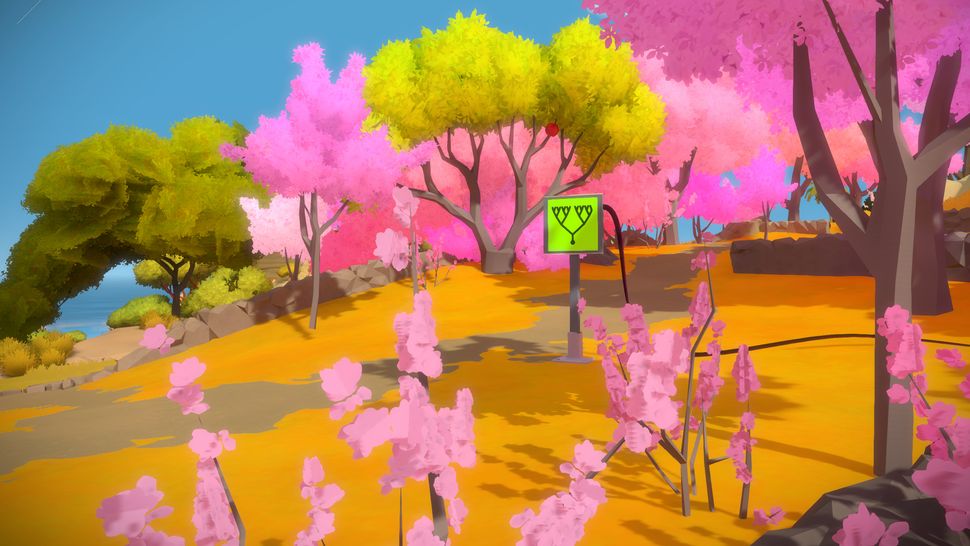 The Witness
($9.99/£9.99/AU$14.99)
The Witness is ultimately a puzzle game, but describing it as such feels reductive. Really, it feels more like a full-fledged world – a beautiful, deserted, abandoned island you're stranded on, with the aim of figuring out why.
You soon discover the island is peppered with maze-like puzzles connected together by massive lengths of piping. Completing enough of these opens gates, and shoots light beams at a distant mountain. It's all very mysterious.
A wordless game bereft of hand-holding, The Witness nonetheless cleverly – and only gradually – reveals its logic to you in a manner similar to learning a language. Touch controls arguably better the awkward keyboard/mouse combination on PC versions, and the visuals are every bit as lush on the screen of your iPad. With dozens of hours of game time, this is a title to lose yourself in.
Photographs - Puzzle Stories
($3.99/£3.99/AU$5.99)
Photographs - Puzzle Stories is a fusion of narratives and puzzling. A story is slowly revealed in each of the five vignettes, and between scenes you're tasked with finding an object on the screen, before completing a logic test.
Each vignette has its own type of puzzle, and these are broadly related to the narrative. For example, a story about diving is more or less a side-on shooting game, where you must crack the correct trajectory. The paths get more complex as the competition heats up.
Where Photographs really hits home, though, is in the emotional punch of its stories. These aren't a facile veneer, but instead dig deep into decisions and consequences. Rare is it that a puzzler can leave you heartbroken, but Photographs will keep you glued to the screen through to its conclusion.
Snakebird Primer
($7.99/£7.99/AU$12.99)
Snakebird Primer features worm-like birds that live on strange levitating islands. The grumpy tube-like avians spend much of their time asleep, or making strange burping noises, but are tasked with reaching a portal. Your aim is to figure out how to get them there.
Despite each level only being a single screen in size, there's plenty of imagination and complexity in the routes you have to take. Sometimes, you must make birds eat fruit, whereupon they grow, and can be used as bridges for other birds. Elsewhere, you need to manipulate massive Tetris-like blocks someone's left lying around.
Veteran gamers may find the going a bit easy, but every one of Snakebird Primer's levels is grin-inducing fun; and if on completion you hanker for a tougher test, there's always the original – and brain-thumpingly difficult – Snakebird.
Pipe Push Paradise
($3.99/£3.99/AU$5.99)
Pipe Push Paradise is a puzzle game about pipework. You've arrived on a desert island that has some seriously dodgy plumbing. The aim is to get the water flowing, albeit not in the usual manner. Here, the pipes are massive and strewn about claustrophobic grid-based rooms.
The only way to get things working is to shove them into place. There's more than a hint of box-shifting games like Sokoban here, but Pipe Push Paradise adds some twists of its own. Move pipes in a certain way and they rotate. Other times, they must be dumped into pits.
These new ideas radically shake things up, and complicate puzzles that might otherwise have been simple. Although the controls are occasionally a touch fiddly, Pipe Push Paradise proves to be a superb, sunny brain-smasher.
Gorogoa
($4.99/£4.99/AU$7.99)
Gorogoa is a perplexing puzzle game that plays with your perception of space, and challenges you to find links between images that aren't remotely obvious on an initial glance.
The entire thing takes place in a two-by-two grid, within which comic-book panes can be opened up and manipulated. Often, part of an image can be separated and overlaid on another.
For example, a stairs overlay may enable the protagonist to reach a previously inaccessible space, or what appears to be a star-like decorative element might be a cog in an impromptu machine.
Occasionally, Gorogoa baffles; later on, you may hit mental dead-ends, juggling various components, locations and possibilities in your head. But as a tactile, novel, engaging puzzler, there's little else like Gorogoa on iPad – and you'll feel like a genius when you reach its conclusion.
Sign up to receive daily breaking news, reviews, opinion, analysis, deals and more from the world of tech.