The best iPad games 2023: the best games in the App Store tested and rated
The best games for iPad, iPad Pro, iPad Air and iPad Mini
Our favorite iPad card games, turn-based strategy titles, and digital board games.
Isle of Arrows
Why you can trust TechRadar We spend hours testing every product or service we review, so you can be sure you're buying the best. Find out more about how we test.
($5.99/£4.99/AU$9.99)
Isle of Arrows is a gorgeous mash-up of card-based board game, pathfinding puzzler, and tower defense. In each level, you plot to extend the path your enemies take toward their goal, adding towers to attack them along the way. Various objects grant you extra cash to spend, allowing you during any given turn to make the path more labyrinthine – or deadly.
The basic concept is smart and the visuals are gorgeous. But it's the execution and fine details that ensure Isle of Arrows is a winner. You soon realize battles take place on multiple fronts, demanding you instantly switch up strategies when new ones appear.
New cards are regularly unlocked, letting you expand and evolve your tactics. And the game's bite-sized levels yet quite lengthy campaigns provide a perfect mix of pick-up-and-play immediacy and long-term challenge.
Alien: Isolation
($14.99/£12.99/AU$22.99)
Alien: Isolation is a survival horror game that sits between the first two Alien movies. Your job is to investigate the disappearance of the original film's lead, Ellen Ripley. Added emotional heft comes from you playing as her daughter.
The game itself initially involves getting to grips with the interface and finding your way around. Later, you'll be trying to stay one step ahead of a terrifying xenomorph that's dead set on having you for lunch. Unfortunately, you're not armed to the teeth like the marines in Aliens – you must use stealth and cunning to survive.
For people keen on the Alien franchise or the original PC/console version of this title, there's plenty to like here. The game looks great, has well-conceived touchscreen controls, and bundles the original's add-ons, including one that provides an alternative take on Ellen's battle to escape the Nostromo in the original film. Finally, thanks to iPadOS 15, you can use a keyboard and mouse to control the game as you would on a PC, as long as you have an iPad-comaptible peripheral available.
Townscaper
($4.99/£4.49/AU$7.99)
Townscaper is a game of city building without the usual trappings found in the sub-genre. There's no budget to manage and no enemies to battle. It's just you, a seemingly endless sea, and the joy of tapping the screen to fashion your metropolis.
You have little direct control over what is built, bar the color of each piece – although you soon discover specific block placement results in different types of structure. Additionally, the underlying grid changes the nature of what you construct.
This is a thoughtful, meditative piece of entertainment right at the edge of gaming. If you prize tension and high scores, it might pall. But for our money, Townscaper is a pitch-perfect slice of game-lite creativity, especially on the larger screen of an iPad.
Crying Suns
($8.99/£8.99/AU$13.99)
Crying Suns begins with the protagonist being freed from his confines by a squid-like robot. He promptly throws up on the floor, and then for good measure is told his beloved empire has likely fallen. Oh, and he also died and is a clone.
Fortunately, he's made of steely stuff and sets about figuring out what's gone wrong. This involves you directing a crew, sending commandos to their inevitable doom, and blowing up quite a lot of enemy spaceships.
Gameplay elements have a smattering of randomness, but Crying Suns eschews conventions by following a quite rigid chapter structure. This enables it to offer a deeper narrative than many of its contemporaries, but there's plenty of replay value in the real-time strategy shooty bits.
XCOM 2 Collection
($24.99/£23.99/AU$38.99)
XCOM 2 Collection on its 2016 release for PCs and powerful consoles won all kinds of plaudits for its deep, immersive turn-based combat. Like the original XCOM, it found you guiding a squad of soldiers trying to overthrow alien occupation of the Earth. Procedurally generated levels provided almost limitless replay value. In short, it was good.
Four years later, XCOM 2's arrival on iPad might feel a touch tardy, but it's a faithful port, with smart touchscreen controls, short load times, and all of the content from the PC take - despite a lower price tag.
Note that you will need a fairly modern iPad to get the best from the game - and it's demanding on battery life; but if it's been your belief that iPad gaming can't cut it with 'proper' consoles and PCs, XCOM 2 suggests otherwise.
Neonimo
($2.99/£2.99/AU$4.49)
Neonimo is a real-time strategy game between two players - humans, or you and your iPad - that finds you attempting to build a path to your opponent's base by using Tetris pieces.
That might sound easy, but of course things aren't quite that simple. There are all kinds of strategic decisions regarding how to use your gradually replenishing resources, where to place special pieces, and whether or not your opponent will whack you with the iPad for annihilating their amazing route when they were seconds from victory.
This is intense, fast-paced stuff – games are over in a matter of minutes – but whether you're partaking in a standard one-on-one, or trying your luck against the AI in dungeon mode, where you get new gear after each win, this one's a superb and unique spin on the RTS genre.
Book of Demons: Tablet Edition
($9.99/£9.99/AU$14.99)
Book of Demons: Tablet Edition uses hack-and-slash dungeon crawlers like Diablo as a foundation, but radically reworks them for the touchscreen.
Rather than roaming about in freeform fashion, your wanderings in this iPad game are limited to set pathways. As foes attack, your fighter automatically responds, but you can use a finger to adjust their focus – and unleash magical fury by way of powers from collectable cards. It plays like an action-oriented RTS – and it's great.
Over time, you upgrade your kit, figure out spell combos that obliterate entire hordes of enemies, and thereby give yourself a fighting chance of reaching the dungeon's depths. And with the game's many neat touches – papercraft characters; a mode that effectively pauses the game when you aren't touching the display; game length predictions and customization – you'll surely want to.
Maze Machina
($1.99/£1.99/AU$2.99)
Maze Machina takes a mouse, plonks him in an ever-changing maze, and has him fight it out with mechanical foes designed by the evil Automatron. His only hope: to survive 15 rounds by grabbing keys and making it to the exit.
It's brain-pounding stuff. The arena is a four-by-four grid, and each time you swipe, all objects and characters head in that direction. Swiping also triggers object use – and the objects themselves are dictated by the icon on which each character stands.
However, the iPad's large display gives the game room to breathe – and you a fighting chance of strategizing in a manner that will finally bring an end to the clockwork horror, rather than the heroic and smart but also easily breakable rodent.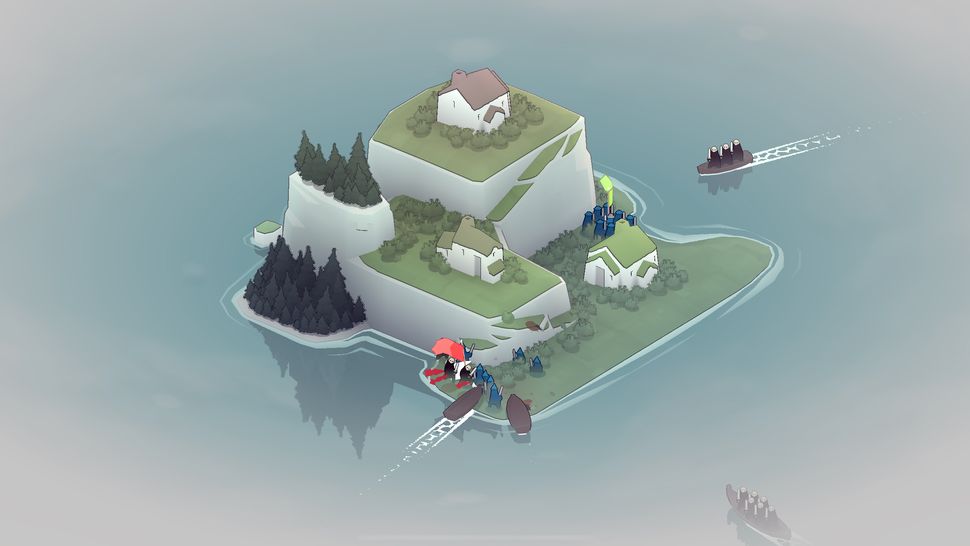 Bad North
($4.99/£4.99/AU$7.99)
Bad North is a real-time strategy game for iPad that pulls off the trick of being accessible to genre newcomers, but is tricky enough to give old-hands a challenge. It centers around defending an idyllic island kingdom from Viking invaders. As they appear from the gloom in their boats, set on a bout of stabbing and arson, you must position defenders accordingly.
The controls are straightforward, involving taps to select and move any given group of soldiers. Fighting is automatic, based on nearby enemies. No two games are the same – islands are procedurally generated. And as you win battles, you kit out soldiers with upgrades, which heavily impacts on subsequent victories.
Each game of Bad North also has a sense of permanence, because if your commanders die, they are gone forever. Strategy is often about the choices you make between battles in this elegant, tactile title.
P1 Select
($2.99/£2.99/AU$4.99)
P1 Select is a turn-based dungeon crawler. You move within a randomized maze, duffing up monsters, grabbing bling, and making for an exit. And in a twist you probably weren't expecting, your powers change after every move you make.
The P1 Select screen is split in two. On the left, there's the maze. On the right, there's a player select grid. Each 'player' – Midas, X-Ray, Vish; and so on – has unique powers, and its own lives count. When you swipe in the maze, the player selection moves accordingly.
Initially, this is deeply weird – even off-putting. But stick with P1 Select and its unique way of working lodges in your brain. The game's finite nature (nine rooms) makes it great for quick-fire strategy sessions, and also honing your skills, given that the high score is an average of recent runs.
Tropico
($11.99/£11.99/AU$17.99)
Tropico is a dictator simulator masquerading as a strategy game. Well-known to PC players, Tropico finds you in control of a Caribbean island – and aiming to stay in power at all costs.
The free-form nature of the game affords you various routes to dealing with your people. Resources must be carefully balanced, so you can build the structures that will make hard cash, and keep people entertained and healthy. And if everything kicks off, you must quickly figure out the best way to deal with uprisings.
On iPad, this could all have been a complex mess, but the interface has been cleverly redesigned for touch, providing fast access to key commands through your 'Dictator's Desk'. It's a great addition to a classic title – one that fully showcases the power that's in the hands of any gamer armed with an iPad.
Kingdom Rush: Vengeance
($4.99/£4.99/AU$7.99)
Kingdom Rush: Vengeance is the latest iteration of the best tower-defense game on mobile. This time, you get to play bad guy Vez'nan – a wizard tired of getting repeatedly beaten, and determined to conquer the kingdom.
How conquest and tower defense align is hard to say, but it makes for a great game. As ever, you drop towers in pre-defined spots, unleash special powers, and send a mighty hero into the fray for ad hoc smashing.
Like other entries in the Kingdom Rush series, Vengeance looks great, is finely balanced, and keeps things interesting with new surprises. There is one bad surprise, though, in IAP stinking up the place a bit. However, have patience, learn from your mistakes, and avoid temptation, and you'll find there's no need to pay more – right through to Vez'nan's final victory.
Euclidean Skies
($4.99/£4.99/AU$7.99)
Euclidean Skies is the follow-up to the superb Euclidean Lands, a turn-based strategy game that takes place on floating constructions akin to Rubik's Cubes. In that title, manipulating the landscape is as important as the physical moves the protagonist makes – and that's even more overt in this sequel.
In Euclidean Skies, each individual 'block' within the landscape has the potential to be spun about any axis. This provides scope for brain-bendingly complex solutions, whether battling a gigantic monster by obliterating its spine with rotating chunks of land, or gradually unraveling what was once a flat surface, creating 'arms' to prod switches and fashion bridges to doors.
This isn't an easy game, but it is hugely satisfying when you crack one of its puzzles. And, like the original, it also feels unique, which alone makes it worthy of consideration.
FTL: Faster Than Light
($9.99/£9.99/AU$14.99)
FTL: Faster Than Light is a real-time strategy game that finds you hurtling through space, trying to get essential data to the safety of the federation. Unfortunately, you're being pursued by shooty rebels, and so must keep jumping to new sectors.
Every time you do, surprises await – you might make some cash, or end up in a frantic scrap with pirates. During action scenes, you direct your crew to make repairs, and fling explosives and lasers in your enemy's general direction. At any point, you can pause to take a breather and strategize a bit.
The game is procedurally generated, and so every mission is different. But there are some constants: pitch-perfect controls, a sense of immersion, and palpable tension when half your ship's on fire but you know one carefully aimed shot will obliterate your foe.
Infinite West
(free + $1.99/£1.99/AU$2.99 IAP)
Infinite West casts you as a cowboy in the wilderness, taking down a gang that murdered his family. That hackneyed scenario might put you in mind of a shoot 'em up, and so it's a surprise to find Infinite West is more like chess – only with pieces shooting each other.
The turn-based play across semi-randomized levels forces you to consider every action. Your gunslinger can only move one space horizontally or vertically at a time, and each foe has unique weaponry ranges. Further complexity comes from a health counter, a 'dash' power and an ongoing upgrades system.
There are echoes of Square Enix's GO games, but if anything Infinite West has more depth and brains. You'll certainly need your wits about you when, many levels into a mission, you suddenly find yourself faced with a dozen gang members intent on your untimely demise.
Sid Meier's Civilization VI
(free + $59.99/£54.99/AU$89.99 IAP)
Sid Meier's Civilization VI properly showcases the iPad's potential as a gaming device. Previous takes on Civilization for iPad have been weirdly cartoonish and simplified. Not Civilization VI – this is the game you get on PC, with all its inherent depth and complexity.
This means you get one of the finest 4X (eXplore; eXpand; eXploit; eXterminate) games around. You aim to make your civilization dominant by becoming a trading giant, heading to the stars, or getting all stabby/shooty until no-one else is left standing.
The game demands time and attention, is hugely rewarding, and should keep you going for months. Just as well, given its price tag. Still, you get 60 moves for free, and 'proper' games cost real money.
Bar some slightly blurry visuals on iPad Pro, this is the real deal – one of the best games in existence, carefully optimized for the touchscreen.
Sign up to receive daily breaking news, reviews, opinion, analysis, deals and more from the world of tech.