Best online browser games: top browser titles you can play right now
Best
Contributions from
last updated
Kick it 00s style with the best online games available to play now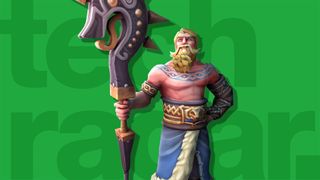 (Image credit: Future)
The best online browser games are those that are easy to find and completely free – in other words, all the games on our list!
Of course stores like Steam and consoles like the Xbox Series X are bursting with games, but sometimes you just want to play a quick round of something simple, and the best online games exist for exactly that purpose. You can play them immediately in your browser, with no installation required, and often you don't even have to register an account.
Of course, you might think of games like Destiny 2, but we're not talking about live service games you can only play with others online, we are talking old-school browser games right here on the internet.
As you will see on this list, many great games, such as Spelunky have started their lives as online games, and those early versions are still available. Some online games are simply there to spice up a boring break at work, others can become new favorites to play with others. There is a lot more out there than most people now. If you're looking for more suggestions like this, also check our list of the best free web browser games.
Best online games
Why you can trust TechRadar We spend hours testing every product or service we review, so you can be sure you're buying the best. Find out more about how we test.
Game of Bombs
Browser-based Bomberman
Reasons to buy
+
Fun game mechanics
+
Like multiplayer Bomberman
+
Different modes
Reasons to avoid
-
Size can be overwhelming
The similarities to Bomberman are certainly no coincidence, but the couch co-op classic wasn't available to play on PC for a long time. Thankfully Game of Bombs filled that gap and now successfully emulates the original's fun game mechanics.
Judging by what Bomberman fans think of the official Bomberman releases available on Steam, you may even prefer Game of Bombs, but it's not a competition. Game of Bombs isn't just a good Bomberman game, most importantly it's a good multiplayer Bomberman game, one that makes it easy to play on a large board with many other opponents.
The Bomberman formula is doubtlessly a classic, so if you're looking for something to pick up for a few fun, high energy rounds of gaming, Game of Bombs is your best bet.
Die2Nite
An zombie survival game that's hard to put down
Reasons to buy
+
Filled with mild gallows humour
+
Surprisingly involving
+
Great cooperative gameplay
Reasons to avoid
-
Need to register for account to play
This text-based multiplayer zombie survival game combines the best of zombie fighting and tower defense in one handy package. Base building doesn't automatically mean Fortnite, and the zombie horror genre is an excellent fit for building mechanics.
But there's a lot more to Die2Nite than building – you're part of a whole town of survivors, and you are one of 39 other real players. You can go on expenditions to scavenge for supplies, communicate with your fellow players for the purpose of organization and generally help make sure that by 11pm server time everyone is inside the walls and ready to hold out the imminent zombie attack. Most of the time no one is ever adequately prepared, but that's the beauty of the game – the more players and circumstances change the more you learn, but the more there is potential for everything to go wrong all over again. Die2Nite is a fantastic game to play with others as a real team and great to dip in and out of, but that's also exactly what makes it so difficult.
Polycraft
Not your average tower defence game
Reasons to buy
+
Gameplay that has you coming back for more
+
Persistent strategy world
+
Unique art style
As the name suggests, Polycraft (not to be confused with the match-3 game) is a game with low-poly visuals that features crafting. Of course that's not all there is to it, and it's not just a Minecraft clone, either, otherwise Polycraft wouldn't have made our list of the best online games.
You craft a base for your Wildling friends, which eventually needs protecting, but instead of just building automatic weaponry and hunkering down as you do in plenty of tower defense games, Polycraft asks you to get involved yourself, and its combat is strongly reminiscent of The Legend of Zelda. Get crafting, get building and get fighting – Polycraft doesn't get boring. Even though Polycraft has been out for a while, it still feels incredibly good to play, with dynamic shuts between combat, base building and light exploring.
Superhot Prototype
A success story
Reasons to buy
+
Unique and fun
+
Lets you try before you buy full game
+
Excellent slow motion mechanic
A lot of popular Steam games and console titles owe their popularity to sites like Miniclip and Newgrounds, hosts to countless free-to-play titles from small studios with marginal publishing budgets.
Few of these success stories ring as true as Superhot, a first-person shooter developed in Unity where time comes to a standstill as soon as you do, giving you plenty of time to form coherent strategies. In a sense, Superhot blends elements of both popular FPS games with turn-based strategy mechanics, for a genuinely unique and fun browser-based experience.
By playing the Superhot prototype, you can not only try the game mechanic for yourself if you want to see what the fuss is all about, you can also always dip in for a short game. Also, those interested in game design get to see how the game grew and envolved into the full version we know as Superhot now. Meanwhile Superhot VR, the virtual reality version of the game, is just one other version of Superhot and one of the all-time best VR games you can play.
Slither.io
Extreme Snake
Reasons to buy
+
Easy to pick up
+
Lots of fun for strong players
+
No clicking required
Reasons to avoid
-
Quite simple
-
Can be a bit frustrating against strong opponents
It's eat or be eaten in Slither.io, the HTML5 game where your cursor controls a reptilian long boy (also known as a snake) to eat dots in order to become an even longer boy. It's much like Pac-Man, in that the goal is to eat as many dots as possible and secure a spot on the leaderboard. Constricting the competition, basically. The challenge lies in the way of avoiding other snakes, because if you touch one it's game over.
Your score is measured by the length of your snake, the longest of which, at the time of writing, is about 20,000 points. If your snake makes its way into the top 10, it will then be featured prominently on the leaderboard. There isn't much nuance beyond that, aside from the fact that you can change the skin outfitting your snake to one of several different colors and styles. It's a simple game, but that's what makes it one of the best online games, one that's perfect for a few rounds and accessible as you don't have to click to play it.
Even though it's simple in design, Slither.io is a bona fide battle royale game, so if that's what gets you into the genre, chack our list of the best battle royale games for more.
Spelunky HTML 5
Where it all began
Reasons to buy
+
Try before you buy full game
+
Challenging
+
Excellent randomly generated levels
Reasons to avoid
-
Not amazing visually
-
Brutal permadeath
Just like the previously mentioned Superhot, Spelunky has humble origins. First developed by Derek Yu as freeware, then ported to the Xbox 360 in July 2012, the game was then ported to HTML 5 by Darius Kazemi.
Spelunky's HTML5 version may not be visually impressive (it was created in GameMaker after all), but its randomly generated levels and brutal permadeath mechanics make it a modern classic. Spelunky has done a lot to revive the roguelike genre and can now also call itself one of the best online games.
The goal of the 2D platformer is to collect as much loot as possible in a series of underground tunnels. Sounds easy, right? Wrong. Populated by obstacles like traps and enemies of various species, Spelunky's world is as challenging as it is varied.
Luckily, you're equipped with a whip by default. If that's not enough, you can always be resourceful and use surrounding objects as weapons. Good luck.
Runescape
A free MMORPG for the ages
Reasons to buy
+
Lots to do
+
Regular updates
+
Still extremely popular
Reasons to avoid
-
You need to be paid member for certain features
-
Visuals aren't amazing
Runescape is a free-to-play massively multiplayer online role-playing game, and while it may not seem that important on the surface, it's actually a huge deal. Documented by the Guinness World Records, Runescape is known as the world's most popular free MMORPG, with over 200 million registered players.
Like many MMOs, Runescape akes place in a medieval setting, filled with queens, goblins and dragons (and we can't forget to mention the chickens). It's not exactly an example of fine art in terms of its visuals, but not many games that have been along as longa s Runescape are.
As long as your browser is recent veequipped with a recent version of Java, you'll be good to start fighting, trading and even playing mini-games with other players in the world of Gielinor.
If the setting appeals to you but you don't like MOOs, check our list of the best RPGs to see if you can find something you like there.
Wolfenstein 3D
A FPS history lesson
Reasons to buy
+
Classic soundtrack
+
Simple to pick up
+
Getting back at nazis
Reasons to avoid
-
Feels quite outdated now
-
Controls are sluggish
If you recently played Doom Eternal, you may be wondering how developer id Software got its start. Well, look no further than Wolfenstein 3D. Though it wasn't the first title to come from superstar duo John Carmack and John Romero, Wolfenstein 3D was essentially the basis of the entire first-person shooter genre. Sometimes the best online games are those you want to preserve for decades to come.
Even though in many respects it's vastly different than the shooters of today, Wolfenstein 3D is often considered the first true FPS by purists. Kill Nazis and see how gaming has improved since 1994 in this important snippet of history. Experience Wolfenstein 3D for yourself entirely for free, thanks to the Internet Archive, and see for yourself afterwards what we consider to be the best FPS games.
Spaceplan
Unlock the mysteries of the galaxy
Reasons to buy
+
Witty dialogue
+
Interesting story
+
Great soundtrack
On the surface, Spaceplan is a repetitive clicking game designed as a means to distract you. But dust off that geometrical cover and you'll realize there's something really special here.
If you're not one for games that take themselves too seriously, Spaceplan is for you. You spend most of your time fixing a ship using an interface called the "Thing Maker," which, as the name suggests, lets you build things to repair your ship and navigate through space. Once you get a few 'things' up and running, the game works on its own.
While you wait in the real world, you accumulate watts used to power your things. Spaceplan is the perfect game to hop into and out of just by leaving it running in a tab in the background. Spaceplan even has a story, one that gets expended on in its Steam version (subject to a small charge).
BrowserQuest
Explore the world
Reasons to buy
+
Oozes nostalgia
+
Aged surprisingly well
+
Plenty to do
Reasons to avoid
-
You need to register to play
BrowserQuest is among the games who work with the nostalgic feeling the 16bit era induces in many players. That's one of the reasons it has aged surprisingly well, making it among the best online games you can play today, many years after its initial release.
Made in HTML5, this action RPG game starts you off as a simple villager, and it's up to you to go on a quest to explore the world, hunt, collect items and gain achievements. You can also connect with other players all over the world, as well as team up with them to fight enemies or go on hunts. Whether you're playing on your own or co-op, there's lots of nostalgic fun to be had playing BrowserQuest.
Bets online browser games - FAQs
What are the best online browser games?
Any of those featured on our list of the best online browser games are worth your time and consideration. From classic like Wolfenstein 3D to MMORPG RuneScape there's a whole host of options available to you and certainly something for everyone to have a game on simply by using their web browser.
Are there still online browser games?
Absolutely! All of our picks on our list of the best online browser games are live and playable today.
If you're looking for more game inspiration then check out our lists of the best co-op games, best FPS games, and best PC games.
Get daily insight, inspiration and deals in your inbox
Get the hottest deals available in your inbox plus news, reviews, opinion, analysis and more from the TechRadar team.
With contributions from
Vic HoodAssociate Editor, TechRadar Gaming