The best battle royale games make it fun to take on a large group of foes again and again. Whether it's through smart level design, a large variety of playable characters or growth from season to season, the best battle royale games know how to stay fresh.
Battle Royale games are still continuously popular. While a few select ones keep dominating the hit lists these days, in this list we will explain what these games do that makes them so good and why they keep being so popular with players. Many battle royale games are free to play, so their developers depend on you to come back and play them - thankfully there is no rush quite like defeating a large number of people and becoming really good at a game so you can keep beating different players.
A lot of battle royale games are shooters, but we've also included other games that use the same gameplay principle to interesting effect. While you need to be a bit competitive and have to enjoy playing with others to get the most of these games, there's truly a battle royale for anyone, and we'll show you the best ones you can play right now.
Best Battle Royale games
Why you can trust TechRadar Our expert reviewers spend hours testing and comparing products and services so you can choose the best for you. Find out more about how we test.
Available on: PlayStation 5, PC, Xbox Series X|S, Nintendo Switch
Apex Legends is EA's very own Battle Royale, catching the wave at the height of the genre's popularity. Apex Legends learned from its competitors, for example by keeping maps and squad sizes small, offering interesting rewards and bringing the idea of character-led gameplay to the battle royale genre long before others caught up.
As a result, Apex Legends has incredible longevity, and has become one of the best battle royale games, if not the best you can play. It offers some of the best gunplay of the genre, and proves with clever storytelling and a genuinely diverse cast of characters both in appearance and gameplay, that it knows what players are looking for in a battle royale. If you only try one game in this genre, make it Apex Legends. Check our Apex Legends review to get an idea of how the game has evolved over time.
Available on: PlayStation 5, Xbox Series X|S, PC
Unlike other games on this list, Firestorm isn't a standalone game, but a game mode available in Battlefield V. As the name suggests, players battle it out on Battlefield V's maps in typical battle royale fashion, while a large ring of fire slowly shrinks the map, adding an additional level of urgency to the proceedings.
What makes Battlefield's battle royale mode so special is its atmosphere. Firestorm uses the game's WW2 setting to great effect, while objectives such as finding and cracking safes and vehicle lockup points offer additional rewards. It's an experience that's as tense as the original PUBG, but the Firestorm keeps things going despite the impressive size of Battlefield V's maps.
Battlefield 2042, while originally planned as a Battle Royale, has no battle royale mode, and it doesn't look like one is currently in the works, either. If you want to know why a lot of players still prefer the prior Battlefield, read our Battlefield V review.
Available on: PlayStation 5, Xbox One, PC
Warzone 2, the second iteration of Call of Duty's entrance on the battle royale playground, didn't have a great start, but it brought several upgrades to an already great, free battle royale. You can still play Warzone 1.0, too, as the new version hasn't replaced the old one.
Warzone is another great example of how good a battle royale game that keeps an eye on its competitors can be. In our Call of Duty: Warzone review, we mention several great points that carry over to Warzone 2, such as the ping system, the idea of which came from Apex Legends, a different approach to armor from other games, and the Gulag system, which has you fighting for a chance to return to the field after you've been eliminated. Warzone 2 adds combat on water, better weapon handling and beautiful maps that make good positioning crucial. We recommend Warzone, in both iterations, both for Call of Duty lovers and battle royale veterans, as truly one of the best battle royale games out there.
Available on: PlayStation5, Xbox Series X/S, Nintendo Switch, iOS, Android, PC
It wasn't the first battle royale, but Fortnite made the genre a household name with its successful free-to-play model. Fortnite's base concept is simple (and similar to a lot of other battle royales) where you'll be fighting against 99 other players, but it has one killer selling point: building. When you're running around Fortnite's map, you'll be picking up materials as well as weapons that allow you to build walls and ramps. This allows you to traverse the map quicker, protect yourself during firefights and generally get the advantage over the enemy to allow you to become the last survivor.
By now, you can play Fortnite without the building element, but that doesn't mean the game has lost its main selling point. Instead, Fortnite has grown into a game that incorporates any kind of pop culture character you can think of into its limited-time events, hosts concerts and tells an interesting story with each season its island gets destroyed and restored. It's never too late to dive into Fortnite, and the ease with which you can pick it up is another reason it's definitely still one of the best battle royale games. Check our full Fortnite review.
Available on: Xbox Series X/S, PC
If you prefer the sound of a throaty exhaust pipe over gunfire and explosions, you might be surprised to hear that Forza Horizon 5 has its very own battle royale mode called The Eliminator. In this mode, which has been included with the game for free since Forza Horizon 4, 72 drivers compete against each other in frantic head-to-head races where only one driver can be victorious. Every driver starts out with a modest 1965 Mini Cooper and needs to secure better cars as quickly as possible, which periodically drop into the world. Reach the drop before another player and you'll be able to swap out your banger for a faster ride, which will significantly increase your chances of beating any opponents who challenge you to a race. Read our full Forza Horizon 5 review for more.
Forza Horizon 5 is one of the best racing games on PC, and its innovative approach to battle royales is a great showcase why. You currently can't find a racing battle royale anywhere else, and Forza Horizon 5 beautifully showcases how the idea can work in games that aren't shooters.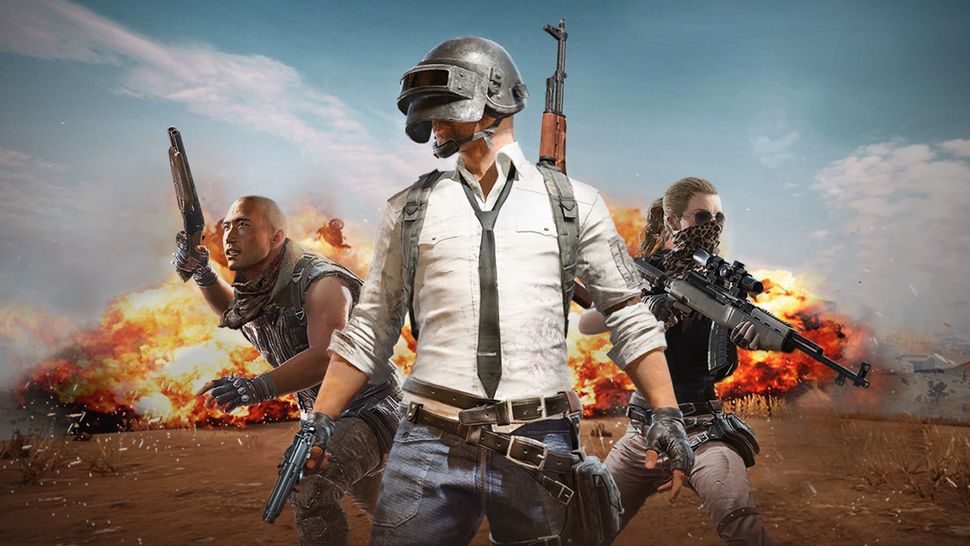 Available on: PlayStation 5, PlayStation 4, Xbox One, Xbox Series X/S, PC, Android, iOS
Created by the father of the Battle Royale genre, Brendan "PlayerUnknown" Greene, PlayerUnknown's Battlegrounds was arguably the first fully-realized Battle Royale game. Greene had previously made mods for other games based on the Japanese film Battle Royale and PUBG was the first full game dedicated to letting you fight to be the last player standing. This paved the way for the other games in this list of best battle royale games. Just because it's the first commercial game of its kind doesn't mean PUBG has to be one of the best battle royale games, but despite a lot of competition, the game has held its own over the years.
PUBG is arguably much more intense than the likes of Fortnite, relying on combat rather than mechanics such as building and it's not as popular as it used to be. However, if you prefer a challenging and pure battle royale experience, you can't pass PUBG up.
Available on: Browser, Android, ioS
What if we told you that one of the best battle royale games was about feeding worms? In Slither.io, a free browser game, you're taking the role of a worm cannibal. You have to eat your fellow competitors and grow to the point of becoming the biggest worm in all the land, a variation on the Battle Royale game that's as easy to play as it is to understand.
Hundreds of worms compete at any time, making Slither.io a lively experience. Still, competing in this battle royale is much quicker than looking for people on a giant map. Slither.io is the perfect battle royale for a lunch break, and another great example of what a battle royale can be outside of shooters.
Available on: Nintendo Switch
You wouldn't think Tetris and battle royale should be in the same sentence, but Tetris 99 sure showed us. Tetris 99 is one of the few games on this list where you won't be shooting your opponents, and it entirely reinvents the way you play with those colorful tetrominoes. It's the game you know and love, but you're playing against 99 other players. The aim is to stay in the game as long as possible, and when you clear a line of tetrominoes you'll be firing them off to one of your opponents to try and mess up their game.
Tetris 99 is fast-paced fun, and while it's near impossible to keep an eye on what everyone else around you is doing, it's a rush to see opponents disappear one by one while you're still in the game. This is the best way to test your Tetris prowess, and to take a usually relaxing game to new heights thanks to the power of the battle royale - truly one of the best battle royale games you can play.
Best battle royale games: FAQs
re upcoming battle royale games in 2023?
While there are rumors that 343 Industries is still working on a battle royale mode for Halo Infinite that is supposed to release this year, there are also more concrete battle royale games to look forward to, such as the third-person hacking game Off the Grid and the cyberpunk battle royale Rainy Neon: Baku.
Which is the No 1 battle royale game on PC?
Based on concurrent Steam user numbers, which can of course quickly change, Apex Legends is currently the number one battle royale. We think you can't go wrong with it, so if you're looking for a game that is enjoyed by a lot of players, Apex Legends is for you.