Penny Dreadful
Cancelled as it may be, Penny Dreadful still provides us with three magnificent seasons of Victorian-era horror, fantasy and mystery. Seamlessly interweaving with classic literary horror characters, like Victor Frankenstein and Dorian Grey, Penny Dreadful is not afraid to go extremely dark and gruesome. The plot sees explorer Sir Malcolm Murray (Timothy Dalton) and the powerful medium Vanessa Ives (Eva Green) recruit an American gunslinger (Josh Hartnett) in their quest to save Murray's daughter, who may have been taken by creatures of the night. A must-watch for horror fans.
Seasons on Stan: 3
Wolf Creek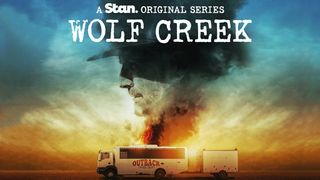 A few years ago, it would've been unthinkable to imagine that one of Australia's highest quality television shows would be small screen version of Wolf Creek, complete with the legendary John Jarratt returning to the character that made him an international star. But thanks to Stan, that's exactly what's happened, and now we've got a second season to sink our teeth into. The first season followed a woman whose family was murdered by the Outback serial killer Mick Taylor (Jarratt), leading to an epic game of cat and mouse between the two. Now, Mick is back, and this time he's set his deadly gaze on a bus full of tourists. Who will survive and what will be left of them? You'll have to watch to find out!
Seasons on Stan: 2
Supernatural
It's hard to argue with 12 seasons (and counting) and an enormously devoted fanbase – Supernatural is sometimes dark, sometimes fun and sometimes spooky fantasy show that follows the Winchester brothers as they travel around hunting demons, ghosts and creatures of all kinds. What's not to like? With its leading actors sharing an incredible chemistry that makes them come across as real brothers, Supernatural is the kind of show that fans of Buffy and Angel would totally get a kick out of. With so many episodes already available, Supernatural is the perfect binge-worthy show for fans of all things creepy and mysterious.
Seasons on Stan: 12
Philip K. Dick's Electric Dreams
An ambitious sci-fi anthology series, Philip K. Dick's Electric Dreams adapts ten of the famous author's short stories for the small screen. Even if his name is unfamiliar to you, chances are you've watched one of the many films adapted from Dick's classic works, such as Blade Runner, Total Recall, Minority Report and A Scanner Darkly. Available exclusively through Stan in Australia, Electric Dreams tells a different story each episode, and has an incredible cast including Steve Buscemi, Terrence Howard, Anna Paquin and Bryan Cranston, who also acts as executive producer. A thought-provoking series that tackles a number of important ethical and political issues, Philip K. Dick's Electric Dreams has all the makings of a new science fiction classic.
Seasons on Stan: 1
Dexter
A show with an absolutely killer premise, Dexter is a police procedural with a twist – what if the Miami P.D.'s most talented forensics expert was also the most notorious serial killer in the city's history? Dexter Morgan (Michael C. Hall) can't help but indulge in his murderous urges, which involve chopping people up and collecting their blood for his microscope slide collection. However, thanks to the tutelage of his cop adoptive father (James Remar), Dexter is able to focus his bloodlust on people who deserve it, in this case, murderers of innocent people. But how long can Dexter remain undetected within his department? And will his detective sister Deb (Jennifer Carpenter) find out about his horrendous hobby? The first four seasons of Dexter are absolutely magnificent, and while the show takes a bit of a dive after that, it remains required viewing at all times. Bloody good.
Seasons on Stan: 8
Preacher
From the surprising creative team of Seth Rogen and Evan Goldberg, more famous for writing comedies such as Pineapple Express and Superbad, comes Preacher, a violent adaption of Garth Ennis and Steve Dillon's classic comic series of the same name. Jesse (Dominic Cooper), a troubled Texas preacher with a criminal past, discovers that he has the power to speak as if channeling the voice of God, which in turn causes people to do whatever he says. Problem is, sometimes they take his words all too literally, often with gruesome consequences. To make matters worse, the arrival of an ex-girlfriend named Tulip (Ruth Negga) and a wise-cracking Irish vampire named Cassidy (Joe Gilgun) threaten to push Jesse back over the edge into darkness. A slow burn horror show with a dark sense of humour, Preacher is now in its second season, with new episodes fast-tracked from the US.
Seasons on Stan: 2
Twin Peaks
One of the most classic and mind-blowing television shows of all time, Twin Peaks redefined the general public's perception of what a television drama was supposed to be like. Creator David Lynch presented the world with a standard murder mystery scenario, which would go on to become more bizarre and out there with every episode. When popular high school student Laura Palmer (Sheryl Lee) is found murdered, FBI agent Dale Cooper (Kyle MacLachlan) arrives in the town of Twin Peaks with two agendas – to find out who killed her, and to eat some damn fine cherry pie. Peppered with a range of eccentric characters, Twin Peaks is one-of-a-kind. Also, with the new Twin Peaks reboot currently streaming on Stan, now's as good a time as any to get yourself caught up.
Seasons on Stan: 2
Twin Peaks: The Return
Sure, the original Twin Peaks series has been on this list for quite some time, so you may be asking yourself why the much-hyped series return would warrant its own entry. Those who have seen the 2017 version however, can certainly attest to this being an entirely different animal indeed. Darker and more twisted than before, the new Twin Peaks eschews the soap opera stylings of the '90s version in favour of something more akin to co-creator David Lynch's cinematic accomplishments. Prone to long stretches without dialogue and numerous trip-out sequences, this Twin Peaks recalls Lynch's own films Lost Highway, Inland Empire and even his feature-length debut, Eraserhead. Of course, Lynch has also stated that his polarising Twin Peaks follow-up, Twin Peaks: Fire Walk With Me, is the key to understanding this new series, so that may offer some insight into what this new show is attempting to do. Both the original TV series and its cinematic sequel are available to stream on Stan, so you may want to catch up on those before jumping straight into this mind-bending revival. The new Twin Peaks is bound to divide audiences once again, but the only way you'll only know which side you fall on is to take the plunge into this tenebrous abyss.
Seasons on Stan: 1
iZombie
This wild series from Rob Thomas, the man behind Veronica Mars, has an absolutely unique premise – after having been turned into a zombie, Olivia "Liv" Moore (get it? Live more?) takes on a job at a morgue. With no control over her hunger, Liv takes starts eating the brains of murder victims, only to discover that this gives her a look into the final moments of the victims' lives. Now, her boss is encouraging her to eat brains, so that she can use her new-found powers to solve crimes (see? I told you this crazy show was unique). Based on a Vertigo comic, iZombie is one of the coolest new shows of year. Best of all, each new episode of the show is fast-tracked on Stan, with Season 3 having just kicked off in all its ghoulish glory.
Seasons on Stan: 4
Hannibal
Possibly the most gorgeously grotesque show on television (American Horror Story doesn't even come close), Hannibal follows the world's most famous cannibal psychiatrist, Dr. Hannibal Lecter (Mads Mikkelsen), as he attempts to evade discovery by his friends, FBI profiler Will Graham (Hugh Dancy) and FBI director Jack Crawford (Laurence Fishburne). Fans of serial killer thrillers owe it to themselves to check out Hannibal, as the show manages to be even more horrifying than the Thomas Harris novels and films it's based on. It also happens to be the best-looking show currently on the air, with an operatic flair that puts most films to shame.
Seasons on Stan: 3
11.22.63
Based on the terrific Stephen King novel of the same name, 11.22.63 is the story of Jake (James Franco), a high school teacher who is tasked with travelling back in time to prevent the assassination of JFK, thus preventing the Vietnam War from ever happening. Jake arrives 3 years before that fateful day and he'll need all that time to unravel the mystery and make sure he takes out the right target. Produced by JJ Abrams and with heavy involvement from King, 11.22.63 is a riveting thriller that will have you counting the days between each fast-tracked episode.
Seasons on Stan: 1
Ash vs Evil Dead
If you're a devoted fan of the Evil Dead series of films, then Ash vs Evil Dead is enough to warrant a Stan subscription all on its own. Bruce Campbell returns as Ash, the heroic jackass who keeps letting 'Deadite' demons into the world, only to have to violently dispatch them with his trusty boomstick and chainsaw hand. Director Sam Raimi also returns, directing the visually spectacular pilot and producing with his partner since the beginning, Robert Tapert. Just as hilarious and gory as the movies that preceded it, Ash vs Evil Dead does not disappoint in the slightest.
Series on Stan: 3
The Flash
The CW has done a terrific job with its DC Comics properties, kicking off its own small screen DC Universe with the popular series Arrow. In the five years since that series came to be, the North American network has brought a number of interconnected DC shows into its stable, including Supergirl and Legends of Tomorrow. However, we'd argue that the strongest show in its impressive lineup is The Flash – it absolutely nails the Scarlet Speedster in a way that even the upcoming big screen version of the character looks unable to top. We put this down to Grant Gustin's incredibly charming and likeable performance as the fastest man alive, as well as the terrific ensemble cast that joins him on his adventures every week. Funny, dramatic, action-packed and filled with terrific visual effects work, The Flash is the best DC Comics show currently on television.
Seasons on Stan: 2