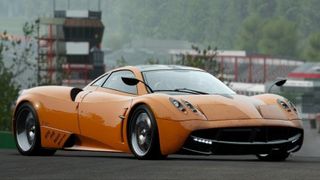 Project Cars heads further down the game path, but has still won sim acclaim. The game was released last May on PC, PS4 and Xbox One, and is for the time being probably the best driving simulator available for console players. (Amazingly, a WiiU version was planned at one point, but was cancelled when the developers presumably attempted to draw a venn diagram showing the intersection between the number of hardcore racing fans and WiiU owners.)
The game includes 74 cars, 30 unique locations and over 110 courses (23 of them recreations of real places). The developers have also announced plans to support the Oculus Rift and Sony's Morpheus VR headset, which could make the game even more immersive, even if the physics aren't recreated in the same punishing detail as rFactor 2.
One thing the game has going for it is some incredibly clever artificial intelligence on the part of your opponents on the track – so while the game might give you access to all vehicles and tracks from the get-go (no grinding through with crappy cars to unlock them), don't expect an easy ride.