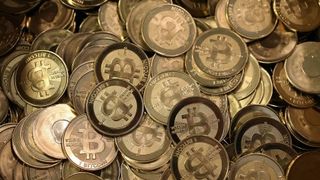 How to mine Bitcoins
Anyone with a decent gaming rig is in a great position to unearth some modern black gold and mine for Bitcoins. We'll walk you through the most cost effective way to turn your gaming rig into an efficient cash machine.
We suggest joining a pool to get started with Bitcoin mining, simply because this is the most consistent way to generate an income from your hardware.
It's not the only way though, and once you've tried it you might want to go it alone. This is a bit more relevant with Litecoins, which are easier to mine, but worth less.
The other decision we've made here is to use an offline wallet to store your Bitcoins, but there's nothing to stop you using an online wallet – the Bitcoin website has a good selection to choose from. If you're using an offline wallet, be sure to back it up.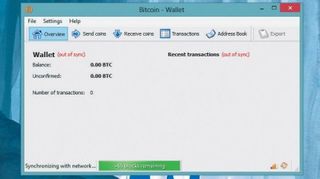 1. Grab a big online Bitcoin wallet
In order to do anything useful with the proceeds of your work down the virtual mines, you'll need a Bitcoin wallet to store your amassed wealth. You can download the main application for this, Bitcoin-qt, from the Bitcoin website.
You'll also need to download the accompanying blockchain, which weighs in at a mighty 7GB.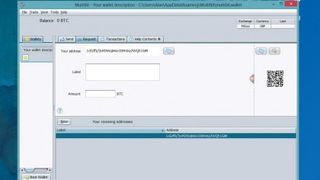 2. Or a smaller Bitcoin wallet
The good news is that you don't have to maintain the bitchain to buy, sell and mine Bitcoins. If your internet connection is on the slower side, or you just want to mine a few coins, then something like Multibit should be enough.
It uses a reduced bitchain of only a few megabytes, so you'll be up and running much quicker.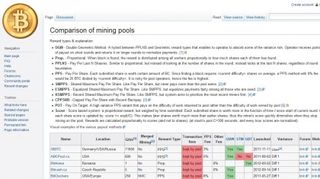 3. Pick a Bitcoin mining pool
The next stage is to sign up to a pool; you can solo mine, but you need some serious hardware to make it worthwhile. You can find a list of pools on the Bitcoin wiki.
We'll walk you through the process of signing up for Slush's pool because it's one we've used a lot, but the same procedure can be used for any of the major pools.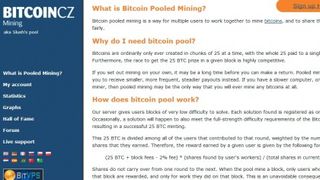 4. Jump in
Pop over to the Slush mining pool website and register an account – the button to do so is in the top right-hand corner. Once set up and confirmed, you'll find that a single worker has been created for that account, with its own password.
You can create as many workers as your need, but one should be enough to get you started.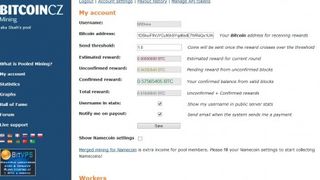 5. Funded mining
You need to tell your mining pool where and when to send the funds from your mining exploits. You'll find the options for this under the 'My account' link, with spaces to enter your Bitcoin address and send threshold.
You'll find the Bitcoin address in your wallet software – it's a string of characters under the 'Receive coins' tab in Bitcoin-qt.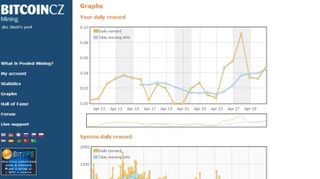 6. Holding threshold
The box underneath this, labelled 'Send threshold', dictates at what point the coins you've mined should be sent to the address you've specified.
You can change this once you've started mining, but the minimum value you can assign is 0.05 Bitcoins. If you're not sure, leave it at 0.1 and update it once you've mined for a while.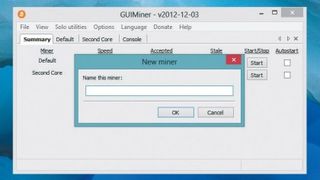 7. Grab Bitcoin mining software
Now you need to download the mining software to your PC. You have a few options here, but to get started we'd recommend using GUIMiner, if only because it has such a straightforward interface.
It comes as a self-extracting archive and runs straight from the folder to which it's extracted.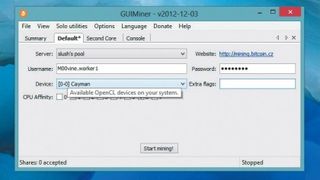 8. Set up your PC for Bitcoin mining
Launch GUIMiner and select 'Slush's pool' from the Server menu. Type in the name of the worker that was created when you registered your account – it'll be [username].worker1 – and enter the password for the worker.
Select your graphics card from the Device menu and then hit the 'Start mining' button to get going.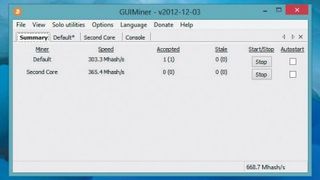 9. View your progress
GUIMiner will now communicate with the servers to get shares for your machine to work with. You'll see your hash rate at the bottom right and the current state of your work in the bottom bar.
You can also see the console (useful if you have connection problems) or a summary page (great if you've got multiple cards) via the View menu.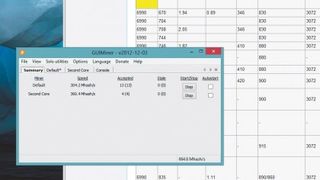 10. Time to optimise
You're now running your machine and mining Bitcoins for your pool just fine, but you won't be getting the very best out of your rig.
To do that, you need to do a quick search to see what the recommend flags are for your graphics card. Take a look at the Mining hardware comparison webpage and search for your card in the table.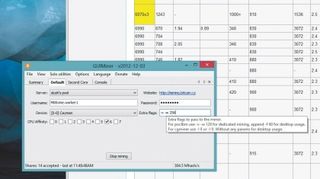 11. Data mining
The information you want from this table is under the Notes column. This is where you'll find the switches that push your graphics card that little bit harder, making them better at Bitcoin mining.
The important ones are those relating to the workload (-w) and whether to use vectors (-v). Enter these values into the Extra Flags block in GUIMiner, stop mining and then restart it.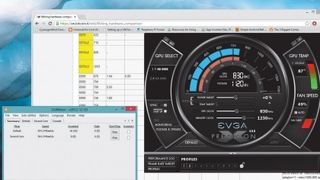 12. Precision tuning
This should give your Bitcoin mining PC's performance a nice boost, but to really get the most from your card you need to turn your hand to a little overclocking.
We recommend grabbing EVGA's Precision X utility, although you can get quite far using the overclocking tools that are part of AMD's Catalyst drivers.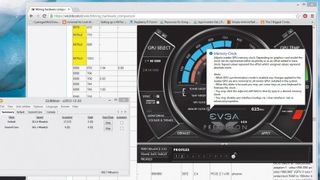 13. Thanks for the memory
Mining Bitcoins doesn't tax your graphics card memory too much, which means you can ease back on those clocks. In fact, you should do so, because it will cut the card's power demands and reduce the amount of heat it produces.
This means that you can increase the frequency of the main core, and make more money from your rig.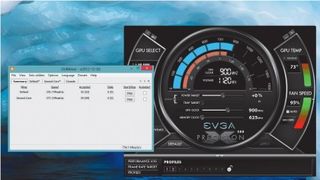 14. Go to work
If you return to the wiki from step 10, you'll probably find several hash rates for your card. The key difference here is down to overclocking, and this is a good place to start when tweaking your hardware.
Keep an eye on the temperatures as you overclock, but you should be able to hit similar hash rates to those shown.