Skylake Gen9 graphics
We know that one SKU for Skylake Gen9 graphics is the Intel HD 530. This is already available on the overclocked Intel Core i5 and Intel Core i7 SKUs that were announced at Gamescom.
At its basic level, each subslice of Gen9 is similar to what is available on Broadwell. The integrated GPU is constructed out of slices. Lower cost SKUs may come with one slice, known as GT2. Higher performance Skylake chips can come with additional slices in the form of GT3 or GT4.
Each slice contains eight execution units that do the heavy lifting. According to an Intel engineer that we spoke to, you can stack even more slices for servers to gain even greater power.
In various technical sessions at IDF 2015, Intel announced that Skylake's Gen9 graphics is built to be flexible and scalable, providing a consistent experience across tablets, notebooks, desktops, workstations and even servers.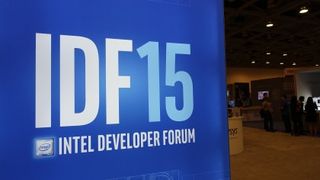 Even on the most basic system, Gen9 graphics, or Skylake graphics, with GT2, will be able to drive up to three 4K displays at 60 frames per second, which brings gaming and workstation-class productivity to even entry-level desktops and even tablets. At a gaming session at IDF, Kirk Skaugen, Senior Vice President and General Manager of Intel Client Computing Group, showed that a Microsoft Surface Pro 3 retrofitted with Skylake can drive three 4K displays.
If you're looking to drive three displays, Intel engineers suggest that you look for systems with three display output ports. This can be in the form of HDMI, DisplayPort or Thunderbolt 3. Apple already builds in two Thunderbolt ports and an HDMI port on its 15-inch MacBook Pro, so you should be able to get a multi-monitor setup once the notebook is refreshed with Skylake.
You can drive even more displays with GT3 or GT4 Skylake Graphics, an Intel engineer told us. On Broadwell, you can drive up to 18 displays at 1080p. Given that 4K is roughly four times the resolution of FHD, this gives us the capability to drive between four and five displays.
The current Fifth Generation Broadwell architecture can also drive three displays, but Skylake takes it to the next level with 4K resolution at 60 frames per second. Additionally, in a separate technology showcase, Intel engineers demonstrated that doing this takes up only 1% of processing power.
Skylake also supports wireless 4K screen mirroring over Intel's Wireless Display (WiDi) and Miracast protocols, but only at 30 frames per second.
For workstations with dedicated graphics chips, you'll lose the capabilities of Gen9 graphics once your system switches to using discrete graphics. At this point, it will be up to your Nvidia or Radeon chips to drive your displays, not Skylake graphics. Intel says that you'll also lose the ability to decode video and drive three displays with 1% impact on CPU performance when this happens.
The integrated graphics can also decode JPEG, MJPEG, MPEG2, AVC, MVC, HEVC 8-bit, HEVC 10-bit, VC-1, VP8 and VP9 multimedia formats. It can also decode all those formats with GPU hardware-accelerated performance, except for HEVC 10-bit, VC-1 and VP9. Skylake also supports the DirectX 12, OpenGL 4.4 and OpenCL 2.0 standards. There is also planned support for the Vulkan API, which Google is also using on Android.
To overcome memory challenges, Intel reveals that it is implementing several techniques. The first is to use faster DDR4 RAM. The second technique is to compress data before sending information to RAM through a feature called Lossless Render Target Compression. There is also better shared virtual memory (SVM) over Broadwell.
Skylake graphics also supports 64GB or 128GB eDRAM, and the eDRAM can be used as L4 cache to boost performance further.