Two-minute review
The parallels between the Unihertz Tank and the Doogee V Max (opens in new tab) that we reviewed recently are stark. Both are large and heavy devices, offering a 22000 mAh battery and a high degree of protection from the environment.
But where Doogee went for the higher ground with the Dimensity 1080 SoC and 5G comms, the Unihertz Tank went for a more price-sensitive Helio G99 and got 4G functionality.
For those that don't play games or have access to 5G services, the difference between them is much less, and the Tank is $90 less for a long operating life away from a power socket.
The Tank comes with a 66W charger that can fill that enormous battery with power in relatively short order.
As feature sets go, the Tank has an excellent one. Along with the Helio G99 SoC, 8GB of RAM and 256GB of storage, this phone also sports a 108MP primary phone sensor, a 20MP night vision camera, 32MP selfie front camera and an incredibly bright Camping Lamp.
That last feature is a unique extra that can output 1200 lumens of light to illuminate a whole room or forest clearing, depending on what you are trying to achieve. We could see this being remarkably useful in the event of a vehicle accident at night, where other traffic needs to be aware of a stopped vehicle that might have lost power.
The Camping Lamp is just one of the unique features available in the Unihertz Toolbox app. These include a compass, basic flashlight, magnifier, bubble level, plumb bob, protractor, pressure gauge, height measure, speedometer, heart rate monitor, alarm and pedometer, amongst others.
This app talks very much to the customer Unihertz is looking to buy this device, who might be a building contractor or outdoor adventurer, or anyone who doesn't wish to endanger their premium phone with water, dust or being dropped.
While the features in this phone are generally good, the two issues here are that this is a very large and heavy device that isn't easy to pocket. And, the asking price is at the high end of what is essentially a 2nd phone that might be reasonably expected to cost.
If you have a particular project in the jungle or desert and do not want to take your Samsung or Apple phone to that party, then the Unihertz Tank is a credible, if slightly pricey, choice.
Unihertz Tank price and availability
How much does it cost? $370

(opens in new tab)

/ £270
When is it out? It is available now
Where can you get it? Directly from Unihertz and through online retailers
According to Unihertz, the Tank was priced at $399, but it is now $30 cheaper at $369.99 direct from the makers. Those prices do not include local sales tax, it should be noted.
It appears that there are four different models, one each for the US, EU, Canada and Others (Asia, Oceania and UK), but the cost is the same for all.
It only comes in black, so there is no choice of colour scheme.
We found the same phone on Aliexpress and other online retailers, but the price was broadly similar.
For US customers, the Tank is unlocked for all carriers, but for some, like Verizon, the phone isn't officially certified.
Unihertz Tank design
Solid construction
Two custom buttons
Dedicated flashlight
Rugged phones can all look rather similar since there is only a limited direction that designers can go when presented with a large screen, cameras and battery to package.
Like the Doogee V Max, the Tank has slopes on the sides underneath to make it easier to pick up, but that won't actually help if your wrist doesn't like supporting 560g of dead weight.
For viewing videos, a stand would be a helpful accessory to own.
The button layout on the Tank is a little odd, as it has two programmable buttons on the left side. One, picked out in red, is in the middle, and the other is reset, making it almost invisible, on the top left.
That second position is the standard location for the SIM tray, and to accommodate this difference, the tray has been moved to the top. It takes a Nano SIM on each side, but this phone has no MicroSD card option at all.
But back to the buttons. As much as having custom buttons on the phone can be useful, the lack of thinking that went into these is depressing. A good example is that it is possible to set the flashlight to come on with one of the buttons, either with a quick press, long press or double action. But there is no accompanying action to turn it off, inconveniently.
This function only turns the 'flash' LED on, not the much bigger Camping Light, which is annoyingly inaccessible using the custom buttons.
When you eventually discover how to turn it on, the Camping Light is impressive since it reputedly outputs 1200 lumens of light. That's enough to provide illumination of a relatively large area, much greater than a typical phone flashlight mode might achieve. It might be perfect for camping, but this light is so bright that if you look into it, even briefly, you're effectively blind for the next few minutes.
It's also only accessible through the Toolkit application and not accessible through the Android OS.
The light is an exciting feature and not one we've seen on a rugged phone before, but the implementation is less than ideal.
What impressed us more was that access to the USB-C charging port is good, as it uses a large rubber plug to keep water and dust out, and this location also has a 3.5mm audio jack for headphones.
Overall, the Tank offers very solid construction, unsurprisingly, though how features like the Camping Light and custom buttons were approached could have been better.
Design score: 3/5
Unihertz Tank hardware
Powerful platform
Big battery size
No MicroSD
Specs
The Unihertz Tank that was sent to us for review came with the following hardware:
CPU: MediaTek Helio G99 / Octa Core / 2.0-2.2 GHz / 6nm / 4G
GPU: ARM Mali-G57 MC2
RAM: 8GB LPDDR4X
Storage: 256GB UFS 2.2
Screen: 6.81-inch IPS LCD
Resolution: 1080 x 2340
SIM: Dual Nano SIM
Weight: 560g
Dimensions: 175.6 × 85.30 × 23.9 mm
Rugged Spec: IP68, IP69K and MIL-STD-810H
Rear cameras: 108MP Main Camera + 20MP Night Vision Camera
Front camera: SONY 32MP Front Camera
Networking: WiFi 5, Bluetooth 5.3
OS: Android 12
Battery: 22000 mAh
We will talk more about the Helio G99 used in this phone in the performance section, but as SoC packages go, it is one of the better and more capable options available.
When combined with 8GB of RAM and 256GB of UFS 2.2 storage, it makes for a highly responsive experience, even if you load lots of apps onto Android 12.
The considerable 6.81-inch IPS LCD screen is bright and crisp, even if it's a slightly odd 1080 x 2340 resolution. The only issue we noticed with this was that when using YouTube and playing 1080p content, the frame is scaled when there is sufficient resolution to present it fully.
This phone, like most Chinese phones, doesn't support Widevine L1, so the maximum supported resolution on most of the big streaming services is limited to 480p, sadly.
Leaving the 108MP main camera sensor to later, the two headline features of this phone are the massive 22000 mAh battery and the unique Camping Lamp on the rear.
We saw a battery this big previously in the Doogee V Max, and in that phone, it is the dominant feature of that design. It makes the Tank ideal for long camping adventures where mains power is unlikely to be available, as the phone can operate for more than a week without conserving power.
The downside of this battery is the weight that it adds, bringing the Tank to a stout 560g, another 17g more than the V Max.
With this much battery and reverse changing functionality, it is possible to use the Tank as a power bank for other devices.
Where massive batteries are available elsewhere, the camping lamp is something we've not previously seen. This LED panel on the underside of the phone can output up to 1200 lumens of illumination in a space that is approximately 15 square centimetres.
That much light coming from a 55-inch TV is bright. But compressed into a small trapezium-shaped panel, it is way too much for the human retina to handle comfortably close up.
When you are not blinding yourself, the light will illuminate to a decent range in complete darkness, and when combined with the battery, the light can remain on for a long time.
One feature missing from this phone that is typically included is a MicroSD card position in the SIM tray. Therefore, the 256GB of storage that comes with this phone is as much as it will ever have, as no MicroSD expansion is possible.
Unihertz Tank cameras
108MP sensor on the rear
Wide-angle, macro and night vision
Four cameras in total
The Unihertz Tank has four cameras:
Rear cameras: 108MP Samsung HM2, 2MP Macro, 20MP Sony IMX350 (Night Vision)
Front camera: 32MP SONY IMX616 Sensor (Wide)
The Tank is the third phone we've seen sporting the 108MP Samsung S5KHM2 main sensor in the past month. And given some of the results we've seen, it is understandable why phone makers are flocking to this option.
Taking up to 12000 x 8992 resolution pictures is impressive, although this resolution must be traded down to 12MP if you want PRO controls or special modes.
Of the phones with this sensor, some offer 4K video, and others do not, and unfortunately, this one limits video capture to 1440p.
It also gets stuck with the same limitations of frame rate we've seen elsewhere. Irrespective of video capture resolution, the frame rate is locked at 30fps.
Overall, image quality is good from the full 108MP mode, 12MP feature and video.
The only exception to this is the low-light capability, as alongside the main sensor, Unihertz included a 20MP Sony night vision sensor that uses infrared illumination to create artificial daylight in complete darkness.
Alternatively, the Camping Lamp can be turned on, which works like a portable 'Sun Gun' device used by broadcast news cameramen.
That does assume that you are using these features to take photos and not just wander around a forest at night without injury, where you might find the Camping Lamp more useful.
The story of the Unihertz Tank and its cameras is a familiar one, where some excellent sensors were used but then not fully exploited by the software compiled for the phone.
Not to say that it can't take excellent photographs, but with some attention to detail, it could have taken even better ones with fewer limitations on modes and frame rates.
Camera samples
Unihertz Tank performance
An effective SoC
GPU overtook by Dimensity
Fluid experience
Benchmarks
This is how the Unihertz Tank performed in our suite of benchmark tests:
Geekbench: 547 (single-core); 1832 (multi-core); 1660 (OpenCL)
PCMark (Work 3.0): 9065
Passmark: 9649
Passmark CPU: 4662
3DMark Slingshot: 3760 (OGL)
3DMark Slingshot Extreme: 2780 (OGL); 2651 (Vulkan)
3DMark Wild Life: 1350
If this phone had appeared earlier, perhaps we'd be celebrating its performance more than we are now. The Helio G99 is a great SoC that combines some high performance with excellent power efficiency, and it crushes all the other chips in the MediaTek G series.
However, MediaTek also makes the Dimensity series, and the 900 and now 1080 derivatives run rings around the G series devices.
Other than some subtle clock speed changes, mostly on the two Cortex-A76 cores, the big difference between the G99 and the Dimensity 900 is the GPU, where the Ulefone Armor 18T can call on the Mali-G68 MC4, whereas the G99 only has the ARM Mali-G57 MP2.
Using 3DMark benchmarks to gauge the differences, the Wild Life test scores 1350 on the G99-powered Unihertz Tank and 2198 on the Dimensity 900 imbued Doogee Armor 18T.
The performance divergence on single thread problems is less, but the G99 is an inferior design to the Dimensity 900 and 1080.
But, compared with the other G and P series SoCs from MediaTek, the performance is very good, and this phone is markedly cheaper than the Dimensity using designs like the Doogee V30 (opens in new tab), Ulefone Armor 18T and Doogee V Max (opens in new tab).
Unless you play intensive 3D titles, you are unlikely to notice the difference because this phone has enough power, memory and storage to deliver a good user experience.
Doogee V Max battery
22000 mAh
66W Fast charging
No Qi charging
One mistake that we noticed on the Doogee V Max (opens in new tab) is thankfully not repeated here, as this phone can take 66W charging, allowing the 22000 mAh battery to get a full charge rapidly.
That's twice the inflow of the V Max, and this design can go from empty to full in around 2.5 hours and 90% in less than two.
With the battery full, the phone should easily last a week's regular use, and for those that don't check their phones every few minutes, potentially double that timescale.
If you intend to power splurge, the battery can keep the 1200-lumen Camping Lamp lit for 6 hours, and you can make a call that lasts for six days.
As the USB-C is bidirectional, the Tank can be used to recharge other phones and even laptops.
The only disappointing aspect of the battery on this phone is that Unihertz didn't bother to provide it with wireless charging.
There is some logic to the lack of wireless charging since the best Qi charging tops out at about 20W, meaning it would take a very long time to charge this battery using wireless transfer.
The whole premise of this design is '2nd phone', since there is little about this design that would make anyone carry it on a daily basis. For worksite appearances and jungle adventures, it's a credible proposition, but $370 for a secondary device isn't an impulse buy.
The battery life and camera on this phone are both good, but are they wonderful enough to holster such a cumbersome piece of gear? We have our doubts.
Unihertz Tank score card
Swipe to scroll horizontally
| Attributes | Notes | Rating |
| --- | --- | --- |
| Value | Good value for what you get, but not inexpensive. | 4/5 |
| Design | Built to last, and possibly knock nails in, but details like the custom buttons are poorly implemented. | 3/5 |
| Hardware | Huge battery, good camera and a lamp so bright it will blind you. But only 4G comms. | 4/5 |
| Performance | The MediaTek Helio G99 is good, although Dimensity 900 and 1080 designs are even quicker. | 4/5 |
| Camera | Great primary sensor and night vision, but it lacks 4K video. | 4/5 |
| Battery | Massive battery and 66W charging over USB, but no wireless charging. | 4/5 |
| Overall | Weight and size impact practicality, but an impressive spec for the price. | 4/5 |
Should I buy a Unihertz Tank?
Buy it if...
You often drop phones
A resilient phone that can handle the environment well, but please don't drop it into water deeper than 1.5m, as it won't float.
Battery life is critical
With 22000 mAh of battery available can take you some considerable way without needing a recharge. Typically this phone can last between six and ten days on a single charge, but much longer if you conserve power.
You work in the building trade
The combination of robustness and special features like the Camping Lamp make this a great design to take into the construction environment. It's also good for camping or trekking if you can accept the extra 560g of weight.
Don't buy it if...
You want to travel light
At more than 1.2 lbs and more than an inch thick, this is a brick of a phone and not something you can put in a pocket and forget about.
You like wireless charging
Missing from this design is wireless charging, unfortunately. But given the size of the battery, that might not be something useful.
Need 5G comms
While the coverage of GSM, 2G, 3G and 4G frequencies on this phone is good, it doesn't support 5G or WiFi 6.
Also consider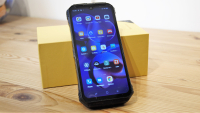 (opens in new tab)
Doogee V Max
A few grams lighter, the V Max has a better SoC and the same 22000 mAh battery capacity. But it doesn't offer the Camping Lamp. The V Max is a much more expensive option, but the specification is better, and it includes 5G comms.
Read our Doogee V Max review for more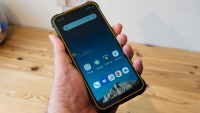 (opens in new tab)
AGM Glory G1S
A Qualcomm Snapdragon-based design with plenty of useful features, including thermal vision. However, it is much more expensive, only offers a 48MP primary camera sensor and only works on T-Mobile only in the USA.
Read our AGM Glory G1S review for more information.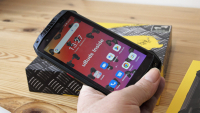 (opens in new tab)
Ulefone Armor 15
An attractive design with a secret bay to hold and charge included Bluetooth headphones. Unfortunately, it doesn't offer 4K video and has a smaller battery, but it costs less and comes with earbuds. It's an option.
Read our Ulefone Armor 15 review for more information.