Two-minute review
Doogee believes that 'more is always better', and proof of that is the V Max.
This is a rugged phone with everything set to 11 on the dial. Big screen, powerful SoC, lots of RAM and storage, an impressive camera selection, 5G, and the biggest battery we've seen in a phone so far.
This is our first phone review covering a design that uses the new MediaTek Dimensity 1080 SoC. An option increases the clock speeds and RAM capacity seen on the Dimensity 900 series and includes 5G comms.
But by far, the one headline feature of this phone is its 22000 mAh battery, a capacity that
dwarfs that in other phones, including many rugged designs.
When you put a battery in a phone that dwarfs that in some laptops, there are significant physical changes that make the V Max either the phone you must have or make it entirely impractical.
The obvious advantage of a battery this large is that it can operate for a week or more without a recharge. With management, this could be extended to a considerable time without mains power. That could be critical for a camping break or adventure holiday where the nearest power socket might be a long walk away.
The flip side of having all that battery time is that this is a very heavy and bulky phone that doesn't easily fit in a typical pocket. The weight is 543g or nearly 1.2 lbs for those that like those measurement systems.
Wielded as a blunt instrument, the V Max has sufficient mass to seriously injure someone unlucky enough to be stuck with one.
If the brick-like nature of the V Max doesn't put you off, what you get is a very capable design with an excellent camera cluster, 5G comms, 12GB of RAM and 256GB of storage.
The processor and GPU combination makes the V Max suitable for gaming, and it supports dual Nano SIMs for a convenient combination of work and play potential.
In short, if it wasn't for its gargantuan size, everything else about this phone would be pretty useful, especially at the current asking price.
Just don't buy one for a person who has anger management issues and likes to throw things.
Doogee V Max price and availability
How much does it cost? $460

(opens in new tab)

When is it out? It is on pre-order after an initial release
Where can you get it? It can only be bought from Doogee directly
Normally we'd provide a range of regional pricing for a phone like the V Max. But currently, this phone is on a restocking pre-order from Doogee, and the price is in dollars irrespective of where you order it from.
According to Doogee, the V Max has already been reduced from $749, although it makes little sense that you would cut the price of a design that is currently out of stock.
The asking price is $559, although Doogee is offering a code for an extra $100 off at this time, presumably to prime the sales channel ahead of its return to stock.
When this design becomes more widely available, we suspect the discounted cost is likely to become the asking price, predictably.
There are three colour choices; Classic Black, Moonshine Silver and Sunshine Gold.
Doogee V Max design
Built to last
By-the-numbers buttons
No audio jack
One can't help but sympathise with the designer of the V Max, saddled with the challenge of getting the contents of this phone inside a case.
However approached, this solution was never going to be elegant or stylish, and the V Max is neither of those things.
The best description of this phone is techno-brutalism, a monolithic block that has some chamfered corners and bevelled edges added to make it seem less like a brick.
That said, the metallic sides are pleasing to touch, and the overall shape fits neatly in hand, assuming you've got shovel-sized appendages like your reviewer.
The thickness of this design allows for speakers to be mounted at both top and bottom, allowing for a mild stereo effect when playing games in landscape mode.
While the camera cluster is slightly raised, the back is mostly flat, suggesting that this phone might wirelessly charge, but according to the specifications, it doesn't.
The button layout is the now de facto model that all rugged phone makers have gravitated to, where they place a thumb-print reader/power and volume rocker on the right and a custom button with the SIM card slot on the left.
On the bottom edge is a carabiner slot for connecting the phone to a belt strap and the USB-C port. That's the only way this phone can be charged, and to protect it from water and dust ingress, Doogee covered it with a rubber plug.
The plug is relatively easy to dislodge with a fingernail, but each removal and reinsertion does reduce the likelihood that the port will be fully protected. The designers did make the cover small to minimise exposure, but this negated the possibility of a 3.5mm audio jack on this model. No adapter to provide this functionality through USB was included.
Overall, those who designed this did their best but avoided anything remarkable or groundbreaking in the context of such a large phone.
Design score: 3/5
Doogee V Max hardware
Dimensity 1080
5G Comms
Massive battery
Specs
The Doogee V Max that was sent to us for review came with the following hardware:
CPU: Dimensity 1080 / Octa Core / 2.6GHz / 6nm / 5G
GPU: ARM Mali-G68 MC4
RAM: 12GB LPDDR4X
Storage: 256GB
Screen: 6.58-inch IPS LCD
Resolution: 1080 x 2408
SIM: Dual Nano SIM (+microSDXC up to 2TB)
Weight: 543g
Dimensions: 178.5 x 83.1 x 27.3 mm
Rugged Spec: IP68, IP69K and MIL-STD-810H
Rear cameras: AI Triple camera (108MP+20MP+16MP)
Front camera: SONY 32MP Front Camera
Networking: WiFi 6, Bluetooth 5.2
OS: Android 12
Battery: 22000 mAh
The specification of this phone elevates it above almost all the rugged Chinese designs we've seen so far.
MediaTek's new Dimensity 1080 SoC provides an excellent computing platform as its previous 900 series, but with marginally higher clock speeds and a generally better instruction set.
While it uses the same Mali-G68 MC4 GPU as its predecessor, the extra processing power in the two Cortex-A78 cores pushes the GPU harder, and it achieves a little more.
For those that live in a region with coverage, the 5G support in this design boosts mobile data performance significantly. And, with WiFi 6, it's also swift when you have a suitably specified router at home or in the office.
One curiosity of this design is the amount of RAM, as most phones tend to be capped at 8GB, whereas this has 12GB. It's also one of the new designs with the potential to take some storage and make it work as RAM, adding up to 8GB if the user sets that option.
Therefore, unless you spend your days endlessly loading new apps, it seems unlikely that you'll quickly run out of space to store them or RAM for them to run.
The camera cluster is also impressive, but the stand-out feature of this hardware is the 22000 mAh battery. This battery scale provides not only extreme longevity but using the OTG capability of the USB-C port the power can also be utilised to power other devices.
The only feature weakness we noted was that the dual Nano SIM card tray only takes one SIM if you use a MicroSD card. A better solution might have been to offer e-SIMs on this phone, allowing the MicroSD card not to limit the phone to a single SIM.
But conversely, this phone has a feature we've not seen before in that it uses a dual-frequency GPS, allowing for even greater positional accuracy even in urban environments.
Doogee V Max cameras
108MP sensor on the rear
Wide-angle, macro and night vision
Four cameras in total
The Doogee V Max has four cameras:
Rear cameras: 108MP Samsung S5KHM2, 16 MP OmniVision OV16B10 (Ultra-Wide), 20.2 MP Sony IMX350 (Night Vision)
Front camera: 32MP SONY IMX616 Sensor (Wide)
We've seen the 108MP Samsung S5KHM2 sensor before, and while it has limitations in that the full resolution comes without all the clever features, it is still an excellent picture-capture device.
If you want special beauty modes, then pictures are limited to 12MP, although these modes operate with shake compensation and other enhancements.
Alongside the headline 108MP Samsung sensor are a 16MP OmniVision OV16B10 Ultra-Wide lens and a 20.2MP Sony IMX350 Night Vision sensor, extending the camera repertoire further.
Like the Doogee V30, which uses the same Samsung S5KHM2 sensor, the V Max can capture video up to 4K in resolution. And like the V30 and the Ulefone Armor 17 Pro, it isn't possible to have any control over the frame rate.
Not being able to trade resolution for frame rate is possibly one of the few things keeping the likes of GoPro in business, as many of the phone makers don't exploit the sensor hardware fully.
As for the results, with a sensor this big, they're generally very good, and it only made a mess either because of focusing issues to do with sunlight refraction or exposure compensation for highlights. The camera has a full PRO manual mode where ISO, EV, WB, manual focus and shutter speed can all be directly controlled.
In short, like the V30 that came before it, the V Max has a high-quality camera that could have been incredible with a better camera application.
We should also mention that while you can capture 4K video and play it back scaled down on the 1080 x 2408 resolution screen, you won't be watching streaming content in 4K or even 1080p. Like it appears all rugged Chinese phones are, the V Max doesn't support Widevine L1 security, reducing the service offered by Netflix and Disney+ to 480p resolution.
Camera samples
Doogee V Max performance
Excellent performer
Strong GPU
Power and efficiency
Benchmarks
This is how the Doogee V Max performed in our suite of benchmark tests:
Geekbench: 734 (single-core); 2162 (multi-core); 2663 (OpenCL)
PCMark (Work 3.0): 10058
Passmark: 11217
Passmark CPU: 5435
3DMark Slingshot: 5315 (OGL)
3DMark Slingshot Extreme: 4181 (OGL); 3973 (Vulkan)
3DMark Wild Life: 2281
For the short story, this is the most potent rugged phone we've tested so far, and it is easily head and shoulders over those that use Helio-based SoCs.
Looking at it from a Qualcomm Snapdragon perspective, it falls fractionally short of the performance of the 778G, but the difference is less than a single percentage point in many tests.
The only caveat is that many games have been specifically coded to use the Snapdragon instruction set for enhanced performance, which might make them run better on Qualcomm SoCs.
But back to the numbers, there are many highlights here, so let's look at a few especially impressive results.
In the Geekbench single thread task, a score of 734 is a first, with the previous best being the Dimensity 900-powered Doogee V30 achieved 694. And, the Geekbench multithreaded and OpenCL scores are equally beyond what we've seen on Dimensity 900 and Helio G99-powered devices.
To give an impression of how much better gaming is on the V Max over an Helio G99 SoC phone like the Ulefone Armor 17 Pro is relatively easy. The 3DMark Slingshot scores are 5315 on the V Max against just 3675 on the 17 Pro. That's nearly 45% faster.
Compared with an Helio G85 phone, the V Max is almost twice as fast across the board.
Performance on this phone is not an issue, regardless of what you want to use it for.
Doogee V Max battery
22000 mAh
33W Fast charging
No Qi charging
The battery on this phone is both a blessing and a curse. Having 22000 mAh converts, according to Doogee, into 2300 hours of standby (96 days), 240 hours of 'normal use', 19 hours of calling, 40 hours of video, 90 hours of music and 25 hours of gaming.
That's plenty of capacity, although the battery is a major contribution to making this design so large and heavy.
Where things are less wonderful is in respect of recharging. With a battery so large, getting it charged becomes an issue. Doogee did include a 33W charger, and using that does speed up things somewhat.
But typically, we'd estimate that charging 5000 mAh using 33W charging takes around 90 minutes, and scaling that up, the V Max could easily take more than six hours to reach its full potential. And, if you don't use the 33W charger, it could take considerably longer.
The Doogee V30, as a good example, offered 66W charging and also 15W wireless charging, and both these options would have been appreciated on the V Max, but neither was used.
It may be that using 66W charging on such a large battery for a least three hours has implications for the generating of heat within the phone, but whatever the reason, charging is a limitation of this phone.
With so many great features and excellent performance in this phone, it seems churlish to talk about some of the obvious failings, but these need to be aired.
The scale and weight of the V Max do push it into a place where practicality becomes an issue, and for many people, this device is just too big and heavy.
Those that don't mind lugging such a large phone around are rewarded with a feature-rich design that ticks many boxes, including 5G comms, a 108MP camera, top-tier SoC performance and a massive battery capacity. All this for a very reasonable price.
Just make sure that you have huge pockets to put it in.
Doogee V Max score card
Swipe to scroll horizontally
| Attributes | Notes | Rating |
| --- | --- | --- |
| Value | Not widely available yet, but a competitive price | 4/5 |
| Design | Making a phone this big elegant was impossible | 3/5 |
| Hardware | 5G, plenty of RAM and storage, and a 22000 mAh battery | 4/5 |
| Performance | The Meditek Dimensity 1080 is a monster | 5/5 |
| Camera | Great camera, but lacks fps control on video | 4/5 |
| Battery | Massive battery, but charging it up could become an issuearging with provided charger | 4/5 |
| Overall | Excellent specification, but physically it is too large for many users | 4/5 |
Should I buy a Doogee V Max?
Buy it if...
5G is important
The support for 5G will be useful to those that have that service, especially if you take 109MP pictures or 4K video and want to sync them to the Cloud.
You are away from power for a week
The battery capacity of the V Max is huge, allowing it to be used for 6-10 days at a stretch without being recharged.
Pictures are important
The camera sensors on the V Max are wonderful, and alongside huge 108MP captures it also supports ultra-wide angle and even night vision modes.
Don't buy it if...
You want to travel light
At more than 1.2 lbs and more than an inch thick, this is a brick of a phone and not something you can put in a pocket and forget about.
You like wireless charging
Missing from this design is wireless charging, unfortunately.
You intend to watch streamed content
The lack of Widevine L1 reduces most streamed content to 480p, so even if it has a good quality and high-resolution screen, using it for Netflix or Disney+ won't yield high-resolution results.
Also consider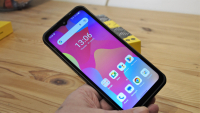 (opens in new tab)
Ulefone Power Armor 17 Pro
A cheaper design but with a decent SoC and the same 108MP Samsung camera sensor, but you trade down to 4G comms and a quarter of the battery capacity. A good phone for the price.
Read our Ulefone Power Armor 17 Pro review for more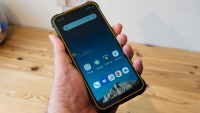 (opens in new tab)
AGM Glory G1S
A Qualcomm Snapdragon-based design with plenty of useful features, including thermal vision. However, it is much more expensive, only offers a 48MP primary camera sensor and only works on T-Mobile only in the USA.
Read our AGM Glory G1S review for more information.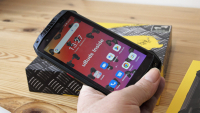 (opens in new tab)
Ulefone Armor 15
An attractive design with a secret bay to hold and charge included Bluetooth headphones. Unfortunately, it doesn't offer 4K video and has a smaller battery, but it costs less and comes with earbuds. It's an option.
Read our Ulefone Armor 15 review for more information.