With up to 16 disks the R730 can be equipped with lots of internal storage with the usual choice of SATA or SAS drives in a range of capacities to suit different applications and budgets. An on-board SATA controller is available on all models (the PERC S130), but this only supports software-based RAID 0,1 and 5 and for Windows only, so most buyers will go for one of Dell's plug-in PERC adapters which will enable them to build faster, more resilient, arrays.
Ours came with a PERC H730P Mini which, as the name suggests, is a tiny board that fits into a dedicated slot on the R730 motherboard. Able to handle 6Gbps SATA and 12Gbps SAS drives, the H730P offers the usual striping and redundancy options all the way to RAID 6 to protect against dual disk failure. It also comes with 2GB of cache and, optionally, battery backup.
Solid state disks are available as an option for those who want them. However the number of drive bays is a limitation and if it's storage you're after you should look at the R730xd which can take up to 24 drives at the front and a couple more round the back, plus an option of a mix of 3.5-inch disks and up to twelve 1.8-inch SSDs.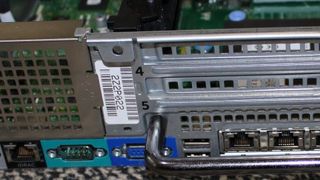 Networking options
Networking is handled by a plug-in card daughter board, ours shipping with the default 4-port Gigabit module, with 10GbE adapters available for those wanting maximum bandwidth. A separate integrated Gigabit port is also available for out of band remote via a Dell iDRAC8 Express controller.
In its basic form this provides remote access via an intuitive web interface with remote console, power capping and other tools available by upgrading to an Enterprise license. The iDRAC controller also equips the server for management from Dell's OpenManage Server Administrator and other SNMP consoles.
Overall the R730 has a lot to offer, but it does come at a price which depends largely on specification plus whatever offers Dell happens to be running at the time. To give you an idea of the cost, however, the review system carries an RRP of £10,549 ex VAT (around $16,100, AU$21,100) but at the time of testing was available for just £8,033 ex VAT (around $12,300, AU$16,000). Still a fair amount of money, but very good value given what you get and a drop in the ocean when it comes to most data centre budgets.