As the largest professional social network, LinkedIn has a lot to offer but to get the most out of its platform while searching for a new job, you'll need to upgrade to a premium account.
Pros
+

Best professional social network

+

Loads of job listings and features

+

Plenty of articles and extras
Cons
-

Best features aren't free

-

Confusing interface
Why you can trust TechRadar We spend hours testing every product or service we review, so you can be sure you're buying the best. Find out more about how we test.
LinkedIn is one of the biggest job sites on the internet, and it's been a huge deal ever since it launched way back in 2003. It's not your usual job website, though – it's a social network that focuses on the world of work.
Its social underpinnings mean that LinkedIn relies on professional connections and networking. While job listings play a part in that, it's not the only thing you'll find here.
That's not necessarily a problem. You can use LinkedIn to browse job listings, make an all-important connection with your new colleagues and research your prospective new place of work, and the site's social features mean that you can write posts, upload articles and boost your personal profile at the same time – as well as interact with friends and colleagues.
Keep in mind that LinkedIn can also be used as a recruitment platform by recruiters and employers as well.

How does it compare?
Features
More than three-quarters of a billion people use LinkedIn, so there's no shortage of professional connections on offer here – indeed, the site's main feed looks like Facebook, with status updates, articles being shared, and loads of likes, comments, and emojis. That's great, and the sheer number of people and businesses who use the site means that there are loads of job listings, too.
If you're searching for jobs on LinkedIn then the site offers solid functionality. You can set up email alerts and filter job listings by all sorts of filters, from experience level and contract type to location, industry, company, and salary. You can also filter to only see jobs at companies where you've already got contacts. There are more filters available here than on plenty of other sites.
Job listings display all the information you'd expect, but because it's LinkedIn you can also see if your contacts work there, if you've got mutual connections at the company and how many people have applied for each position. Plenty of companies also rely on LinkedIn's Easy Apply function, which allows you to apply for a job with a couple of clicks.
Because LinkedIn is a social network, that means your profile also functions as your CV. That's an effective way of applying for jobs quickly, and it also means that prospective colleagues, contacts and bosses can see your skills and experience.
LinkedIn has loads of helpful features beyond its job listings. There are groups, events, skills assessment quizzes, interview preparation help and a resume builder. The wealth of features means LinkedIn can function as a one-stop-shop for professional purposes, but the dated interface is too busy, so this isn't the easiest site to use, especially for newcomers.
LinkedIn has spent 2021 adding new features to its platform, too. You can now publish LinkedIn Stories to your feed – think Instagram stories, which expire after 24 hours – and you can also broadcast live videos to your professional networks.
Elsewhere, LinkedIn now supports polls and more post reactions, and you can also use the platform to host video meetings.
Plenty of other new features improve LinkedIn's social features, and many mimic the features you'll find on other social networks, like Facebook and Twitter. You can use photo frames for advertising your openness to new roles on your profile picture, and you can save collections of posts and even feature your best posts on top of your profile.
There are more options for creators and influencers, too. The new Creator Mode tools allow users to share posts within specific hashtagged topics, notify followers about new posts, and use analytics to delve into the data behind your posts and engagement.
LinkedIn now allows users to edit messages after they've been sent. Hiring managers can use additional AI-powered abilities, and the site has improved pronunciation tools for names in different languages. There's also a dark mode to help people avoid eye strain.
Plans and pricing
LinkedIn is free to use, but a free account does have a restricted set of features. You can build your network of friends and colleagues, request and provide recommendations, view other people's profiles and receive messages. You can apply for jobs using LinkedIn's free tier, too.
For work-based social networking and basic job applications, that's fine. But if you want to get the most out of LinkedIn, you'd be better off paying for one of the premium options.
The most affordable LinkedIn upgrade is Premium Career, and it costs $29.99. That grants you access to extra insights on job listings. They're superb: you can see salary information, company hiring trends, where other applicants live and their levels of education and experience. If you want a leg-up on other applicants, that's valuable information. Elsewhere, the Premium Career option allows unlimited access to LinkedIn Learning, and you can browse privately, message other people and see who's viewed your profile. You can also become a Featured Applicant, which means recruiters will see your promoted application.
If you want to pay for the Premium Business option, you get those features alongside unlimited browsing and additional insights. There are other tiers for recruiters, sales professionals, and educators, and they have features like advanced searches, candidate tracking and more.
LinkedIn is not cheap, but the premium options do supply loads of extra functionality. A free trial of Premium Career is also available if you'd like to give it a go before you commit.
Recruitment features
The world's biggest professional social network has a robust recruitment package that covers virtually every aspect of recruitment.
All of LinkedIn's recruitment products gather under the LinkedIn Talent Solutions umbrella, and here you'll find LinkedIn Recruiter and Recruiter Lite alongside other products, like LinkedIn's own ATS and strategic planning tools.
LinkedIn Recruiter is one of the best and most powerful tools available for anyone who needs to find new employees. The unmatched talent database on LinkedIn is a great start, and you can use more than forty different filters and Boolean techniques to search for new talent – an ideal option if you'd like to track down people and approach them using InMail before they've seen or applied to your vacant positions.
You can bulk-message likely candidates to help save time, and you can easily share profiles to other people in your HR team to get second and third opinions. Recruiter's reporting options also make it easy for you to manage and analyze your pipeline, no matter how many vacancies you've listed and applications you've received.
Elsewhere, LinkedIn Recruiter can deliver AI-based recommendations for your open positions, and the software supplies users with smart reminders to help you stay on top of your hiring. Recruiter has Android and iOS apps, and it can connect with your existing ATS systems. It also works with other LinkedIn products, like Talent Insights and Talent Hub, so you can build a package to suit your recruitment needs.
Two different levels of tool are available on LinkedIn. The Recruiter Lite package gives users access to limited database access, twenty search filters, and reduced numbers of monthly messages and alerts, and you don't get to use high-end features. It costs $140 per month and is suitable for smaller companies that don't have large HR teams, and you may be able to get away with paying less for Lite if you've got a good ATS that you're happy to continue using.
If you don't use a reliable and comprehensive ATS or if you just want full access to LinkedIn Recruiter's features and database, opt for the Professional or Corporate packages. You get full network access, more filtering, candidate and company insights, more job alerts and InMail messages, and a multi-user dashboard for large HR departments. This package has full integration with other LinkedIn products and third-party ATS systems, and you get more reporting and data analytics, too.
The complete LinkedIn Recruiter package is the best option for any medium or large business, but LinkedIn's website doesn't have pricing – you'll have to contact them directly, and worth of mouth online suggests that it's one of the pricier recruitment products around. It's also a little disappointing that you still don't get unlimited InMail messages and search alerts with Recruiter.
Nevertheless, LinkedIn Recruiter offers a good range of features and access to the world's biggest professional network, and that makes it essential for any enterprise that does plenty of hiring. Prepare for a potentially high cost, though, and consider if the cheaper Lite package is suitable first.
Final verdict
The difference between LinkedIn's free and paid experiences are vast, and it almost makes the service feel like two different products.
LinkedIn's free product is a great option for basic professional networking and applying for jobs, but it's not the best way to get the most out of the site. Unfortunately, if you want to make the most out of job-seeking here, you'll have to pay for LinkedIn Premium Career.
LinkedIn might not be the easiest site to navigate and you've got to pay to get the most out of it, but its sheer size and breadth of features mean that it's a vital addition for anyone who's serious about their job search.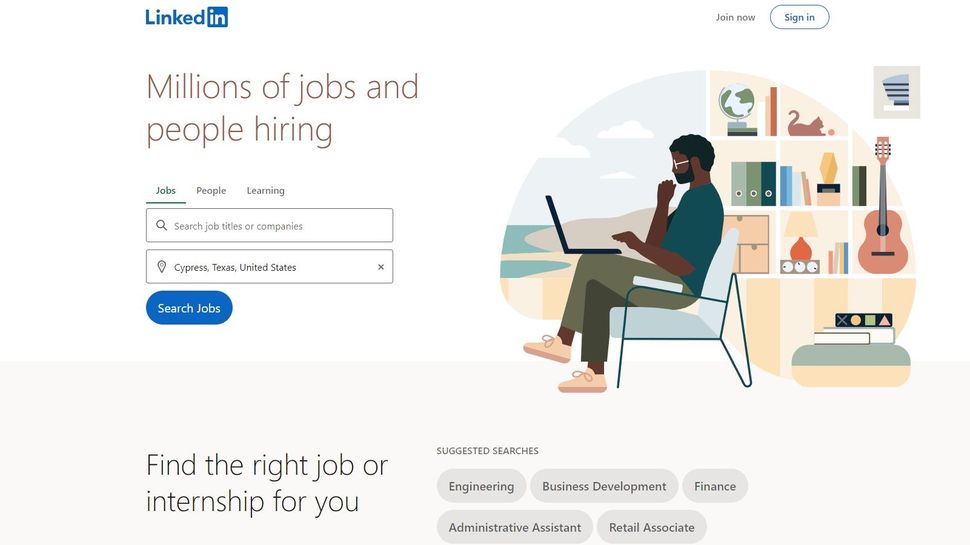 LinkedIn vs Glassdoor
LinkedIn is a widely preferred platform with an 8.4 rating, while Glassdoor also does well with 7.1 overall.
Features: LinkedIn's Applicant Tracking System lets you control access to private data, store and manage resumes strategically, use custom workflows for recruiting, track your candidates' progress, schedule meetings or interviews rapidly, and use email templates, among others. It's easy to develop an efficient hiring strategy with LinkedIn's tools.
Glassdoor also offers custom email templates to speed up your process, as well as analyze site visits and engagement, customize your profile depending on which part of the world you're scouting, and personalize how candidate profiles view yours. Brand advertising lets you target qualified applicants, while Review Intelligence lets you understand what people are saying.
Pricing: Flexible terms are available when you post on LinkedIn. The pay-per-click model is highly preferred, and the budget you set depends on how long you think your ad needs to run. When opting for monthly rates, Recruiter Lite and Recruiter+Job slots are offered for $99.95 and $825. These plans provide variations in inMail messages as you build a funnel of candidates.
The three options for Glassdoor posting are Free (basic), Standard, and Select (premium). Standard goes for $219 and Premium for $599. These plans let you promote your brand and target the right candidates for your job posts and avail of add-ons. The Premium plan is also known as a branding bundle that provides Indeed pages access.
Conclusion: Glassdoor and LinkedIn are two of the strongest competitors when it comes to job boards. LinkedIn's flexible terms and Glassdoor's comprehensive plans entice more users than any other platform out there.
LinkedIn vs Craigslist
LinkedIn is the top leading job board with an 8.4 rating. Craigslist is the opposite with a 3.8 rating.
Features: For limited visibility, LinkedIn lets you post jobs for free. Budgeted posts get three times more visibility, showing your job post at the top of search results and placed in front of qualified applicants who are browsing for employment. LinkedIn's matching algorithms at work will send you smart alerts for qualified applicants reaching out to you.
Craigslist isn't as feature-rich, on the other hand, though it's been around longer and is often preferred by some. It has an extremely simple and basic interface where job posts are found. It's host to every category you can think of and posting is free.
Pricing: With pay-per-click, LinkedIn lets you set a budget for a job post to promote it. Because of this, you can also close or end your post whenever you like. Doing so will give you mobile notifications and give it visibility to LinkedIn members who are a good fit. After the total budget you set is spent, the post will close automatically.
Craigslist's job posts are free, although in some US and Canada areas, they're charged between $10-$75 per post. It's essentially an online classified ads site where you can sell or post about your job. The good news is that there are tons of categories and you can post on any of them.
Conclusion: Both platforms let you post for free, Considering Craigslist has been around for decades, it's easy to tell posting there works. LinkedIn links you to millions of professionals for free.
Mike has worked as a technology journalist for more than a decade and has written for most of the UK's big technology titles alongside numerous global outlets. He loves PCs, laptops and any new hardware, and covers everything from the latest business trends to high-end gaming gear.