IVPN is a small Gibraltar-registered service that has been preserving its customers' privacy since 2009.
The company's VPN network looks average, with servers in 45 locations across 32 countries. Torrents are supported everywhere, in theory, although the company politely asks that users avoid P2P on US servers.
Platform support is good, with open source clients available for Windows, Mac, iOS, Android and Linux, and detailed setup guides for routers, some NAS types and more. Whatever devices you've got, IVPN allows you to connect up to seven at the same time.
IVPN operates its own DNS servers, a welcome extra touch which helps ensure your online activities can't leak to third-parties.
A multi-hop feature enables routing your traffic through two VPN servers. For example, you could have the client connect to the VPN in London, travel through the network to New York, then on to the destination website. That website only sees your New York IP address, and even if the New York server is compromised, anyone monitoring it will still only see the London server IP address rather than yours.
And there's more – ad and tracker blocking, support for the speedy WireGuard protocol, payment via Bitcoin, and the list goes on.
The company feels more transparent than most, too. If you're tired of secretive providers where you've no idea of who is behind them, take a look at this (opens in new tab), a page on the IVPN website with names, photos and quick bios of 11 current team members, including where they've worked before.
The full IVPN Pro plan (opens in new tab), with all the features we've described here, is available for $4 billed weekly, $10 for the monthly plan, dropping to $8.33 a month over one year and $6.11 if you sign up for three years.
A limited IVPN Basic plan (opens in new tab) is cheaper at $2 on the weekly plan, $6 billed monthly, dropping to $5 on the annual plan, but that only supports two simultaneous connections, and drops port forwarding and multi-hop.
Although these aren't bad prices for what you're getting, there are much cheaper deals around. IVPN asks $100 for a one-year Pro plan; give Private Internet Access $80 and it'll cover you for three years.
Privacy and logging
IVPN's privacy policy is a clear and simple document of just the right length – enough words to include the detail you need, but not so lengthy or jargon-packed that the key points get lost.
The document gives you plenty of detail on the items it doesn't record, for instance: traffic, DNS requests, connection timestamps, session lengths, IP addresses and more.
The company is very specific about the information it does collect. Forget the usual vague statements about recording 'payment details', for instance; IVPN shows you the precise fields it stores, with examples to make it clear.
These aren't just reassuring words on a website, either, because in 2019 IVPN had its no-logging claims verified by an independent audit (opens in new tab).
The company has committed to annual audits and in subsequent years it has published reports on its apps, public and backend servers. In April 2022, IVPN announced the results of a new Cure53 audit (opens in new tab) of its apps.
The audit identified some vulnerabilities (the full report is linked from the blog post, if you'd like the details), but that's to be expected: Cure53 is one of the most thorough auditors around.
The issues were fixed and verified, though, ensuring the service is more secure than it was before.
And what this really shows is IVPN's commitment to transparency, the company's willingness to put itself through this level of scrutiny, and repeat the process every year. That shows real confidence in the service, and it's also a strong sign that this is a company that knows what it's doing.
Windows app
Every VPN claims to care about your privacy, but IVPN makes more effort to show this than most. You can sign up without even handing over your email address, then pay using Bitcoin or cash, ensuring the company has no idea who you are. It's a smart idea which tramples all over most providers in the privacy stakes, although one or two others take a similar approach (Mullvad, for instance).
IVPN's Windows app opens with a map view highlighting your current location and IP address. You can connect to your nearest server with a click, or choose another from the map (you're able to zoom in or out, and pan around), or select via a more conventional location list.
We're not fans of map interfaces for VPN apps – they're generally awkward to use – but IVPN's is compact and works better than most. And if you don't like it, no problem: you can close the map with a click, and never see it again.
One reason you might not need the map is due to the location picker being excellent. Servers have latency times to highlight the closest, and you can sort the list alphabetically by city or country, by latency or proximity, plus there's a random option if you really don't mind.
Connection times are speedy at around a second for WireGuard, 6-8 seconds for OpenVPN. This isn't a service that keeps you waiting.
A firewall (essentially a more capable kill switch) automatically blocks your internet if the VPN drops. This worked as advertised in our tests, preventing data leaks no matter how we closed the connection.
One small catch we noticed is the app doesn't display a notification when it connects, disconnects, or the connection drops. That could cause some confusion if the VPN connection fails, as your internet will be blocked without any notification telling you why. With connection times so fast, though, you should be back online within a few seconds, so it's unlikely to be a big deal.
Windows app settings
There's plenty of power in the app's Settings panel. You can choose OpenVPN or WireGuard protocols; block ads, trackers and malware; use custom DNS servers; and automatically connect when you access insecure or untrusted Wi-Fi. It's also possible to enable Obfsproxy to help you connect in VPN-unfriendly countries, and use split tunneling to specify apps which won't use the VPN.
All this functionality inevitably means there's a lot of technical detail, but IVPN makes it a little easier to follow than most. Settings are sensibly organized across a number of panels, for instance, so you're not suddenly faced with a wall of checkboxes. And some of the more complex options, such as the firewall, have lengthy text captions to explain exactly what they do.
Put it all together, and this is an impressive Windows app, which is easy to use yet also presents a number of advanced features in a clear and understandable way. Recommended.
Mac app
With some VPN providers, a Mac app review mostly involves talking about all the advanced Windows features it leaves out.
With IVPN, it's very different. Apart from one or two platform-related and visual differences (sharp corners on Windows, nicely rounded on Mac), the two apps are virtually identical. Same dynamic map, same location list, same WireGuard support, and both apps have the firewall, tracker-blocking, custom DNS, auto-connect when accessing insecure Wi-Fi, and more.
The one significant exception is split tunneling, which is available in beta on Windows, but not included with Mac. But that's a bonus extra more than a core feature, and overall, the Mac app is way more capable than most competitors.
It performs well, too. Connection times are very fast, especially with WireGuard. We had no issues reaching any servers, and privacy tests showed no signs of any DNS or other leaks.
Android and iOS apps
IVPN's mobile apps open with a location map where you can pan around, select a server and connect with a tap. If you like map interfaces, it might appeal, but if you don't, the apps also have a standard location list. This displays IVPN's servers, with latency figures to help judge their distance, and a Favorites system to speed up reconnections.
We didn't notice any significant difference in performance from the desktop apps. Connection times were fast, typically around a second with WireGuard, speeds were above average, and we didn't have any problems with stability or dropped connections.
The mobile app features are a little different to the desktop, but that's no great surprise.
The Android app drops IVPN's ad, tracker and malware blocking, for instance, but adds a new Mock Location feature which sets your GPS location to match your current VPN server.
The iOS version keeps tracker blocking, and adds some small but welcome device-related settings. By default, the app keeps the tunnel active even when your iPhone sleeps, for instance. This ensures it's ready for use the moment your device wakes, but also increases battery use. But if that's a problem, disabling the 'Keep alive on sleep' setting extends battery life, at the expense of a (probably very brief) delay when your device starts.
Overall, both the mobile and desktop apps performed very well for us. They're not perfect – we'd like more notifications, please, and we're still not sure about VPN map interfaces – but they're still likeable apps, with plenty to offer everyone from novice to expert users.
Netflix and streaming
IVPN sells itself very much on privacy and security, and the website barely mentions the possibility of getting access to blocked websites.
We logged in to the UK server and tried accessing BBC iPlayer, anyway, but got the standard 'this content is not available in your location' error. The failures kept on coming, as US Netflix, Disney Plus and Amazon Prime Video blocked us, too.
A support document (opens in new tab) explains that although some users might have unblocking success, IVPN makes 'no guarantee about the availability of these services when connected to our network.' The company really is focusing on privacy and security above all else, and there's no commitment here to unblock Netflix or anything else.
If unblocking is more a priority for you than it is for IVPN, there are plenty of alternatives. CyberGhost, ExpressVPN, Hotspot Shield, NordVPN, ProtonVPN, Surfshark and others all unblocked every one of our test services in recent reviews.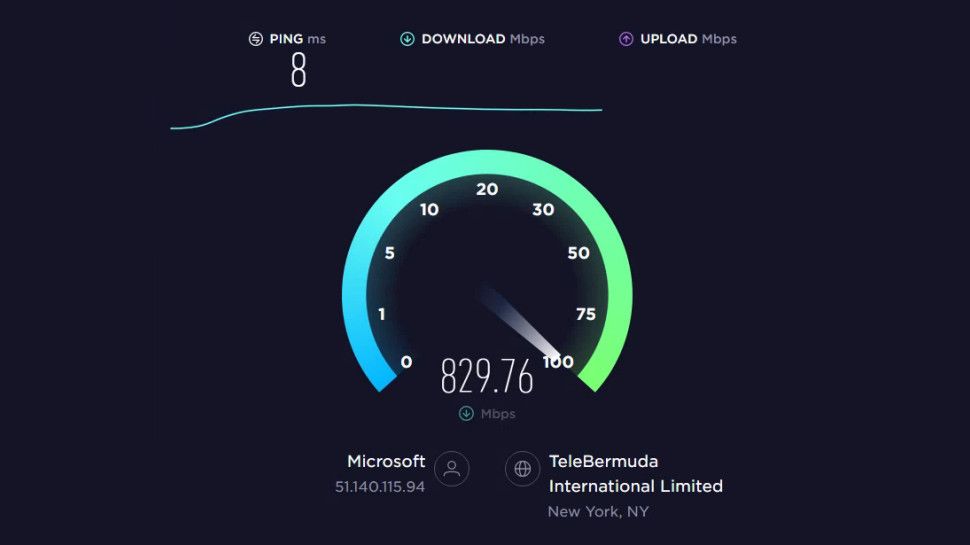 Performance
Our IVPN performance tests got off to a great start, with US WireGuard speeds averaging 730-810Mbps. That's right up there with big VPN names like NordVPN (730-760Mbps), Surfshark (720-790Mbps) and Mullvad (740-820Mbps), although it's still trailing behind speed leader TorGuard (950Mbps+).
OpenVPN speeds were relatively disappointing, at a below-par 140-180Mbps in the UK, 180-240Mbps in the US. That may not matter in normal use – you'll just set your apps to WireGuard – but it could be important if you're manually setting up IVPN on a router, or some other device. Most providers average 200Mbps or more with OpenVPN, and Hide.me reached 550-580Mbps, more than enough to power a router with multiple users.
IVPN review: Final verdict
IVPN's prices are higher than most, and its unblocking results were poor, but there's a lot to like here: plenty of apps, powerful features, highly configurable, great speeds. And best of all, this is an open, transparent and independently audited provider – one that's working hard to earn your trust.