Ivacy's top-notch unblocking skills and low pricing make the service ideal as a cheap Netflix VPN, but some significant issues (a kill switch that doesn't work with WireGuard – really?) make it more difficult to recommend for demanding users or anything more privacy-critical.
Pros
+

Unblocks Netflix and everything else we tried

+

Very cheap long-term plans

+

Supports up to 10 simultaneous connections

+

Lots of features
Cons
-

Windows kill switch problems

-

Below-average speeds

-

Assorted app usability and other issues

-

No security/privacy audit
Why you can trust TechRadar We spend hours testing every product or service we review, so you can be sure you're buying the best. Find out more about how we test.
Ivacy is a Singapore-based VPN provider with 15+ years of experience in the privacy business, a very long feature list, and some of the lowest prices around.
The provider's website, however, is bewilderingly confusing in terms of how it seems to have no real idea about its own network size. '3,500 servers, 100+ countries and 180+ locations', boasted the Server Status page. '5,700 servers and 100+ locations', claimed (guessed?) the official server list. We opened the Windows app, and counted 69 countries and 87 locations. That's still larger than most, but we'd be happier if the website had accurate and consistent information.
Ivacy scores better with its apps. A wide range covers you on Windows, Mac, Android, iOS and Linux, there are extensions for Chrome, Edge and Firefox browsers, and the support site has instructions for manually setting up the service on routers, Kodi, consoles and more.
Ivacy has torrent support in some locations (we tried using P2P on three sample servers and it worked just fine), there's malware blocking, no logging, the service supports up to 10 simultaneous connections, plus the apps include a kill switch to protect your privacy if the VPN connection drops.
Protocol support includes L2TP, OpenVPN, IKEv2 and WireGuard (the latter is finally available on iOS and Mac, as well as Windows and Android), plus split tunneling allows you to choose which traffic you route through the VPN tunnel, and the feature list goes on.
If the service isn't working as it should, 24/7 support via email, ticket and live chat is on hand to point you in the right direction.
Ivacy pricing
Ivacy's range starts with a free plan. It's basic, as you'd expect: you can't choose a location, and there are none of the advanced features, not even WireGuard. It was also relatively slow in our tests at around 35Mbps – but there are no bandwidth limits, and that alone makes it worth a look.
The paid products are very reasonably priced. Monthly billing is fair at $9.95, and this falls to $3.99 for the annual plan, with the five-year subscription hitting a rock-bottom $1.19 a month.
To put that in perspective, sign up for a one-year HMA plan and you'll pay $60 immediately, then another $60 a year and a day later – making $120. Spend $72 upfront at Ivacy and that's it for five years. Even if you only use Ivacy for 18 months, you'll more than get your money's worth.
Optional extras include dedicated IPs (US, UK, Australia, Canada, Germany, Hong Kong, Singapore) for a very reasonable $1.99 a month (NordVPN asks an extra $5.83, or $70 a year), and port forwarding support for $1 a month.
There's support for multiple payment methods, including card, PayPal, Alipay, Paymentwall, PerfectMoney, plus Bitcoin and other cryptocurrencies via BitPay or CoinGate.
As we write, Ivacy is also throwing in a StickyPassword license for the length of your subscription. We're not going to review StickyPassword here, but it provides all the core password management features you'd expect, and costs $40 per year if you buy it direct.
Ivacy doesn't advertise them much, but there are a couple of trial options (they're linked from this support page). You can get one day entirely for free, or buy a week's coverage for $0.99. Beware, though: the 7-day trial automatically renews as the annual plan, unless you cancel. Fortunately, even if you sign up and regret it, you're further protected by a 30-day money-back guarantee (or 7-days for monthly-billed accounts).
Privacy and logging
Ivacy has an excellent privacy policy which spells out everything it records, and everything it doesn't, in refreshingly clear detail. Here's a key paragraph:
'We strictly do not log or monitor, online browsing activities, connection logs, VPN IPs assigned, original IP addresses, browsing history, outgoing traffic, connection times, data you have accessed and/or DNS queries generated by your end. We have no information that could associate specific activities to specific users.'
If you've ever spent an age scrutinizing a VPN's small print and support site looking for a sign of a hint of a clue about its privacy policy, you'll appreciate how rare it is to get that much information crammed into a couple of sentences.
The policy goes on to detail the personal data Ivacy does collect (name, email address, payment methods), and other collection methods (app crash reports and diagnostics via Firebase and Crashlytics, Google Analytics on the website). This isn't ideal, especially as Ivacy's apps don't give you the ability to choose whether you'd like to send this crash information. This isn't unusual, though – IPVanish also uses crash reporting without asking you first – and at least Ivacy allows you to request the deletion of your personal data via the Members Area of its website.
There's no way to verify any of Ivacy's privacy promises, unfortunately. Other VPNs are increasingly putting themselves through public security and privacy audits – TunnelBear has annual audits of its apps, infrastructure, website and more – but Ivacy hasn't done this yet. Hopefully, that will change soon.
Windows app
Ivacy's Windows app has a very familiar interface. There's a large button which automatically connects you to the nearest server, and a list where you can choose an alternative – you get the idea.
The list can be displayed as countries or cities. That's also common, but most apps do this for a single country only ('here's the list of countries as usual, and here are the cities in the US'). Ivacy displays all the cities for every location, but sorted by country. You scroll through sequences such as Zurich, Taipei and Bangkok, for instance, because it's sorted alphabetically, ordered by country (Switzerland, Taiwan, Thailand). You'll still find whatever you're after, but it's trickier than it needs to be.
The locations have no ping times or server load figures, no filters or sort options to help you make the best choice. The app does have a Search box, though (typing 'Lon' cuts the list to Thessaloniki and London), and a Favorites system can group your most commonly-used choices.
A left-hand toolbar helps you select servers for particular tasks. Click Streaming, for instance, and you're able to choose platforms you'd like to unblock and view (Amazon Prime Video, BBC iPlayer, Hulu, Netflix and many more). That's genuinely helpful, and a big improvement on the 'connect to each US server in turn until you find one that works' strategy you'll find with many VPNs.
Other options are more questionable. An 'Unblocking' page gives you another list of locations, for instance, apparently to help you access geoblocked sites. Uh, isn't that what we'd expect from the regular and the streaming areas? Why do we need a third choice?
A 'Secure Download' feature apparently 'scans for any viruses or malware in the data being downloaded and removes it at server level.' The website page on this feature says it 'scans and removes such viruses and malicious files before they even make their way to your devices.'
That makes it sound as though the service is checking the contents of the files you're downloading, which doesn't sound like the best move on the privacy front. Fortunately, this looks like Ivacy is overselling its abilities a little, and our tests suggest Secure Download is using a simple DNS blacklist to block dangerous URLs.
Settings enable choosing your preferred start-up mode, for example opening with the Streaming page. There's an option to switch protocol (OpenVPN UDP or TCP, L2TP, IKEv2 and WireGuard), use split tunneling, a kill switch, and a multiport setting which enables scanning for open ports to help bypass VPN blocking.
It's a reasonable feature set, but the app's quirks and strange design decisions, and some worrying test results (more on that in a moment) make it difficult to recommend.
Mac app
Ivacy's Mac app looks much like the Windows edition. Although we're not entirely happy with the interface (as we made clear above) this scheme of things does have an advantage: once you're used to the app on one platform, you'll be able to use it on the other right away.
Settings are a different story, with the app missing several important Windows features. Protocols are limited to IPSEC and IKEv2, with no OpenVPN or WireGuard support. There's no split tunneling to help some apps bypass the VPN tunnel (if it happens to cause them problems). The app doesn't have Ivacy's Multiport feature, and there's no kill switch (the best the app can offer is a 'redial automatically if the connection drops' setting).
This all leaves the Mac app looking distinctly underpowered. Still, it's not difficult to use, and the free plan could make the app a smart choice for some.
Mobile apps
Desktop clients normally offer many more features than their mobile equivalents, but Ivacy's Android app is surprisingly capable, with the same connection modes (streaming, downloading, unblocking), a connection list displayed by country or city, a kill switch, split tunneling and multiport mode, along with a choice of WireGuard, OpenVPN and IKEv2 protocols. It's gained a Favorites system since our last review, too.
We'd like a little more. Server selection is a touch awkward, for instance, and you can't set the app to automatically connect when you access Wi-Fi. But these aren't critical issues, and overall, this is a decent app, easy to use and with a reasonable feature set.
Ivacy's iOS app is visually a close match for the Android edition, and has a similar set of core features. There's the secure download, streaming and unblocking connection modes, an always-on VPN setting (a system-level kill switch), and the app has gained WireGuard support and location Favorites since our last review.
It also inherits the Android app's issues, though (awkward server selection, no auto-connect), while leaving out split tunneling, the multiport mode and its other more low-level features.
These aren't bad apps. If all you want to do is hit Connect and use your nearest server, they'll probably do just fine. But they aren't nearly as polished, powerful or user-friendly as the best of the competition.
Windows testing
Ivacy's Windows app got off to a speedy start in our tests, connecting to most servers in around 2-4 seconds. Even OpenVPN connections only took around 6 seconds (some apps keep you waiting 20 seconds or more).
The app did a fair job of securely setting up the VPN tunnel. It configured IKEv2 connections with IPv6 disabled, encryption required (not maximum encryption, though) and didn't save our credentials locally. It set up OpenVPN with AES-256-CBC encryption, more than enough to keep you safe.
The Windows app doesn't have any DNS leak settings, but that didn't seem to matter. We checked it with several test sites, and none of them detected any DNS or other leaks.
The kill switch was less effective. It gave good results when we forcibly closed OpenVPN, IKEv2 and L2TP connections, blocking our internet access and automatically reconnecting to the VPN server. But when we ran our tests using WireGuard (the protocol you're most likely to be using), our internet wasn't blocked, and we were exposed until the app could re-establish the connection.
Ivacy's speedy connection times helped to reduce the impact of this, and our traffic was only ever unprotected for a few seconds. If VPN drops are rare, that means they're unlikely to cause you any serious harm. Still, this is bad news, and it's a vulnerability you won't see elsewhere.
However, bear in mind that this is a Windows app issue, and doesn't apply to other platforms. Android and iOS users can enable their device's 'always on' VPN feature, for instance, a built-in capability which prevents internet access unless you're connected to a VPN.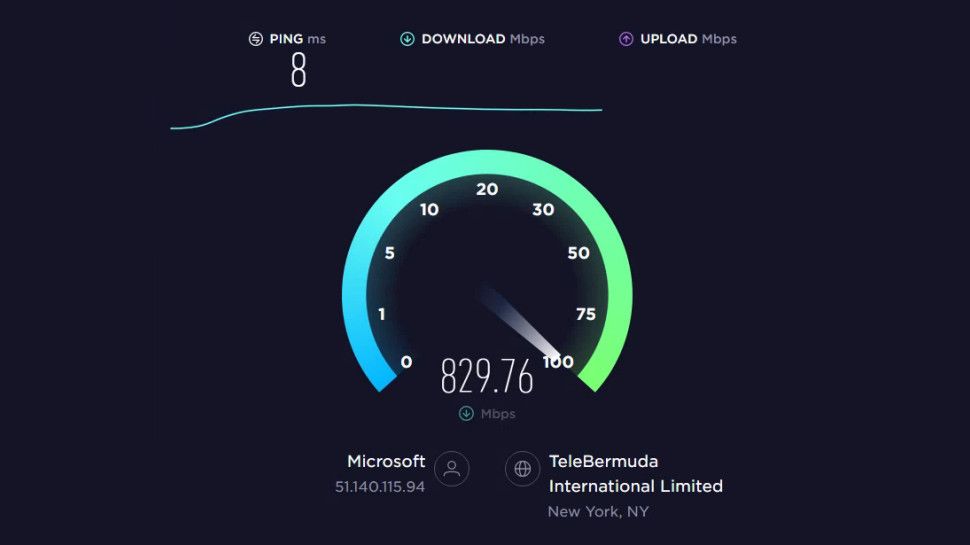 Performance
Our performance tests began by running checks with SpeedTest.net, TestMy.net, Netflix's Fast.com, and others, from a UK data center with a 1Gbps connection. We ran each test five times with a WireGuard connection, five times with OpenVPN, repeated the full set of tests for morning and evening sessions, then analyzed the data and calculated median speeds.
WireGuard speeds were reasonable at 530-630Mbps. That's a long way behind the fastest VPNs – Surfshark and TorGuard reached 950Mbps+ in their last tests – but realistically, it's enough for just about any online task.
OpenVPN performance was below-average at 110Mbps (most providers reach 300Mbps or better). That won't affect most users, as they'll just stick with the faster WireGuard. But if you need to set up Ivacy on an OpenVPN router, or WireGuard won't connect and you must use OpenVPN instead (unlikely, but possible), it could be an issue.
Finally, we switched from our ultra-high-speed testing environments to something a little closer to a regular home setup: a normal UK home with a Three 5G broadband router.
Normally, with the VPN turned off, our connection reached 230Mbps; when we connected to Ivacy, speeds stayed relatively high at 205Mbps. Ivacy may not have the fastest peak speed, but again, it looks like the provider is fast enough for most situations.
Netflix and streaming
The Ivacy website boasts that it allows you to 'stream anything, anytime, anywhere', which sounds good to us. And this isn't just vague marketing waffle – the apps include specialist streaming locations which aim to unblock Netflix and many other streaming platforms.
To try this, we launched the Windows app, chose the Streaming mode and the Netflix channel, and watched as the app connected. After that, the app asked if we wanted to watch US Netflix, and when we clicked 'Yes' it opened our default browser at the Netflix site. That's not just convenient, it also unblocked the site, and we were able to stream US-exclusive content.
Ivacy was just as successful with other Netflix libraries, getting us easy access in Australia, Canada, Japan and the UK.
The good news kept coming in our UK tests, as Ivacy unblocked BBC iPlayer, ITV and Channel 4. The company scored with Australia's 9Now and 10 play, and completed a perfect record as it got us into US Amazon Prime Video and Disney Plus.
Unblocking 12 locations out of 12 is a spectacular result, but Ivacy isn't the only provider to achieve this feat. ExpressVPN, Hide.me, NordVPN, PureVPN and Surfshark all scored 100% in their last unblocking tests, too.
Support
The Ivacy support site is always available if you run into problems, with an assortment of installation, troubleshooting and other guides. There's a little useful content here, but sadly most articles are short on detail, and some can be confusing.
For example, see a title like 'Protocol Explained: Point to Point Protocol (PPTP)' and you might expect a detailed technical guide. But this is the entire, unedited article: 'Point to Point Tunneling Protocol (PPTP) is the fastest protocol and does not affect your internet speed. But on the other hand, it lags behind on security a little when connecting with PPTP protocol.'
If you have even a little VPN experience, we'll bet you could write a far more accurate and detailed guide in two or three minutes.
'What is VPN protocol and how to change it' sounded more promising – but then we looked at it.
The article is dated 2019, doesn't mention WireGuard, and doesn't say what a protocol is. Instead, after listing four options (TCP, UDP, L2TP, IKEV), it says this about your choice: 'The protocols vary in terms of speed and level of encryption.' Uh, yes, so what about telling users how they vary? Wouldn't that be helpful?
Fortunately, the website also offers 24/7 live chat support. We had a useful response in around a minute when we posed a test question – much better than we've seen with most of the competition.
Ivacy's email support is a little slower, unsurprisingly, but still acceptable. We typically received helpful replies within around two to three hours, with the fastest response being around 30 minutes; also better than you'll see with many more expensive competitors.
Ivacy review: Final verdict
Ivacy offers excellent unblocking and a pile of features for a rock-bottom price, and if all you need is a cheap Netflix VPN, that's probably enough. But the poor Windows kill switch and assorted other app issues make it difficult to recommend for more privacy-critical tasks.