Why you can trust TechRadar We spend hours testing every product or service we review, so you can be sure you're buying the best. Find out more about how we test.
PlayStation VR isn't a wild reimagining of the VR headset, but it's one of the most attractive efforts that we've seen so far.
The head-mounted display (HMD) screams minimalism with a tag team of black and white matte plastic touches. Its final iteration is interspersed with seven front-facing blue lights that the PlayStation Camera picks up to track your location and head movement. For games that require you to turn around, Sony stuck two more blue lights on the back of the strip bringing the total number of trackable lights to nine.
All said, it's a pretty elegant and accurate head-tracking solution. PSVR looks good and, thankfully, also yields comfort, which is a crucial box that not enough VR headsets can tick. Sony went for a "halo" shape for PSVR with a single white matte strap that wraps around your head seamlessly, coming together in the back, and can be adjusted to your liking.
The inside of the strap has a thick cushion with a rubber finish that holds your head gently in place. Once the headset is on, you can adjust the visor forwards and backwards to help bring items on the screen in focus.
The PSVR's secret to comfort is that it hangs all of its weight at the top of your dome, putting less pressure on the bridge of the nose and the forehead. Where other headsets start to feel heavy after an hour or so of use, I felt that I could wear Sony's for hours on end without getting that all-too-familiar neck fatigue.
To seal out the light, Sony has installed a rubber flap that encircles the visor. While they're moderately effective at blocking out the incoming light on your left and right, the way the headset in constructed leaves a massive gap in between your nose and the headset, which allows light into the screen and can be pretty distracting when you're trying to lose yourself in the virtual world.
Although the headset technically fits over a pair of glasses, this tends to worsen the light-leakage problem. It's annoying, but not necessarily a deal breaker.
Inside the PlayStation VR headset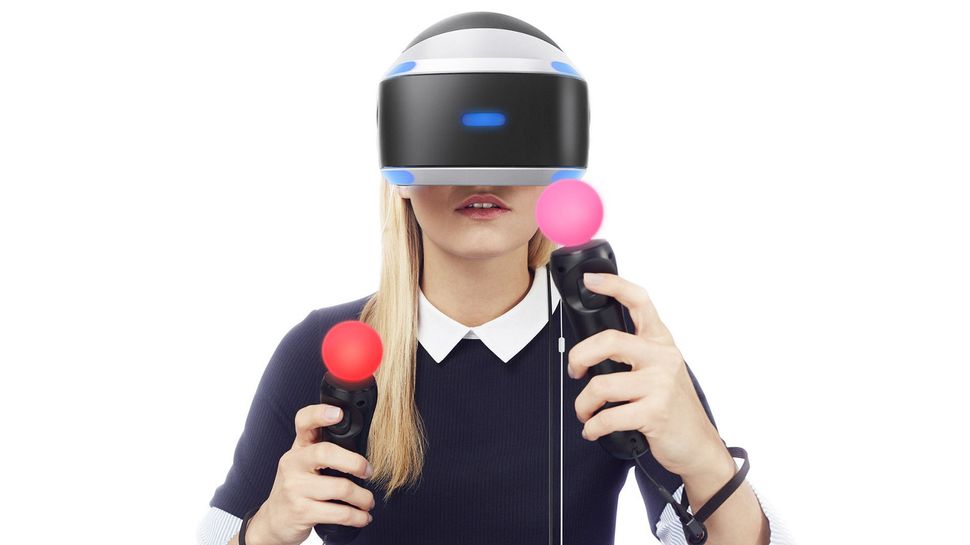 Inside the headset is a 5.7-inch OLED screen with a 1920 x RGB x 1080 resolution. The PlayStation VR offers a 100-degree field of view, a 120Hz refresh rate and latency less than 18ms, which means that it's less nausea-inducing than previous versions of the headset that had a higher latency and a slower refresh rate.
The PSVR's control scheme utilizes a combination of head movements made with the HMD, along with the PlayStation Move controllers and DualShock 4 controller that you may or may not be familiar with. The Move controllers had their first run when they were introduced alongside a few Wii-like titles on the PlayStation 3, and while they worked well there, it wasn't until PSVR that we saw a true purpose for them.
The wands felt a little half-baked on the PS3, or at least as if they existed solely to have a hand in motion-controlled gaming, but they feel right at home with PSVR. Other games with more complex control schemes – like a game called RIGS that we'll discuss in a minute – will use the DualShock 4 wireless controller that comes shipped with the PS4.
If it hasn't already been made explicitly clear up to now, I'll break the most disheartening news to you now: the PSVR is not a wireless headset. While the Samsung Gear VR and Google Cardboard can get everything they need from your mobile device, PlayStation VR will need to be tethered to your system at all times.
The cord, which runs from the headset to PlayStation VR's processing unit and then to the PS4 itself, has an in-line control unit close to the headset that allows you to turn the headset on and off or raise and lower the volume. This is also where you'll find a headphone jack that accepts anything from a pair of high-end Sennheisers to cheap earbuds.
Sony ships every headset with pair of tiny white earbuds, but these are just about the worst options for experiencing VR – they're hollow-sounding, uncomfortable and prone to falling out. For my week with the PlayStation VR I chose to use a pair of Creative Sound Blaster H5's due to their padding and excellent sound quality, but really any decent pair of wired over-ear headphones will do.
The final piece of the design puzzle is the Processor Unit briefly mentioned above. Sony has made it clear on numerous occasions (sometimes via email, cough) that this unit is not responsible in any way for additional graphics processing and it's worth echoing that point here.
Measuring in at 5.6 x 1.4 x 5.6 inches (W × H × L), the unit's sole responsibility is to assist the PS4 with 3D audio processing, HDMI cable management, Cinematic Mode, and the Social Screen TV output. We'll cover what those last two modes are in a minute, but I felt this was as good a time as any to point out the black box's existence in case you have any objections to another small box on your media shelf.
PSVR performance and content library
If I had to summarize the PlayStation VR's performance in a single word, I'd opt to use "surprising". VR competitors like Oculus and HTC have set the bar quite high for how a good VR experience should look and feel – which, considering these two options require a seriously powerful gaming rig that costs two or three times as much as PSVR, makes sense.
With HTC Vive and Oculus Rift, I knew what I was getting. I was running the headsets off my own top-of-the-line PC, that had the power to play most games on their maximum settings. With PlayStation VR, however, I was a little less sure everything would work out.
But, as it turns out, the PS4 is more than capable of displaying two surprisingly crisp images – they may not offer the most amazing, mind-blowing fidelity, but are more than adequate for the vast majority of games. (Of the titles I tried, all of them worked as advertised, but I noticed that many of them stuck with simple graphics rather than going for the real-life look.)
Similarly head-tracking was nearly as precise on PSVR as it was on either the Oculus Rift or HTC Vive, with the only minor caveat being that the system would lose the Touch controllers from time-to-time, merely due the fact that the tracking space is so much more confined.
Despite having a smaller field of view than the Oculus Rift by about 10 degrees (110 vs 100), the PlayStation VR – surprisingly – rarely made me feel nauseated, due in no small part to the 18ms latency that made experiences mostly smooth without discernible lag or judder. I remember a time where its field of view was a major sticking point for me, but now the worst is that the PSVR occasionally feels like viewing the world through a pair of goggles.
As for the games themselves, we've been impressed with what the PlayStation VR provides. Batman: Arkham VR, Battlezone, Star Wars: X-Wing VR and Job Simulator are excellent bite-sized experiences. Meanwhile Resident Evil VII is playable in its entirety in virtual reality, which is probably one of the longest virtual reality experiences to date.
Beat Saber has also become one of the strongest selling titles on the platform. The pace of releases is showing no sign of slowing any time soon, as the argument for buying PSVR gets stronger each year.
Experiences vary in levity from casual, playroom escapades to hyper-intense combat and even horror games. The system and its specs lend themselves to more light-hearted fare rather than the fast-paced, high-intensity ones, and while the latter are passable they're prone to making you feel more nauseated than impressed (RIGS, I'm looking in your direction).
Thankfully, VR isn't the solitary experience TVs and movies make it out to be. Friends and family can watch you as you game thanks to Social Screen TV – which displays a 2D version of what players are seeing in 3D on your TV – while some titles, like Battlezone, actually support online multiplayer.
Another neat feature is Cinematic Mode, which allows you to watch 2D content inside the VR helmet. Cinematic mode doesn't transform 2D content into 3D content, but it does allow you watch your favorite shows from Netflix and YouTube – or even play 2D PS4 titles – on a super-sized virtual screen.
Speaking of movies and TV shows, there are currently a number of short VR cinematic experiences on the PlayStation Store that are worth checking out. They're not Oculus Studios quality, but I did find myself laughing aloud when I watched Invasion!, and had a tear in my eye by the end of Allumette.
A recent update also allows the headset to view not only 360-degree videos on YouTube, but also to watch any 3D Blu-ray discs you have lying around - so you shouldn't be lacking for video content.
However these experiences, both games and movies, are never what I'd consider realistic – trust me, you'll never forget you're in virtual reality if that's your concern. Some character models have jagged edges to them and even the best animators can only do so much with the technology.
At this stage at least it's easy to tell the virtual world from the real one and, for some people, that might make PlayStation VR come off as more of a novelty like Nintendo Wii, rather than the ground-breaking innovation that I see it as.
Nick Pino is Managing Editor, TV and AV for TechRadar's sister site, Tom's Guide. Previously, he was the Senior Editor of Home Entertainment at TechRadar, covering TVs, headphones, speakers, video games, VR and streaming devices. He's also written for GamesRadar+, Official Xbox Magazine, PC Gamer and other outlets over the last decade, and he has a degree in computer science he's not using if anyone wants it.