30-second review
Specs
The Blackview BV9300 that was sent to us for review came with the following hardware:
CPU: MediaTek Helio G99 / Octa Core / 2.0-2.2 GHz / 6nm / 4G
GPU: ARM Mali-G57 MC2
RAM: 12GB LPDDR4X
Storage: 256GB UFS 2.2
Screen: 6.7-inch IPS LCD
Resolution: 1080 x 2388
SIM: Dual Nano SIM + MicroSD
Weight: 520g
Dimensions: 184.6 x 85.6 x 22.8 mm
Rugged Spec: IP68, IP69K and MIL-STD-810H
Rear cameras: 50MP+8MP+2MP
Front camera: Sony 32MP Front Camera
Networking: WiFi 5, Bluetooth 5.3
OS: Android 12 (DoKe OS 3.1)
Battery: 15080mAh
Our experience with the BV9300 was heavily coloured by being sent a model built for the Russian market. It refused to connect to the Google servers, making it essentially useless for anything that uses Google apps or services.
This phone comes in two flavours, one with an ample LED light on the rear, the "Lighting" model, and the one we got, the 'Measuring' version.
If you haven't guessed, the critical feature of this model is a laser beam (or is it infra-red?) that allows the phone to measure distances with a reasonable level of accuracy.
In other respects, this is a typical Blackview rugged phone with many similar features to the previous BV9200 series. It shares the same rear camera cluster built around the Samsung ISOCELL JN1 50MP main sensor.
What is an upgrade is the Helio G99 SoC, an improvement over the G96 the BV9200 got, and that comes with 12GB of RAM that can be extended by another 9GB using the memory expansion technology in this chip.
The 256GB of main storage can be extended with a MicroSD card, although using one limits the phone to a single Nano SIM, whereas it can have two Nano SIMs normally.
That's a good amount of storage, should you have a phone that can install apps, and the amount of battery capacity in this design is also substantial.
The downsides of the BV9300 are that it is heavy at 520g, it doesn't support 5G networks, and despite having a good quality display, it doesn't support L1 Widevine video decryption, so most streaming services will default to 480p resolution.
The launch price deal on this phone is incredible, but it won't last long.
Blackview BV9300 price and availability
How much does it cost? $399
When is it out? It is available now
Where can you get it? You can get it in most regions direct from AliExpress.
The official launch day for this phone is May 10th 2023. But curiously, you can buy it already for $399. However, for four days between May 10th and May 14th the price will drop to an incredible $219.99. After this time, the price will go back to $399, sadly.
(USA sale price is $191.99 = $219.99 - Spend&Save $8 - $20(Code: MOM20, it is only available on the Aliexpress APP)
Considering the technology in this phone, the offer price is a bargain.
The phone comes in black, black with an orange accent or black with a green stripe. And it also has the option for either the lighting LED or the measuring laser, but not both.
Blackview BV9300 design
Built to last
By-the-numbers button placement
No audio jack
Blackview phones are don't tend towards much innovation, and the BV9300 typical of their rugged phone ethos. Part of that is to make the phone seem remarkably robust, using solid metal sides and rubberised corners.
The styling is neo-brutalist and doesn't try to be anything more than a big, heavy, chunky phone.
Buttons are positioned where most rugged phone makers now have them with a combined power and thumb reader on the right with a volume rocker. The user-definable button and SIM tray are on the left where they usually are.
As with most phones made in China these days, the phone supports dual Nano SIMs on the tray, or you can use a single SIM and mount a MicroSD card.
The bottom face of the phone has a rubber plug that covers the USB-C port for charging and data transfers, and unfortunately, the BV9300 doesn't include wirelessly charging to avoid the need to keep removing that plug.
On the top face is a glass window behind which are an infrared emitter and a laser rangefinder, for those that buy the Measuring version. This is also where a powerful LED is mounted on the Lighting model.
There is no audio jack, and Blackview doesn't provide a USB-C adapter, so those wanting to use headphones will need either Bluetooth-connected ones or purchase a USB-C to 3.5mm audio jack adapter.
It's difficult to assess the design work in this phone. It's so much about functionality rather than how it looks, but overall we've seen much less elegant designs with the same objectives.
Design score: 4/5
Blackview BV9300 features
Powerful platform
Laser rangefinder
Over the last year, we've seen Chinese phone makers climb the ladder of SoC performance to a point where almost all the designs they currently make are powerful.
The SoC maker of choice is MediaTek, and they make two very popular SoC Series, with the Helios range being for budget designs and the Dimensity being for premium platforms.
The Helio G99 in the BV9300 is at the very top rung of that series, and it's been seen in the Ulefone Armor 17 Pro, Unihertz Tank and a few other designs.
The chip is a notch better than the G96 used in the Blackview BV9200, and this chip comes with the ability to address 12GB of RAM, supports 120Hz displays, WiFi 5 and Cat-13 4G LTE.
A 64-bit SoC, it sports two high-performance Arm Cortex-A76 processors clocking up to 2.2GHz and a highly capable Arm Mali G57-class GPU. The memory it uses is LPDDR4X up to 2,133MHz, and the 256GB of storage is UFS 2.2-class.
The only negative aspect of this platform is that the best mobile comms it can support is 4G LTE, whereas the Dimensity series chips are now coming with 5G.
We'd classify this phone as being more powerful than it probably needs to be for general operations and suitable for light gaming.
The other oddity of this design is the integration of a Laser rangefinder allowing this phone to make distance measurements.
Hilariously the Blackview marketing materials mention 1mm accuracy, but once you open the measuring application, there is a whole page of disclaimers and warnings about laser light.
But the critical phrase is "This function only provides data estimates of distance, area and volume, but not precise measurements". Part of the issue here is that the phone can measure either from the sensor end or the opposite end, but neither of these baselines is completely flat.
In our testing using table depth as a source compared to a measuring tape, over about a metre, the distance was wrong by about 5mm. Therefore, the measuring capabilities of this phone are to provide generally in the ballpark, but nothing that you might want to order expensive carpet based on.
That makes the measuring function an interesting side-note, but hardly a sale-clinching feature.
Blackview BV9300 cameras
50MP sensor on the rear
32MP sensor on the front
Four cameras in total
The Blackview BV9300 has four cameras:
Rear cameras: 50MP f/1.8 Samsung ISOCELL JN1 (Main), 8MP (8MP ultra-macro), 0.3 MP (depth sensor)
Front camera: 32MP Samsung ISOCELL GD2
Initially, we assumed that the rear camera cluster in this phone was directly lifted from the BV9200 since they both use the Samsung ISOCELL JN1 as their main sensor.
However, the BV9200 only had a 0.3MP depth sensor, and the one here is 2MP, and the 16MP front-facing camera has been upgraded to the 32-megapixel Samsung ISOCELL GD2.
While other brands and phones have used 108MP sensors, the ISOCELL JN1 used here uses a pixel-binning approach that delivers crisp and colour-accurate results with 13MP captures.
That's more than enough resolution for printing the captures and when compared with 108MP images, the file sizes are dramatically smaller.
One slight oddity to the camera system is that the maximum resolution of the main sensor is 13MP or 4080 x 3073 in a 4:3 ratio, but the front-facing camera at the same ratio offers 32MP capture of 6528 x 4896. Due to the way that the 13MP images are captured using the 50MP sensor, they are better quality than those from the front-facing camera. But if you want the highest possible resolution then, ironically, don't use the main sensor.
As we mentioned in the BV9200 review, the performance of this sensor is exceptionally good for both indoor and exterior photography. While more modes for video might have been preferable, for shooting some holiday snaps or worksite details the cameras are more than up to the task.
Camera samples
Blackview BV9300 performance
Performance powerhouse
GPU isn't the very quickest
Benchmarks
This is how the Blackview BV9300 performed in our suite of benchmark tests:
Geekbench: 544 (single-core); 1810 (multi-core); 1476 (OpenCL)
PCMark (Work 3.0): 10301
Passmark: 9286
Passmark CPU: 4658
3DMark Slingshot: 3464 (OGL)
3DMark Slingshot Extreme: 2585 (OGL); 2470 (Vulkan)
3DMark Wild Life: 1232
We've seen variations of these scores before on the Ulefone Armor 17 Pro and UniHertz Tank, which produced very similar numbers.
In raw performance terms, this platform is below the MediaTek Dimensity 900 SoC by around 10-20%, but the user experience is comparable.
Where it is less impressive is in the 3DMark tests, where the ARM Mali-G57 MC2 delivers scores that are around 65% of those seen with the Mali-G68 MC4 used in the Dimensity 900.
Compared to the Qualcomm SoC family, the nearest offering would be the Snapdragon 750G, although due to the 6nm fabrication on the G99, it is more power efficient.
In short, unless you have some exceptionally high-performance requirements or are a hardcore mobile gamer, the G99 platform on the BV9300 should provide an excellent experience.
Blackview BV9300 battery
33W Fast charging
5W reverse charging
No wireless charging
Looking at the specifications on AliExpress, the BV9300 has a non-removable Li-Po 15080mAh battery, a capacity that pitches it between the 10080mAh of the Doogee V30 and 22000mAh of the Unihertz Tank.
One test application reported that the battery size was 13000mAh, but others reported the full 15080mAh. We can't assess if the information on AliExpress is wrong or the amount of battery, but we're inclined to think it is accurate.
If correct, the marketing assertion that the battery in this phone can last 75 days on standby might also be true, as are the claims that it takes only 3 hours to charge fully and can get to 50% in just 71 minutes.
That's using the 33W fast charge mode, but this phone could have had 66W fast charging and 33W wireless charging, and it has neither of these features.
It has an OTG USB-C port making it possible to use the BV9300 to charge other devices. But with only a 5W transfer, it might take some time to charge another phone. And, all charging processes do lose power in the transfer, in case you wondered.
The downside to such a large battery is its impact on the phone's weight, and at 520g, this is one of the heavier rugged phone designs we've tested. It might not be as bad as the 560g Unihertz Tank, but it's not far from the Doogee V Max at 543g. And that phone has a 22000mAh battery.
These devices are often heralded as being perfect for long hikes in the wilderness. But this is so heavy, a better plan might be better to bring something lighter and turn it on and off as required.
There are positive things about this phone, not least the incredible launch offers by Blackview.
It's powerful, has an effective camera and a large battery. But the flip side of those findings is that it is heavy and doesn't charge as fast as it might.
The laser rangefinder is mostly a gimmick, but if you roughly want to know the sizes of rooms, then it might be useful.
If you have a person in your household that repeatedly destroys phones and who doesn't, then the BV9300 might be a perfect gift for them and their uniquely destructive skills.
Blackview BV9300 score card
Swipe to scroll horizontally
| Attributes | Notes | Rating |
| --- | --- | --- |
| Value | A substantial phone for the asking price. | 4/5 |
| Design | A by-the-numbers rugged design with a laser rangefinder bolted in. | 4/5 |
| Features | No 5G technology, only WiFi 5 and no audio jack. | 4/5 |
| Performance | Great performance from the G99, for the money. | 4/5 |
| Camera | Good quality still images and 2K video | 4/5 |
| Battery | Battery is large but the BV9300 needed 66W charging and wireless power options. | 3/5 |
| Overall | A fantastic launch deal but with so much competition, it might struggle at full price. | 4/5 |
Should I buy a Blackview BV9300?
Buy it if...
You often drop phones
A resilient phone that can handle the environment well, but please don't drop it into water deeper than 1.5m, as it won't float.
Price is important
We'd all buy premium phones if the price wasn't a factor. The BV9300 is an affordable phone with decent specifications for those that like to get good value.
Battery life is important
If you will be hiking for weeks without power, then this might be a suitable phone. The battery life is better than a basic rugged design, but it isn't the largest available.
Don't buy it if...
5G is important
This design doesn't support 5G of any variety, although it does support LTE for those with that service available.
You like rugged phones that aren't heavy
The weight of the BV9300 could be a deal-breaker for some. Carrying this on an extended hike or even dropping it on your foot could be a painful experience.
You intend to watch streamed content
The lack of Widevine L1 reduces most streamed content to 480p, so even if it has a good quality and high-resolution screen, using it for Netflix or Disney+ won't yield high-resolution results.
Also consider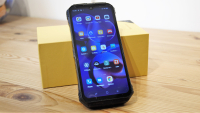 Doogee V Max
A few grams lighter, the V Max has a better SoC and the same 22000 mAh battery capacity. But it doesn't offer the Camping Lamp. The V Max is a much more expensive option, but the specification is better, and it includes 5G comms.
Read our Doogee V Max review for more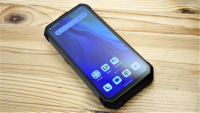 Unihertz Tank
For those not phased by heavy phones, the 22000mAh battery and 108MP camera sensors might be the lures that pull you to the Unihertz Tank. It also offers fast 66W charging.
Read our Unihertz Tank review for more information.