With smartphone cameras getting better and better, too many of us know the struggle of having a device that's filled to the max with vacation photos and family memories.
If you're one of the many people running out of room on your phone, you may want to consider moving your photos to the cloud. Not only will it free up space on your device, it means you can easily access photos from your phone or tablet on your computer and vice versa.
Amazon photo storage is one of the best photo cloud storage options out there. In this article, we'll take a look at the cost, features, support, and security of Amazon Photos to determine if it's the right photo storage option for you.
Plans and pricing
Amazon offers up to 5GB of free cloud storage for photos for all members, but if you're a Prime member the deal is even sweeter: Amazon offers unlimited full-quality photo storage to Prime members.
Of course, Amazon Prime isn't free. Amazon Prime costs $14.99 a month, or $139 a year. That might be steep for just storing photos, but that comes with the other benefits of Prime, like free two-day shipping and access to Amazon Prime Video.
If you're not interested in Amazon Prime, you can still use Amazon Photos, paying just for the storage you want. $1.99 a month or $19.99 a year will get you 100GB of storage, whereas $6.99 a month or $59.99 a year will get you 1TB of storage; 2TB will cost you $11.99 per month and $119.98 per year.
After that, Amazon Photos becomes more expensive than Amazon Prime membership which means that if you only plan on storing photos, it's worth getting the Prime membership for the added benefits. However, the unlimited full-quality storage for Prime members only applies to photos: if you want to store videos, you'll need to purchase extra storage, which can go up to 30TB for $1799.70 per year.
Features
Automatically sync photos
Amazon Photos offers an app for both iOS and Android that enables you to sync photos automatically from your device to the cloud, meaning all your pictures will be instantly backed up. On the desktop app, you can schedule automatic backups at times that work for you.
A huge benefit of the cloud is it makes it easy to share photos. With Amazon Photos, you can share an album with another user, send albums via text or email, and send and react to photos with a built-in messenger feature on the app.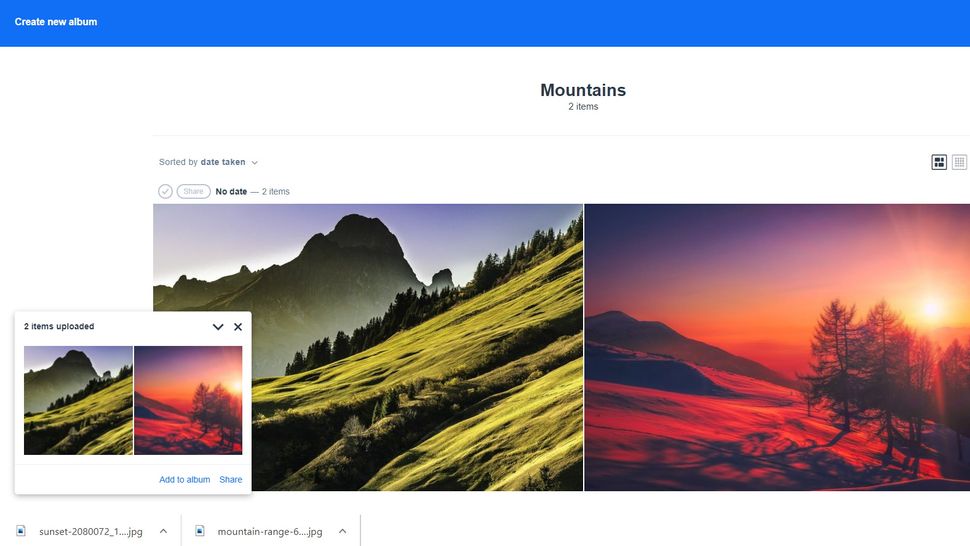 You won't have to scroll back for five minutes to find the photo you're looking for—Amazon Photos uses photo recognition to make it easy to search photos, meaning, for example, that you can pull up all your train photos simply by searching "train." You can also sort photos by location, by date, or by whether they include a specific person or pet.
With Amazon Photos, you can order prints, postcards, calendars, and more featuring your favorite photos—directly from the app or web browser.
Interface and in use
The Amazon Photos app is easy to set up and sync, although fair warning: if you have a lot of photos on your phone, it will take a while to upload them all. The most cumbersome part of the process is that the app has to be open the whole time, meaning you can't use your phone for the hours of your initial photo sync.
Fortunately, the app has a built-in feature that dims the phone screen so you can keep the app open and syncing overnight.
Amazon Photos is light on extraneous features, making both the app and the web browser intuitive and easy to navigate.
Support
If you're having problems with Amazon Photos, you can get support in the web browser via an FAQ page or a discussion forum where you can pose questions to the community. The web browser also gives you the option to chat with a robot or a customer service representative, or to schedule a phone call with Amazon customer support.
The app also has a built-in help feature that searches the FAQ database and gives you the option to call or email Amazon support if your question wasn't answered.
Security
Amazon's privacy notice states that it uses encryption protocols, as well as "physical, electronic, and procedural safeguards" to protect your data. While that's certainly all good, the privacy notice is disappointingly vague as to what those safeguards actually are, making it hard to judge their efficacy.
The competition
Google Photos offers more free storage to users than Amazon—15GB vs. Amazon's 5GB for non-Prime members—so if you're looking for the best free cloud storage experience, Google Photos is worth checking out. On the paid side, Google Photos is comparably priced and offers a similar app experience to Amazon Photos.
Apple or iOS users may want to consider Apple iCloud as an alternative to Amazon Photos. The native integration of iCloud makes it even more convenient to use than Amazon Photos at a comparable price.
Final verdict
Users who are already paying for Amazon Prime for the free shipping or video streaming benefits might as well check out Amazon Photos. Although the vague security listed in the privacy policy is somewhat troubling, unlimited storage of your full-resolution photos essentially for free is a great benefit.
However, in our opinion, it's not worth it to sign up for Amazon Prime just for Amazon Photos, or to sign up for Amazon Photos on its own without Amazon Prime.
While Amazon Photos offers all the basics you want from a cloud storage service, if you're not already an Amazon Prime member, there's nothing special enough about it to justify choosing it over iCloud, Google Photos, or Dropbox.