21 Samsung 990 Pro SSDs were used to create the world's fastest storage device, and it topped 28.7GB/s
Record speeds hit with the help of the Apex Storage X21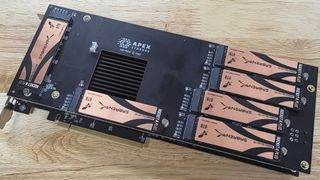 (Image credit: Sabrent)
The Apex Storage X21 – a 21 SSD-capacity add-in-card (AIC) that storage specialist Apex revealed back in March 2023 – has acheived blistering speeds of 28.7GB/s in testing.
Geared towards professionals and prosumers, this staggering piece of hardware is powered with a HighPoint SSD7540 PCIe Gen4 x16 RAID card – and has enough space to fit nearly two dozen 16TB SSDs. This amounts to a 336TB capacity in total.
Better yet, its performance has come within touching distance of Apex's staggering claims of 30.5GB/s sequential read and 28.5GB/s sequential write speeds in a real-world setting.
"Beast" mode
Storage Review fitted 21 Samsung 990 Pro SSDs into the Apex Storage X21 to hit 27.4GB/s 8K random reads with 3.454M IOPS throughput and 28.7GB/s 8K random writes 3.499M IOPS throughput. All SSDs were formatted and then completely filled when tested.
These results were one of many recorded when the Apex Storage X21 was fitted with a combination of various SSDs on the market right now – including Samsung 980 Pros and Solidigm P41 Plus units. However, the X21 is compatible with a variety of the best SSDs.
The publication described this piece of hardware as a "beast", boasting incredible bandwidth figures and offering massive throughput for end users.
It's certainly the fastest AIC in the world at the moment, nipping ahead of the OWC Accelsior 8M2, which held the record in 2021 with speeds of up to 26GB/s, according to WCCF Tech.
We estimated when it was first announced that a maxed-out Apex Storage X21, fitted with 21 16TB SSDs, would cost roughly $45,000 – double that if you're seeking to pair two together in a RAID-0 setup. The unit itself will cost an estimated $3,000 on its own.
But having so much storage capacity is almost certainly overkill unless you absolutely need, say, that much space to manage and transfer a monumental amount of video files – and taking advantage of a massive level of throughput is a priority.
With up to 21 SSDs in a single AIC, too, you heighten the chances of something possibly going wrong, with 21 possible points of failure.
More from TechRadar Pro
Are you a pro? Subscribe to our newsletter
Sign up to the TechRadar Pro newsletter to get all the top news, opinion, features and guidance your business needs to succeed!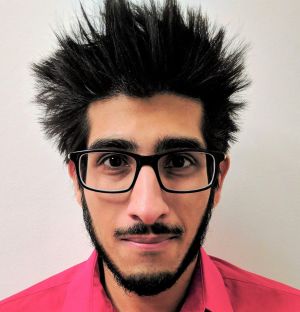 Keumars Afifi-Sabet is the Features Editor for ITPro, CloudPro and ChannelPro. He oversees the commissioning and publication of in-depth and long-form features, including case studies and op-eds, across a breadth of topics in the B2B technology space. He also contributes to a vareity of other publications including The Week Digital and TechRadar Pro. Keumars joined ITPro as a staff writer in 2018, and has expertise in a variety of areas including AI, cyber security, cloud computing and digital transformation, as well as public policy and legislation.