Some exciting features here that don't logically fit together. The AGM G2 Guardian is an expensive phone that appears perfect for a niche group of campers or mechanics that like to listen to music while they work.
Pros
+

Qualcomm QCM6490 SoC

+

Thermal and night vision cameras

+

5G comms
Cons
-

Expensive

-

109dB Loud Speaker

-

Thermal camera quality
Why you can trust TechRadar We spend hours testing every product or service we review, so you can be sure you're buying the best. Find out more about how we test.
30-second review
Many rugged phones are bought by those wanting to explore remote locations and camp away from civilisation. And the AGM G2 Guardian is one of those designs focused on that interest group, providing unique features that elevate it above the typical rubberised phone offerings.
Built around the impressive Qualcomm QCM6490 SoC, this platform is distinctly more powerful than MediaTek Dimensity 900 or Helio G99-powered devices and includes 5G communications as standard.
The other special features of this Waterproof, shock and dustproof design are a 108MP main camera, a 20MP night vision sensor and long-range autofocus thermal monocular.
That should enable owners to detect wildlife in complete darkness at range. And should they not wish to meet that creature face-to-face, the G2 Guardian also has a 109dB loudspeaker to generate enough noise to scare them off.
The onboard battery capacity is 7000 mAh, and this can be charged either using the provided charger or a wireless charging pad.
Overall, this is a high-specification phone with some excellent features, but at $999, many customers looking for a vacation-friendly device are likely to find it too expensive.
AGM G2 Guardian price and availability
How much does it cost? $999/£1,199.98/€1,049.00
When is it out? It is available now
Where can you get it? You can get it in most regions direct from AGM or from an online reseller such as Amazon.
Be careful buying this phone to get the exact model you expect, as AGM makes a G2, G2 Pro and G2 Guardian, all with slightly different specifications. And, in some promotional material, AGM also uses G2 Glory, although which one this might be isn't obvious.
What's important to realise is that the AGM G2 is effectively the same phone with less memory without the thermal sensor, and that costs $699. The G2 Pro does have the thermal sensor, but only 8GB of RAM, and that's $799.
The G2 Guardian comes in one colour, black, but two memory options for either 8GB or 12GB of RAM, with the bigger model costing $999 and the one with 4GB less RAM at $899.
That price difference seems excessive for a relatively small amount of memory, as both have 256GB of storage.
All these phones come in a version that works with T-Mobile in the USA or a Global model that works in regions with more customer-friendly mobile contract options.
At $999 for the G2 Guardian, this is one of the more expensive rugged phones available, and from other brands like Blackview or Doogee, it is possible to get rugged designs with thermal imaging for much, much less.
Having used this phone, the features it offers are nice, although it probably doesn't justify its price for what is a relatively low-resolution thermal solution.
AGM G2 Guardian design
Design dominated by speaker
Cradle charging
Rubber plugs
Specs
The AGM G2 Guardian that was sent to us for review came with the following hardware:
CPU: Qualcomm QCM6490
GPU: Adreno 643
RAM: 12 GB (20 GB with Memory Fusion)
Storage: 256GB (expandable to 2TB with MicroSD)
Screen: 6.58" FHD+ 120 Hz IPS
Resolution: 2408 x 1080
SIM: Dual Nano SIM (or SIM and MicroSDXC)
Weight: 405g
Dimensions: 177.5mm x 85.3mm x 25.3mm
Rugged Spec: IP68, IP69K and MIL-STD-810H
Rear cameras: 108MP main, 20MP night vision, 2MP Macro, 256*192 Thermal Camera (10mm lens)
Front camera: 32MP
Networking: WiFi 6E, Bluetooth 5.2
OS: Android 12
Battery: 7000mAh (Fast charge 18W, wireless charge 10W)
The part of this phone that is difficult to understand is the 109dB speaker. Unless you are one of those individuals who thinks everyone should enjoy my musical taste, we might assume. Its central placement on the back dominates almost every aspect of this design, as it forces each camera sensor away from the middle in what isn't an immediately predictable offset horizontally and vertically.
It also makes laying this phone on a wireless charging pad a challenge, as the speaker/phone sensor assembly sticks out at least 7m from the back of the phone.
The rest of this design is mostly a by-the-numbers layout with a thumbprint sensor and power button on the right, along with the volume rocker and a custom button on the right with the SIM tray.
The tray can take two Nano SIMs or one SIM and a MicroSD card, depending on which is more important to you.
Both the USB-C port and the SIM tray are covered with rubber plugs, and the one over the tray is acceptable since it won't be opened often. At this cost, you might have expected a USB-C port that didn't need a rubber plug to make the phone waterproof.
That plug also covers a 3.5mm headphone jack for those that don't care for Bluetooth headphones.
In some ways, the designers of this phone have acknowledged that rubber plugs you need to remove and replace daily are a terrible idea, as they gave the G2 Guardian both pogo pins for cradle charging and a wireless charge capability.
Wireless charging is rated at 10W, only a few watts less than the 18W 'fast charge' of connecting a cable. AGM didn't specify the wattage of cradle charging, but it is likely to be less than the full fast charge performance we suspect.
The only other external curiosity is a small LED flashlight on the very top edge. It isn't especially bright, and given the night vision and thermal capabilities of this design, it seems largely redundant in this model.
Overall, the g2 Guardian is a nice-to-handle design that doesn't feel excessively heavy or poorly balanced, though it isn't elegant from whatever angle you look at it.
Design score: 4/5
AGM G2 Guardian hardware
Powerful platform
Lacks RAM expansion tech
The Qualcomm QCM6490 doesn't sound like something recognisable, like a Snapdragon design, but it came from the same stable and was built using the same Kyro processor technology.
According to Qualcomm, "The Qualcomm® QCM6490 is optimized for IoT solutions built to deliver premium-tier features across multiple operating systems including global multi-gigabit 5G mmW/Sub-6 GHz and Wi-Fi 6E connectivity for high-tier IoT devices. "
To paraphrase, it's a top-of-the-range design with the best comms and Wi-Fi technology baked in, and it uses a Qualcomm Kryo 670 CPU and a Hexagon processor featuring a fused AI-accelerator architecture to run Android 12 on this phone.
This is an octo-core design with a single Kryo Gold plus high-performance core clocked for up to 2.7 GHz. That's ably supported by three Kryo Gold cores at 2.4 GHz, and power efficiency comes from four Kryo Silver low-power cores at 1.9 GHz.
The SoC combines these processing cores with a GPU, VPU, DPU, ISP, security, modem and the Hexagon DSP to deliver a comprehensive package.
Unlike Dimensity SoCs, this phone can't patch a portion of the storage into the phone to extend useable memory. It comes with 12GB or 8GB LPDDR4X, and that's as much as you get. This chipset can address DDR5 memory, but that wasn't included in this design.
However, unless you like to completely overload your phone with applications, 8GB of DDR4 is probably enough for most users, and choosing that model could save you $100 on the phone, providing extra money for other accessories.
Dual SIM support is almost mandatory on rugged phones, but like a few designs we've seen recently, you are forced to choose between a second SIM and a MicroSD card. Yet another phone that needed eSIM support but didn't get it.
Most phones also support the latest standard for MicroSDXC, which for marketing reasons appears to be being rebranded back to its original name of 'TF' or TransFlash, and they can cope with up to 2TB cards, with at least 1.5TB being available to the user. On this phone, the biggest supported card is only 512GB, unfortunately.
The G2 Guardian is a powerful phone with an SoC that is better than most MediaTek chips. However, it's not on par with the new Qualcomm Snapdragon 8 Gen 1, an SoC that many brands are using that silicon in premium designs.
AGM G2 Guardian cameras
108MP sensor on the rear
Macro, night vision and thermal
Five cameras in total
The AGM G2 Guardian has five cameras:
Rear cameras: 108MP Samsung S5KHM2, Gcoreinc GC02M2 2MP Macro camera, Sony IMX350 20MP Night camera, 256*192 Thermal Camera (10mm lens)
Front camera: 32MP SONY IMX616 Sensor (Wide)
The camera selection in this phone is both a curse and a blessing, depending on what type of pictures you are trying to capture.
What's best about this arrangement is the Samsung S5KHM2, a massive 108MP sensor that on this phone can be used to capture full 108MP (12000 x 8992) images. However, we'd advise against that, as the 12MP (4000 x 3000) pixel-binned captures are superior both in noise reduction, lack of distortion and clarity.
But what is entirely unacceptable is that the maximum video resolution on offer is only 1080p, where the main sensor is capable of 4K or even greater video resolutions.
Instead, the owner is offered 1080p or 720p, but no other resolutions and no frame rate control. Given the cost of this phone, the lack of video options is sloppy, and the provided camera app does little to use the hardware's full capabilities.
It is capable of infrared video and macro video, but there is no 'Pro' still image mode, shockingly. It looks like AGM took a stock camera app, merged it with the Android 12 distribution and considered its job was done.
That leaves the thermal imaging capability that's not integrated with the main camera app as the stand-out feature of the G2 Guardian. This differs from other thermal cameras we've seen on phones before, as it's designed for seeing objects or people at range and not close up.
The quoted range of 500m we can confirm in that it picked up a helicopter at that distance in our testing, even if it represented only a few dots on the image.
And, that's the snag for a sensor of this resolution.
Included in our examples is an image of two people walking at night perpendicular to the viewer at a range of about 50m. In that image, they represent about 10% of the image area in the vertical or about 20 pixels of the sensor resolution in that direction.
At 500m that would be about translate into one or two pixels at best if you knew the direction to look and the camera would focus on them.
The conclusion is that unless you are looking for an African bull elephant, moose, or vehicle, the chance of seeing them at the full range of the sensor is a challenge.
Compared with what we've seen from the FLIR Lepton 3.5 Thermal camera and the InfiRay sensor on other phones, getting the most out of this one isn't easy. And, due to the way that it has been specifically set up for long range, it's not much use to those trying to fix a motherboard or identify a leaky exhaust.
For those tracking deer migrations or trying to find someone lost in a forest, it might be more useful, although at 500m, unless it's an open area, they still might be obscured by trees and terrain.
You can take decent images with the 108MP sensor, but video capture options are mostly ignored by the photo app, and the thermal image solution isn't one that all users will find useful.
For a premium phone, the camera options in this phone aren't up to expectations.
AGM G2 Guardian Camera samples
Image 1 of 14
AGM G2 Guardian performance
Strong CPU and GPU combo
Lacks Widevine L1
Modest battery capacity
Benchmarks
This is how the AGM G2 Guardian performed in our suite of benchmark tests:
Geekbench: 862 (single-core); 2826 (multi-core); 3106 (OpenCL)
PCMark (Work 3.0): 14896
Passmark: 13772
Passmark CPU: 6512
3DMark Slingshot: 7057(OGL)
3DMark Slingshot Extreme: 5948 (OGL); 5001(Vulkan)
3DMark Wild Life: 3034
The AGM G2 Guardian is easily one of the fastest rugged phones we've tested recently. It outperforms all the MediaTek-powered phones and the older Snapdragon SoC devices.
Its only true nemesis is the Motorola ThinkPhone powered by the amazing Snapdragon 8+ Gen 1 that exceeds its scores by up to 50% in some tests.
Especially impressive on the Qualcomm QCM6490 platform is the Adreno 643 GPU, which is better than the ARM Mali-G57 MC2 that we've seen used in Helio G99 SoC phones. 3DMark scores are the highest we've seen, although the ThinkPhone refused to run these tests because it considered them beneath it.
To give a flavour of how fast the G2 Guardian is, it delivered the best PCMark, Passmark and GeekBench OpenCL numbers we've seen with the exception of the ThinkPhone.
In short, the performance of this phone is outstanding, and it should be capable of playing games and rendering video with consummate ease.
However, for keen streamers from Netflix or Amazon, the G2 Guardian doesn't support Widevine L1, only L3, meaning that the best quality setting on here will be 480p, irrespective of the screen resolution available. That limitation wasn't true of the ThinkPhone, though it appears to be the norm for rugged Chinese phones.
AGM G2 Guardian battery
Average battery size
18W Fast charging
10W Wireless charging
The battery capacity of 7000 mAh isn't small, but there are plenty of rugged phones with much more than this capacity and a few with triple that amount.
In our testing, it managed to run a video for 15h 47m from a 100% charge to exhaustion, and it managed to recover 22% of the battery in 30 minutes. That's a respectable result and in line with what many lighter rugged designs are offering.
There is a balance here between battery life, the weight of the phone and how rapidly it will recharge. AGM decided that less battery made the G2 Guardian easier to carry and quicker to recharge while accepting a shorter life on battery.
If that fits with your use case, then that's fine, but other rugged phones exist that can provide much longer battery life if you are willing to accept the extra weight, bulk and long recharges.
The 18W 'fast charge' isn't especially fast, as we've seen 66W on other phones, but it's enough to get the 7000 mAh battery charged in a little over two hours, and via wireless charging, it should be fully recharged in under four hours.
To avoid repeatedly removing the USB-C rubber plug, using a dock with this phone is a necessity.
Thankfully AGM is doing a deal currently where you can get that dock, AGM earphones, and a screen protector, plus 8% off (code: G2GLORY) for free.
Normally the dock would be $50.
Let's cut right to the chase, this phone is way too expensive, even if it is very powerful and has some desirable features.
The Qualcomm SoC gives this phone delivers the power that most phones would envy, empowering it to handle the most intensive tasks with ease.
However, the two other best features of this device come with substantial caveats.
Using a 108MP main camera sensor empowers this phone with many amazing picture and video-capturing abilities that the camera app does not fully, or even adequately exploit.
Video capture is especially disappointing, with the maximum capture resolution being only 1080p and zero control over FPS.
The cameras weren't well implemented, but the thermal sensor is the real big disappointment here, being largely unusable for a variety of reasons. Low resolution, narrow field of view and slow mode switching makes this feature far from ideal.
Overall, while AGM makes high-quality devices that feel good to handle and use, the G2 Guardian lacks the user experience polish needed to justify its high asking price, and there are better, less ambitious designs around for less.
AGM G2 Guardian score card
Swipe to scroll horizontally
| Attributes | Notes | Rating |
| --- | --- | --- |
| Value | Expensive for what is in it | 3/5 |
| Design | The giant speaker placement removes any semblance of elegance | 3/5 |
| Hardware | A powerful platform, 5G comms, 108MP camera and thermal sensor | 4/5 |
| Performance | Top-notch performance from both the CPU and GPU | 4.5/5 |
| Camera | 108MP stills, but only 1080p video and no framerate controls. Thermal imaging is low res and difficult to use | 3/5 |
| Battery | A balanced offering with modest capacity, but it is quick to recharge, and has both dock and wireless charging | 4/5 |
| Overall | Asking price is far too high for this specification, and the quality of the camera app isn't good enough | 4/5 |
Should I buy a AGM G2 Guardian?
Buy it if...
Phone performance is critical
While it has some weaknesses, the Qualcomm platform on this device is very powerful and much better than a budget SoC you might seen on other brands.
You like annoying others with your music
Technically, too loud to be near your ears and not cause damage. The 109dB speaker on the back of this phone can distribute sound effectively even at range. Just don't expect those around you to enjoy it as much as you might.
Don't buy it if...
Video quality is important
Only being able to capture 1080p video might be a deal-breaker for some. As even if you intend to produce 1080p output, you might want to crop.
The lack of Widevine L1 reduces most streamed content to 480p, so even if it has a good quality and high-resolution screen, using it for Netflix or Disney+ won't yield high-resolution results.
You want extended battery life
While 7000 mAh is more than you get in a typical phone, it's modest by rugged phone standards. If you intend to hike away for a week without access to power and don't intend to keep turning the phone off, then the capacity here might not be enough.
Also consider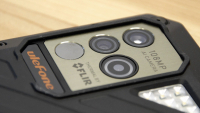 UleFone Power Armor 18T
A cheaper phone that uses the excellent FLIR 3.5 sensor for thermal imaging and sports the effective Dimensity 900 SoC for a good user experience.
It also has 9600 mAh of battery capacity that converts into at least four working days of use or a week of more careful power distribution. And, with 66W charging, it can get 52% of its capacity back in just 30 minutes.
Read our UleFone Power Armor 18T review for more information.
Mark is an expert on 3D printers, drones and phones. He also covers storage, including SSDs, NAS drives and portable hard drives. He started writing in 1986 and has contributed to MicroMart, PC Format, 3D World, among others.