Internxt: The # 1 alternative to Dropbox?
Find out why you should make the switch today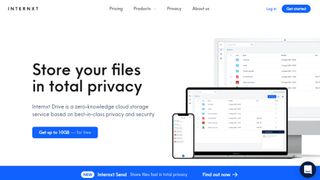 (Image credit: Internxt)
It's time to nut up and sync up your data, secure those backups, and play the cloud storage game like a pro. Sure, Dropbox has been calling the shots since 2008, but they aren't the only sharks in this poker game.
If you're on the hunt for a cloud storage provider that showers you with generous free storage and watches your data like Kevin Costner in The Bodyguard, say hello to Internxt.
Internxt's free plan generously offers up to 10GB of storage. Personal plans come in three tempting flavors: 20GB, 200GB, or a mouthwatering 2TB, starting at just a single dollar bill per month. Now let's compare that $1 to Dropbox's pricy plans, starting at $9.99 per month. Which tastes better?
Business users, listen up! Internxt has got your back too. They offer storage capacities that would make even the biggest data hoarder blush, ranging from 200GB to a whopping 20TB.
This starts at just a lonesome Lincoln ($5) per month: less than a third the price of Dropbox's lowest business tier. Plus, you get access to Internxt's secure services, including the sleek Internxt Drive for your file storage needs, Internxt Photos for your private photo collection, and Internxt Send for all your top-secret file sharing.
To ensure accessible and hassle-free transactions, Internxt provides multiple payment methods to cater to various preferences. They accept payments via credit and debit cards (including Mastercard, VISA, American Express, and more), PayPal, bankcontact, iDEAL, and SOFORT.
While we're going undercover, we're giving you clearance for some more classified information: Internxt takes security to the next level. Their zero-knowledge file storage means your data is encoded and decoded exclusively on your device using AES-256 encryption.
Internxt then scatters those encrypted file shards across servers worldwide, adding an extra layer of security. It's like having a hundred hideouts for your personal files.
We're also giving Internxt a firm digital fist bump for its commitment to open-source development. That means Experts can peek under the hood, examine the source code, and ensure that their 'Drive' client is encrypting and transporting your data like a boss. Major kudos. In comparison, other cloud storage providers like Dropbox rely on proprietary software with no zero-knowledge storage for all users.
We love a hassle-free experience and Internxt punches well above its weight. The user-friendly interface is as smooth as a jazz riff on a moonlit night. Whether you're rocking a desktop, mobile, or tablet, you can effortlessly sync and retrieve your files. Their intuitive dashboard is a dream come true, with customizable folders and a search function that could find a solitary byte in an ocean of code.
Need to upload files? Just drag and drop, and boom! It's done. Sharing files securely through links is a piece of cake too.
So here's the scoop: Internxt gives the big boys like Dropbox a run for their money. It's a tantalizing cocktail of privacy, security, and functionality. While Dropbox might flaunt a few fancy file-sharing features, it falls short in the privacy and security department: and that's where Internxt shines like a supernova.
It's time to level up your cloud storage game and switch to Internxt today. Your files will thank you!
Make sure to check out our in-depth Internxt cloud storage review, too.
Are you a pro? Subscribe to our newsletter
Sign up to the TechRadar Pro newsletter to get all the top news, opinion, features and guidance your business needs to succeed!
Nate Drake is a tech journalist specializing in cybersecurity and retro tech. He broke out from his cubicle at Apple 6 years ago and now spends his days sipping Earl Grey tea & writing elegant copy.