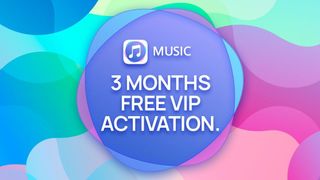 (Image credit: Huawei)
We could all do with more joy right now, so thank goodness for music: there's nothing like it for lifting the spirits. And when it comes to making that music fit perfectly with your life, there's nothing like Huawei Music.
It's not just a brilliant streaming service, although it is. It also uses really clever tech to deliver some extraordinary experiences. And best of all, you can get it absolutely free for the next three months.
Incredible audio whenever you want it
Let's start with the tunes, because of course it's the music that matters most. Whether it's club classics or arms-aloft anthems, blissful ballads or ambient acoustics, raucous rock or experimental electronica, it's all there in Huawei Music's massive library.
It brings you over 50 million tracks across 1.2 million albums from music's biggest names. If you put all of those tracks in a playlist and pressed play right now, it'd still be going strong in 300 years.
Do you know how many ads you'd hear in those 300 years? None. With Huawei Music there's nothing to interrupt your enjoyment of the music, whether that's annoying adverts or unclear audio. Everything streams at a crystal-clear 320Kbps, and the app also works with your existing audio files including lossless audio tracks.
Cutting-edge tech for amazing experiences
Huawei Music has been designed to work seamlessly across all Huawei products from smartphones to smartwatches, tablets and speakers. And unlike other music services, it doesn't just play tunes on different devices. It uses cutting-edge tech to do some really clever things with them.
One of those clever things is making your music something you can share socially. Let's say you're hanging out with friends and want to share the tunes you're playing.
Forget having everybody around one phone: just turn on Party Mode and they can connect their Huawei phones to yours to share the stream. Suddenly everybody's playing the same song simultaneously, their phones working together to create a stunning surround sound effect.
You can also have a surround sound experience on your headphones. That's thanks to the built in Huawei Histen 3D equalizer, which applies smart digital signal processing to deliver three different modes of incredible 3D audio.
That signal processing uses the power of Huawei's Kirin chips to deliver high quality 24-bit audio and lossless audio playback for incredible sound. It also enhances your music in multiple ways. It uses intelligent analysis to identify and enhance human voices; it can bring serious low-end thump via its Mega Bass feature; it delivers a more detailed and more lifelike stereo stage; and it delivers the musical detail that lesser devices don't.
Perfect playlists for every adventure
One of our favourite things about Huawei Music is its Running Music feature. That doesn't just mean brilliant playlists for when you're exercising. It also means automated playlists that respond to your pace – so if you're sprinting, the choice of tunes will adjust automatically to help you go for that new personal best.
Huawei Music is just as good when you're not running, sharing songs or immersing yourself in surround sound. In addition to all the music you love – whether that's online or already stored on your device – it can help you find new music that you'll love just as much: thanks to its lists of top performers and trending tunes, Huawei Music is a great way to discover new artists.
It's also a great way to soundtrack everything from lazy days to outdoor adventures thanks to its built-in radio, which delivers curated playlists based not just on genres but on mood, location and genre. Simply pick the kind of playlist you'd like to hear and Huawei Music becomes your own personal DJ.
All the music on all your devices
Huawei Music is right there on every new Huawei smartphone, and you can also download it from the Huawei AppGallery. All you need to do is sign up to take advantage of the three-month free trial that gives you unlimited access to all of Huawei Music's amazing music. If you like what you hear, and we think you're going to love it, then after the three months are up it's just £9.99 a month for unlimited, ad-free access.
To find out more about how Huawei Music can bring you joy every day, visit Huawei Music.
Sign up to receive daily breaking news, reviews, opinion, analysis, deals and more from the world of tech.