Microsoft Surface Pro 4: 5 major glitches
Growing pains with Microsoft's best tablet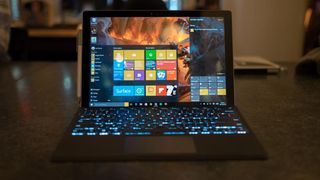 (Image credit: Future)
Introduction
It's been a few weeks since Microsoft's Surface Pro 4 went on sale, and the tablet is about to get some stiff competition from the iPad Pro and Apple's marketing machine.
I've been using the Surface Pro 4 exclusively (save for a few days when I switched to a Surface Book) as my main machine, upgrading from a Surface Pro 2 and a Surface Pro 3. We already have a complete review of the "tablet that can replace your laptop," so I suggest you read that if you want the full details about the Surface Pro 4 (link above).
Just like Google's Nexus for Android, the promise of the Surface hardware is to showcase and demonstrate the possibilities of Microsoft's Windows operating system. To this end, the Surface Pro 4 mostly delivers, and the experience could have been better had Microsoft ironed out a few persistent, pesky glitches.
1. Stop looking. You've found me!
Windows 10 introduced Windows Hello, an easy way to ditch the password for system logins by using biometric security.
On the Surface Pro 4, you have two biometric login options: the custom-built front-facing 3D camera or an optional Type Cover keyboard with fingerprint scanner. I was pleasantly surprised to find how well facial recognition worked after some training.
After training the software to recognize me with glasses, without glasses in my "normal" hairstyle and with severe bedhead, my Surface Pro 4 had no trouble identifying me to give me access to my laptop. It's far easier to log in this way than having to type a PIN or a passcode, especially if you want to just pick up your tablet and start working or surfing the web.
The downside is that the camera had glitchy software that consumed a lot of power, even when the tablet went to sleep. Microsoft has released a software patch that seems to have fixed the power consumption flaw for most users, and I haven't experienced any problems since the update. If the recent Surface patches didn't resolve your issues, you may want to try changing the behavior of the power button.
Out of the box, a light press of the power button would put the Surface Pro 4 into sleep mode, and another light press would wake the tablet up. However, I found that changing the button's behavior to hibernate helped with the battery drain issue.
Similarly, Windows Hello using the fingerprint reader is painless. In tablet mode, if you fold the Type Cover back instead of completely detaching it, the keys and the trackpad would disengage so that any accidental presses won't inadvertently activate something on the screen. Even in this mode, the fingerprint reader would continue to work to grant you access in tablet mode, so you won't have to engage the Surface Pro 4 first as an Ultrabook, log in and then switch to tablet mode.
2. I have a need for (scroll) speed
After Microsoft resolved its face scanning camera bug, I opted to return the Type Cover keyboard with the fingerprint reader. For starters, the fingerprint option added $30 (£19, AU$42) to the standard $130 (£85, AU$184) Type Cover. Even though Microsoft doesn't include the keyboard inside the box, many Surface owners find that the accessory is a necessary option to make the most out of your experience.
Second, the fingerprint keyboard model is only available in black, and I decided I wanted the keyboard in red to add a fun and whimsical touch to my computing experience – if I wanted a black laptop, I could have easily chosen to go with a Lenovo or Dell.
Other than that, both versions of the keyboard are worthy upgrades from the Type Cover that's available on the Surface Pro 3. If you're a Surface Pro 3 owner, I would advise that you upgrade to the new cover rather than upgrading your entire tablet as the Surface Pro 4 is considered an iterative upgrade. I don't think that Skylake, a slightly larger screen and the facial recognition camera alone are worth the investment in a new tablet, but you can gain a better experience at a fraction of the cost by upgrading your existing cover and Surface Pen to the new ones.
The new keyboard cover is more pleasant to type on, adopting the island-style chiclet key styling from modern laptops. Even though key travel is a bit on the shallow side, Microsoft made the key actuating mechanism a bit stiffer. This gives the illusion of full travel keys.
The most significant upgrade to the keyboard is the trackpad. Its larger surface area and glass coating makes the trackpad easier and more accurate to use. Even with the hardware upgrade, however, Microsoft still needs to update the trackpad drivers to add more user control, such as scrolling speed when using two fingers. Right now, I'd rather reach for the touchscreen to flick through long Chrome or Microsoft Edge web pages due to the slow, non-adjustable trackpad scrolling speed.
3. Please keep up with me
The pen is a great accessory that comes bundled with the Surface Pro 4. I'm not an artist, so my experience with the pen is limited to note-taking and casual sketching and doodling.
The new Surface Pen is more sensitive than before, with 1,024 levels of pressure sensitivity, up from 256 levels on the Surface Pro 3. Surface Pro 3 owners who are enamored by the pen can easily purchase the new Surface Pen as it's backward compatible.
Another hardware upgrade that the pen brings is interchangeable tips. The pen that ships with the Surface Pro 4 comes with one tip, but you can purchase a kit with additional tips for just $10 (£6, AU$14). I haven't tried out all the tips, but the new tip has more friction and grip, which more closely mimics the experience of writing on paper than the old pen.
This is an important feature for artists and note-takers. Generally, when using a digitizing stylus, the experience of writing with a plastic nib over a glass surface can feel slippery, but the new nibs and erasers make the digital experience more akin to writing with a real pen and paper.
I still found that latency is still present with the new pen, and it does take a fraction of a second for the digital ink to catch up. Tracking appears to be consistent. And although Microsoft reduced the parallax effect of the pen, the tip and on-screen cursor placement do not always line up. This means that digital artists may have to shift where they place the tip of their pens on the Surface Pro 4's screen to get their drawings lined up the way they want.
As a note-taker, OneNote is an excellent app for writing and storing all your digital clippings from around the web. It's a great tool for research and journaling. With auto paper size, I appreciate that OneNote will automatically extend my page when my writing gets close to the edge.
This is useful for extending more writing space to the length of the page so that you're not constantly adding pages and flipping through pages in a notebook. I prefer to scroll as it just feels like a more continuous experience, but Microsoft's software doesn't allow me to auto size my paper vertically and not horizontally.
This has been a common complaint of OneNote users. As I sometimes print my digital notes to have an analog copy with me for meetings or presentations, horizontal auto paper sizing means that my resulting printed page would come with illegibly small fonts. The ideal setup for me would be to keep the paper width to 8.5-inches, but keep vertical scrolling. Right now, I'd have to choose between fixed 8.5 x 11-inch sheets or free auto paper sizing.
For business users, the pen can also help you migrate to a paperless office. You no longer need to print PDF contracts to sign them, only to rescan them later to have digital files.
4. Wake up, Rip Van Winkle!
It's still early days for the Surface Pro 4, but there are some glitches that early adopters will have to deal with, including driver crashes, problems with rotation, speaker popping noises and issues when waking the device from its slumber.
In my typical use of the Surface Pro 4, which consists of web browsing using multiple browsers and working within Microsoft Office 2013, Windows 10 would alert me that the device driver has crashed. Sometimes, these annoying pop-ups would occur within seconds of each other in rapid succession, but Reddit users have noted that the culprit may be some glitch with the Microsoft Edge browser. Likely, browsing the same website using Google Chrome or Mozilla Firefox will cause less frequent irritation to the display driver.
But having annoying display driver crashes is a somewhat "fortunate" situation for Surface Pro 4 owners. Most of the time, I can't even get my tablet to resume from sleep properly, and it would hang on the boot screen for minutes at a time.
This is a rather awkward situation for Microsoft given that the Surface Pro 4 is marketed as a tablet, and the iPad has set the expectation that tablets should power up and be ready for work instantly. A circuitous workaround right now is to detach the Type Cover before the device boots up, and the Surface Pro 4 should be good to go at your beck and call. I found that this trick works four out of five times, but every so often, I would have to wait for Rip Van Winkle to groggily power up.
Additionally, while using the Surface Pro 4, sometimes the laptop would jump to the Blue Screen. While a quick reboot would revive the tablet back to health, these issues should have been caught and resolved prior to the debut of the Surface Pro 4, especially since Microsoft has full control of both the software and the hardware.
5. Lap-side ergonomics
As a tablet, the kickstand allows the Surface Pro 4 to be highly versatile. The adjustable kickstand transforms the kickstand into a useful easel for digital artists. But even if you're not an artist, the kickstand makes the tablet more ergonomic for reading the news, watching videos or browsing the internet.
However, the same tool that makes the Surface Pro 4 more ergonomic as a tablet hinders the device's usability as a laptop. Simply put, the kickstand takes up too much room on your lap.
With the Type Cover attached, I found that to comfortably see the screen, I have to scrunch the keyboard portion closer to my body, which makes typing awkward. It's not quite a deal breaker, but people with shorter legs will likely want to avoid this setup in favor of a more traditional convertible, like the Dell Venue Pro 11 7000 Series or Microsoft's Surface Book.
The compromise with the kickstand is that it hinders lapability in favor of better screen recline. The Surface Book's more traditional setup, for example, means that the screen is limited to 150 degrees in laptop mode. On a desk, the Surface Pro 4, on the other hand, can recline to nearly 180 degrees.
When working with Adobe's Creative Suite, such as Photoshop or Lightroom, I prefer the kickstand on the Surface Pro 4 over the traditional Surface Book. With a fully reclined screen on the Surface Pro 4, it feels like I am working with a lightbox. Performance with Adobe's suite feels fine, and I only noticed slowdowns when working with large video and photo files.
Conclusion
The Surface Pro 4, even with its compromises, represents the most elegantly built and attractively designed laptop-tablet hybrid to date, owing no small part to the use of Gorilla Glass, magnesium shell and clever design engineering.
However, Microsoft still needed to make compromises to satisfy the needs of both form factors that the Surface Pro 4 is intended to replace. It's not a perfect tablet as it could still be lighter and thinner, and as a laptop, the convertible design makes it barely lapable.
But if you can live with these compromises, the robustness of Windows 10 makes the Surface Pro 4 more appealing, in my opinion, than an Android hybrid or an iPad Pro. The Surface Pro 4 comes with mouse support, compatibility with a vast number of Windows programs and support for 4K video output on up to two external displays with the optional Surface Dock. In this sense, it feels like one device that's powerful enough to replace your tablet, laptop and desktop, saving you cost and time in managing devices and data.
Fortunately for Microsoft, many of these early glitches can be remedied with a software patch, and I'll update this post with additional insights as Microsoft continues to roll out updates for the Surface Pro 4 as well as deliver improvements to Windows 10.
Are you a pro? Subscribe to our newsletter
Sign up to the TechRadar Pro newsletter to get all the top news, opinion, features and guidance your business needs to succeed!