SuiteWorld 2022 live: All the NetSuite news from the day two keynote
We're live at SuiteWorld 2022 covering the day two keynote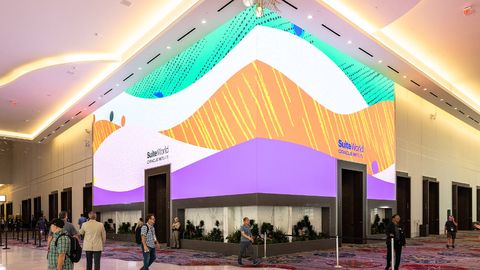 (Image: © NetSuite)
We're live in Las Vegas for the second day of SuiteWorld 2022, the annual conference hosted by ERP and CRM company Oracle NetSuite.
Yesterday, we heard from Evan Goldberg, EVP and founder of NetSuite, who announced a raft of platform updates spanning finance and accounting, sales, HR, ecommerce and more.
But in today's keynote, we're set to find out more about the company's product roadmap and its focus for the year ahead.
In the meantime, check out our in-depth coverage of the event so far:
Refresh
Welcome to SuiteWorld 2022
We're live at Caesars Forum in Las Vegas for the first day of SuiteWorld 2022 and this reporter will be bringing you all the latest NetSuite announcements from the show.
We'll also be speaking with from spokespeople responsible for product and go-to-market strategy at NetSuite, who will no doubt be eager to tell us what they've been working on.
Over the course of the event, we'll be updating this blog with coverage of the two main keynote addresses (starting at 09:00 PT/18:00 BST on Tuesday 28 and Wednesday 29), so bookmark this page or stay tuned.
Opening keynote
We're in place at Caesars Forum, waiting for the opening keynote to begin. We'll be hearing from Evan Goldberg, NetSuite founder, as well as other executives about the latest upgrades coming to the company's ERP platform.
As ever, the emphasis will be on streamlining accounting functions, automating core business processes and helping customers make sense of their data.
Strangely, while we wait, we're being treated to a remix of 'Hits from the Bong', by Cypress Hill.
There's now a troop of neon drummers on stage, and a few guys doing BMX tricks. Good old IT conferences...
Evan Goldberg on stage
NetSuite EVP and founder, Evan Goldberg, takes to the stage to kick off the session.
To illustrate the breadth of the NetSuite offering, Goldberg begins with an anecdote about an organization that faces problems across accounting, sales, inventory management and more as it attempts to scale.
The updates we'll hear about today are designed to address precisely these challenges.
Announcement: NetSuite CPQ
Off the back of the acquisition of Verenia earlier this year, NetSuite is launching an upgrade for its platform designed to help companies navigate complex sales processes with greater ease.
NetSuite CPQ is a new service that is said to make it simpler for sales teams to configure, price and quote (CPQ) their products to a high degree of accuracy.
By introducing a greater level of efficiency to the pricing process, NetSuite hopes to save customers from time-consuming administrative tasks (such as double-checking product configurations) and increase profitability.
For more, read our full write-up here.
Announcement: NetSuite Ship Central
To help companies streamline inventory management and expedite picking and packing, NetSuite is launching Ship Central, described as an "end-to-end" shipping solution.
By giving warehouse workers access to new packing and shipping facilities both on mobile or kiosk, NetSuite thinks it can help customers optimize fullfilment operations and eliminate manual processes.
Announcement: SuitePeople Workforce Management
Next up, something for the HR department. NetSuite is rolling out a new service to help organizations create shift schedules in a simple way, from a single dashboard.
The service also forecasts demand, to predict how many employees will be needed to deliver optimal customer experience. "We're finally done with the paper punch cards," Goldberg explains.
Announcement: NetSuite AP automation
This is perhaps the most significant update of the lot. NetSuite has detailed a platform expansion that should help accelerate the arduous accounts payable (AP) process for customers.
NetSuite AP Automation is described as "the only solution that embeds banking services into a cloud enterprise resource planning (ERP) system".
The objective is to make it simpler and quicker to process bills and execute vendor payments from within NetSuite, thereby taking the pain out of one of the most time-consuming accounting tasks.
For more details, read our full write-up here.
NetSuite AP Automation is now available in the US, with the first 1,000 customers set to benefit from a 50% discount.
That appears to be the end of the product updates. Goldberg is about to welcome to the stage a number of customers to talk about their experience with the platform.
The customers and partners spoke about a variety of challenges, from complexities involved in tax processes, to the need to drive efficiency as the economic environment becomes more challenging, to speedbumps involved in the shift towards ecommerce.
Pitch competition
NetSuite has now invited to the stage three startups, which will pitch to a panel of judges, including Goldberg. Apparently, each have earned a place in the company's incubation program.
Chipper: a service that helps students pay off their debt and apply for "forgiveness" programs
OpticSurg: a platform designed to give a broader selection of people access to high-quality healthcare
UInclude: a company focused on providing inclusive writing training for employees
"The accelerator program is designed to help startups by putting NetSuite in their hands at the earliest possible moment," says NetSuite.
"We're also using our talent and resources to enable the growth of a diverse range of entrepreneurs in the earliest stage. Startups are the future of our industry."
Keynote comes to a close
"Today, I talked about what's happening now. Tomorrow, you'll hear what's happening next," says Goldberg, as he brings the opening keynote to a close.
Later today, the press will have a chance to pose questions to Goldberg directly.
Goldberg speaks to the press
Following this morning's keynote, Goldberg fielded questions from the press on a variety of topics. Here are a few of the most interesting soundbites:
On customer priorities:
"In an environment in which it's hard to find skilled people, you want the ones you do have to be as productive as possible. Right now, it's all about minimizing the burden of manual processes."
"Companies should be able to expect to make the most bang for their buck from the new hires they bring on."
On implementation challenges:
"Generally, unlike many vendors, we try to show you during the sales process exactly what you'll be using. Instead of showing a facade, [then building from scratch when the customer makes a purchase], we demo exactly what you're going to get."
On acquisition strategy:
"With our acquisitions, we're trying to help customers do things more easily, to eliminate manual processes. The most important thing is how well we'll be able to integrate them into NetSuite."
On potential to be 'out-flanked' by smaller specialists:
"We've spent a lot of energy on making sure NetSuite can scale, but we've got to make sure customers aren't losing anything when they come to us."
"But I'm not worried [about the smaller players]...because of our scale and sophistication."
That's your lot from day one of SuiteWorld, but we'll be back tomorrow with coverage of the second keynote, in which NetSuite will offer a glimpse of the projects it'll be working on in the months to come.
Good morning from SuiteWorld
It's day two of SuiteWorld 2022 and we're here at Caesars Forum covering the main sessions.
To recap, NetSuite yesterday unveiled a raft of updates to its platform, designed (as ever) to help customers streamline and automate business processes across a range of functions.
The headline announcement was the introduction of AP automation, a new service that automates the accounts payable process. The objective is to make it simpler and quicker to process bills and execute vendor payments from within NetSuite, thereby taking the pain out of one of the most time-consuming accounting tasks.
We'll soon be heading into the day's main keynote session, which should tell us more about the company's vision and product roadmap for the year ahead.
Day two keynote
Gary Wiessenger takes to the stage to kick off the day two keynote, to tell us about the updates NetSuite has up its sleeve for the year ahead.
NetSuite customers generated one billion invoices over the last twelve months, one every 35 seconds, he says. The company's plan to continue on this growth trajectory will focus on a few core areas:
"We strive to find ever-better ways to solve your problems," says Wiessenger. "We want to drive innovation across the suite, focusing on ease, automation, insight, intelligence and 'suiteness'"
"Everything we do is in service of making you more successful," he says. "And because we're a suite, we can automate end-to-end workflows in a way that point solutions just can't."
Wiessenger goes on to talk about the company's focus on helping customers to interpret their masses of data, to help inform strategic decision making.
He highlights the ability to "slice, dice and visualise data" inside NetSuite to "generate insight that can be shared freely with others".
"Because NetSuite unifies data from across your business, we can generate insight in a way that no one else can," he claims.
Intelligence and 'suiteness'
NetSuite is also eager to highlight the integration of ML into its platform. To illustrate his point, Wiessenger gestures to the company's new AP Automation service, which uses ML to scan PDF invoices and plug data automatically into the relevant fields.
"We use ML to learn what users do repeatedly, and then we do it automatically," he tells the audience.
Wiessenger goes on to emphasize the importance of a "single source of truth", a single platform that does it all.
"'Suiteness' is about solving problems that can only be solved by a true end-to-end solution. It's what happens when we design a system to run an entire business, not just an individual department. It's the cheat code that only NetSuite provides."
We wrote about the debate around this line of argument yesterday here.
NetSuite roadmap
Craig Sullivan, GVP Product Management, is introduced to the stage to talk about NetSuite's upcoming upgrades.
After retracing a few announcements already made by NetSuite so far at SuiteWorld, Sullivan goes on to discuss a raft of smaller upgrades.
For example, NetSuite account reconciliation, which he describes as an online matching service for transactions. "It enables automated reconciliation with other systems too," says Sullivan, "saving a tremendous amount of time closing the books".
There are also changes to the logging of inter-company transactions. We didn't quite catch the specifics (he's moving quickly), but the idea is to eliminate common headaches in this area.
After bringing HR platform SuitePeople to the UK and Ireland recently, Sullivan announces that Brazilian customers will now benefit. The launch will take place in late November.
Workforce Management
On that note, next on stage is Hanif Ismail, VP Product Management for SuitePeople, who highlights the arrival of a new service called Workforce Management.
The tool is designed to automate the time-consuming shift management process, building out shift patterns based on predicted demand.
It also provides a simple way to monitor the number of hours worked by employees and automatically calculates wages on that basis, before passing that information on to payroll.
The revolving door keeps on spinning: we've now got Allison Auclair, GVP Product Management for CX, who's here to offer a closer look at NetSuite CPQ.
Announced yesterday, NetSuite CPQ aims to make it simpler for sales teams to configure, price and quote (CPQ) their products to a high degree of accuracy.
By introducing a greater level of efficiency to the pricing process, NetSuite hopes to save customers from time-consuming administrative tasks (such as double-checking product configurations) and increase profitability.
SuiteCloud
To round out the keynote session, Elham Ghassemzadeh is here to talk about SuiteCloud, a service that allows customers and third parties to customize and built atop the NetSuite platform.
Ghassemzadeh begins by emphasizing the benefits of NetSuite's relationship with Oracle, which provides an increasingly large proportion of the infrastructure underpinning NetSuite ERP.
"The intelligence services provided by Oracle Cloud Infrastructure (OCI) is one of our power-ups," she says, highlighting the ability to use ML for security and customization purposes. "We continue to invest in this area."
Elham Ghassemzadeh goes on to talk about SuiteCloud itself, which is all about making NetSuite your suite," she says.
She announces that support for Typescript will soon come to the platform, as well as more integrations with popular third-party systems to help optimize DevOps processes.
No-code customization will also continue to be a focus, Ghassemzadeh tells the audience. "We're working hard to take this to the next level, bringing that experience closer to the business process owners, lowering skill level required to customize the suite."
That brings to an end a pretty packed final keynote here at SuiteWorld 2022.
I'm not sure we learned much about product roadmap per se, but we did get a closer look at some of the services announced yesterday, as well as a few smaller upgrades that weren't covered in the day one keynote.
That's a wrap
That concludes our live coverage of SuiteWorld 2022. Thanks for joining us.
We'll be in attendance for the rest of the day, speaking to a couple of NetSuite executives, so keep an eye out for further updates.