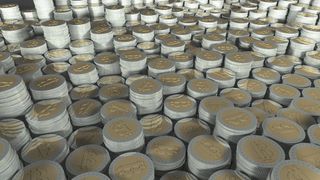 A pair of Bitcoin exchanges have gone down after a bout of hacking attacks.
Flexcoin announced that its virtual vault was emptied by internet thieves and that it will be shutting down immediately. In a statement, the exchange said hackers hit the bank on March 2 absconding with 896 bitcoins.
According to Flexcoin, its holdings at the time totaled around $600,000 in value (about £360,048/AU$670,915) before the stolen coins were moved to two fake addresses.
"As Flexcoin does not have the resources, assets or otherwise to come back from this loss, we are closing our doors immediately," the company wrote on its website.
Flexcoin said it would contact investors who kept bitcoins they had tied to the company in cold storage - a non-networked hard drive disconnected from the 'net - to transfer their remaining coins free of charge.
Virtual banking problems
The second bad news for Bitcoin came from Poloniex, which admitted it lost 12.3% of its cryptocurrency funds in an estimated $50,000 (about £30,004/AU$55,909) theft.
Poloniex explained that hackers carried out an exploit allowing them to take advantage of the way its system handles negative balances. By placing several withdrawals in practically the same instant, a hacker was able to create a negative balance that was still considered valid.
After discovering the flaw and fraudulent withdrawals, Poloniex ifroze all withdrawals and activity on the exchange. Poloniex's owners said they will help pay out the loss with company funds and their own pockets.
Meanwhile, all markets and withdrawals for Poloniex are frozen until the negative balance watcher is written and balance deductions calculated.
Things aren't looking up for Bitcoin
The two thefts follow the collapse of MtGox, one of the world's largest Bitcoin exchanges. The company lost roughly 750,000 customer-owned bitcoins valued around $380 million (about £227m/AU$425m) and has since filed for bankruptcy protection with debts of 6.5 billion yen ($64m/£38m/AU$71m).
The Bitcoin market has gone through a world of hurt over these last two weeks, though for now the cryptocurrency itself seems to be riding the waves of exchange disruption.
Our advice? Users should their virtual money on a hard drive that's not connected with the internet through a service like Bitcoin Armory.
Bitcoins aren't the only way to pay digitally, mobile payments are becoming quick and easy
Are you a pro? Subscribe to our newsletter
Sign up to the TechRadar Pro newsletter to get all the top news, opinion, features and guidance your business needs to succeed!
Kevin Lee was a former computing reporter at TechRadar. Kevin is now the SEO Updates Editor at IGN based in New York. He handles all of the best of tech buying guides while also dipping his hand in the entertainment and games evergreen content. Kevin has over eight years of experience in the tech and games publications with previous bylines at Polygon, PC World, and more. Outside of work, Kevin is major movie buff of cult and bad films. He also regularly plays flight & space sim and racing games. IRL he's a fan of archery, axe throwing, and board games.