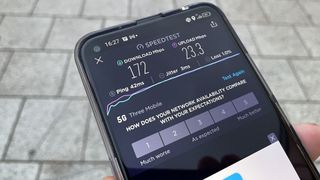 (Image credit: Jamie Carter)
I don't like waiting. When I need to download my daily podcast, I want it in seconds, not minutes. If I need to send files to a work colleague, it needs to go super-quick so it's out of my mind.
So I'm excited that 5G networks are finally here, but what about 5G phones? After years of waiting for super-fast data downloads, 5G networks are now live in many large towns and cities in the UK. There's a good chance you can get a 5G signal where you are right now. There's also a good chance that 5G is included in your existing phone contract. All you need is an affordable 5G phone.
That's where the TCL 10 5G smartphone comes in.
This phone is a big deal. Its sharp and colourful 6.5-inch display sits within a slim chassis that weighs around 210g. Its IPS LCD has a resolution of 1080x2340 pixels and an aspect ratio of 19.5:9, which is ideal for watching films and TV.
The TCL 10 5G is also compatible with Netflix HDR, which means extra colour. That's also the point of this phone's exclusive picture enhancement tech called NXTVISION. NXTVISION gives any video HDR colour, automatically adjusts contrast, sharpness and saturation, and even makes the phone's display monochromatic when reading apps are opened. It's a great way to improve on the phone's display in general.
The TCL 10 5G is a big phone, but I found it easy enough to operate with one hand. It features 'Face Key' to unlock the phone, as most phones now do, but on the rear is also a fingerprint sensor. That proved handy for when I was wearing a face mask, but also sunglasses. Better still, the sensor is positioned exactly where my index finger came to rest when holding the TCL 10 5G. That's good, thoughtful design, as is the rear's ever so slightly graded scratch-resistant glass finish. Available in 'Mercury Gray' and 'Chrome Blue', the colour on the rear gradually lightens lower down. And, the phone has a Google Assistant button on the side for quick activation.
It's a good-looking smartphone, but more important are its photography abilities. Cue its quad rear camera, a concept that has proved something of an elite proposition until now. As well as being one of the best value quad-camera arrays around, the TCL 10 5G comes with a deliciously different design. While many phone manufacturers bunch-up the lenses, TCL has placed them horizontally across the top of the phone's back, with an LED flash ranged on either side.
What do those four cameras all do? That's the clever bit. The main lens is for everyday images, but that's massively underselling it. It's a 26mm wide-angle, f/1.9 aperture lens that captures in 16 megapixels. However, it can shoot in up to 64 megapixels if you engage the phone's 'High Pixel' mode. We're talking photos visibly rippling in fine detail that are big enough to do whatever you want with. They have to be seen to be believed.
For photos, it's that main lens that's the highlight of the TCL 10 5G, but it does have some other useful lenses that add both versatility and some great extra features. Next in line is a 13mm ultrawide f/2.2 aperture lens that can record 8-megapixel images. It can't match that main lens for sheer detail, but that wider field of view means you can stand just a few metres in front of a building and get the whole thing in. The wide-angle lens is also great indoors when you can't take a step back to squeeze everything into the frame.
Elsewhere on the quad-camera deck is a macro f/2.2 lens for 5-megapixel close-ups from just a few centimetres, and a 2-megapixel depth sensor. The latter sounds rather dull, but in practice it's one of the highlights of the TCL 10 5G's photographic suite because it enables an excellent 'portrait' mode. Once engaged it makes your subject super-sharp while blurring the background. That's the so-called bokeh effect, which creates an image that's as sophisticated-looking as it is on-trend.
So what about video? All dedicated action cameras can film in cutting-edge 4K resolution, and now so can smartphones. The TCL 10 5G can capture video in 4K at 30 frames per second (fps) as well as in 1080p 'full HD'.
With selfies and video calls now all the rage, the more detailed your phone's front camera, the better. The TCL 10 5G meets the brief with a 16-megapixel front camera with a 26mm wide-angle, f/2.2 aperture lens. It captures video in 1080p 'full HD' quality.
Able to create big video and photo files, the TCL 10 5G also needs to store it then share it. The former is handled by the phone's built-in 128GB storage, though its nano SIM card tray also includes a slot for a microSD card of up to 1TB in size.
With 5G, sharing videos and photos is now much easier, but exactly how fast is the TCL 10 5G when connected to a 5G network? As soon as I was in a city centre that had a 5G connectivity I naturally went straight to my podcasting app and downloaded a file over 5G. An hour-long podcast came down in under 7 seconds. Gulp. Then I downloaded a film from Netflix, which zipped down in under a minute. The maximum speed I got in my city centre was 172mpbs download and a 23.3mbps upload. That's over 10 times faster than the local 4G signal. Of course, 5G support also makes for lower latency which has a positive impact on things like online mobile gaming.
The TCL 10 5G changed how I think about digital media. As someone who travels a lot, I tend to look for free WiFi everywhere I go to top-up on podcasts, films and TV, and then spend a lot of time waiting for it to drip-down on to my phone. Technically-speaking, the TCL 10 5G can download at a speed of 2.3gbps and upload at 200mbps, though what you get will depend on the 5G network you're attached to.
I was impressed with the speeds I got, but also with the TCL 10 5G's handling of 5G. At no point did I have any stalls, hangs or reboots during my tests. It uses a Qualcomm Snapdragon 765G chipset, which is specifically built to handle 5G, and it appears to work without a hitch. Ditto the phone's user interface, which is standard Android 10, but has a light-touch TCL UI on top.
You do have to think about data when you're in a 5G area. If your contract limits you to, say, 8GB per month, then you're going to have to use 5G carefully, but if you've got a large data allowance – or you've bagged an all-you-can-eat data deal – then you've got little to worry about.
However, using 5G is a power-play. Being attached to a 5G network does drain a 5G phone's battery slightly faster compared to 4G. In practice, this didn't become a problem with the TCL 10 5G, whose 4,500 mAh battery is large when compared to other big smartphones.
At 6.5-inches the TCL 10 5G is a big phone, but it's mostly about speed, not size. Sitting in a cafe while using the TCL 10 5G to download a video is one thing, but it also works as a 5G mobile hotspot for a laptop. If you're after a 5G for work or play, and you also need a great main camera and a long battery life, I'm happy to report that the TCL 10 5G hits the sweet spot – and it does it with speed. It also does it at an affordable price, coming in at only £399, which is very competitive compared to the competition.
Sign up for Black Friday email alerts!
Get the hottest deals available in your inbox plus news, reviews, opinion, analysis and more from the TechRadar team.