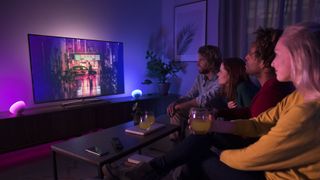 (Image credit: Signify)
Do you remember when smart homes were the stuff of sci-fi? We were told that one day, we'd control everything in our homes by talking to invisible computers. Everything would be intelligent and we'd all be wearing tinfoil trousers.
It's all come true, apart from the trousers. Smart tech is simple, affordable and can make any home cosier, brighter and more secure. You can light your rooms in all kinds of exciting and useful ways, keep your family warm, ensure your home is safe – and you can do it without spending a fortune. In fact…
Smart can save you money
One of the most useful bits of smart home tech is Tado, the smart home thermostat. It doesn't just make life easier. It makes it a lot less expensive too.
By analysing your movements, learning your routines and monitoring your home it can cut your heating bills by as much as 31%. It can even tell you if the bathroom's getting too humid.
Tado uses clever geolocation technology to make sure that you're never paying to heat an empty home when you're out and about, and because you can control every room remotely via the Tado phone app you can make sure the place is nice and toasty if you're coming home unexpectedly.
Smart is simple
If you've always fancied the idea of a smart home but thought it'd involve lots of hassle, the good news is that smart home tech is incredibly simple.
For example, making a normal light smart is just a matter of swapping the bulb for a smart one, and you don't need to get the drill out to install a smart doorbell, smart security camera or even a smart lock.
And once they're installed, they're all incredibly simple to use. All you need is your phone or a personal digital assistant such as Alexa, Google Home or Siri.
Smart can light up your life
The Philips Hue lighting range is a brilliant example of how clever and how easy smart home tech can be. The range includes everything from individual smart bulbs and flexible light strips to light fittings, including outdoor ones.
You can add dimmers, remote controls and motion sensors, and the excellent Philips Hue smartphone app makes it easy to create and choose light 'recipes' for different moods.
For example, we turned our home into spooky shades for Halloween and we've already created our festive mood lighting for the Christmas season. We've also set the lights to go on and off at certain times, and to turn on when we're approaching our front door.
Smart can make your home more secure
You can make your front door smarter too. The Yale Conexis® L1 smart lock is really straightforward to fit, and because it's battery powered there's no need to worry about drilling holes to run wires.
You don't even need a key: the lock uses electronic keys that you keep in your phone, and you can send time-limited ones to friends or family that disappear after a specified time period.
Everything's done through the user-friendly smartphone app, and the Yale Sync Smart Home Hub makes it incredibly fast and easy to connect other Yale Smart Living products.
Smart can show you who's there
Would you like to see who's at the door, even when you're not there? Say hello to Ring's range of clever Video Doorbells.
They're not just brilliant doorbells: they're security cameras too, with motion sensors that can alert you when someone approaches the house and superb night vision so you can know who's there day or night.
Smart can keep up with your big ideas
Like the Yale Smart Living range and the Hue smart lighting range, Ring's smart home security systems can grow with you.
Your Video Doorbell can become part of the super-smart Ring Alarm system, which monitors your home and can stream live video to your phone when it detects something odd.
With a wide range of stick-up cameras for indoor and outdoor use, you can easily create a ring of security all around your home.
Smart is easy and amazing
Whether it's alarm systems that stream live video to your phone, locks that can let the family in without cutting a single key or lights and thermostats that know when you're coming home, smart home tech is simple to set up, incredibly easy to use and utterly amazing.
We're still amazed that we can control our home with our phones and with Alexa, Siri and Google Assistant. It turns out that the sci-fi predictions were spot-on about everything but the tinfoil trousers.
Sign up for Black Friday email alerts!
Get the hottest deals available in your inbox plus news, reviews, opinion, analysis and more from the TechRadar team.